A name like Jefferson Burgess oozes Virginia: that is Jefferson, as in Thomas, and Burgess, as in the Virginia House of Burgesses, the first organized government in the 18th Century's newly formed United States of America. Burgess in English literally means "freeman of a borough" or municipality. Jefferson Burgess is indeed a free man – free to work his magic on and for his beloved Shenandoah Valley, which runs between the beautiful Shenandoah Mountains and the majestic Blue Ridge Mountains. Even the noxious truck traffic on Interstate 81, which bisects the valley, cannot kill the area's glorious mountain vibe.
Born in Danville, VA, Jefferson's family moved to the Shenandoah Valley when he was in the third grade. Almost 10 years later, college took him to Utah but wanderlust drove him beyond for a few months during college, to Hawaii. He returned to Salt Lake City and married just after college. After a divorce, his heart eventually drove him back to the Shenandoah Valley. For most of the last 20 years, he supervised marketing and then sales for the Virginia Mennonite Retirement Center (VMRC) located in Harrisonburg, a retirement community with a full continuum of care. Jefferson credits the team and leadership he worked with in the retirement community for its growth and successes during his two decades there.
Given those years of work with the senior citizens, Jefferson would not be insulted if you mentioned to him that he seems a bit of an old soul – with modern ideas – surely from listening closely to the stories and life experiences of his clients. Jefferson's 81-year-old mom, whom he credits with his own successes in life, resides at VMRC today.During his time at VMRC, Jefferson also took up golf at his boss' prodding. He was in his 40s at the time. "She told me it would help in hanging out with some of our residents," Jefferson said. The golf also helped him seal a few deals with prospective residents and led him to play in many local charity golf events.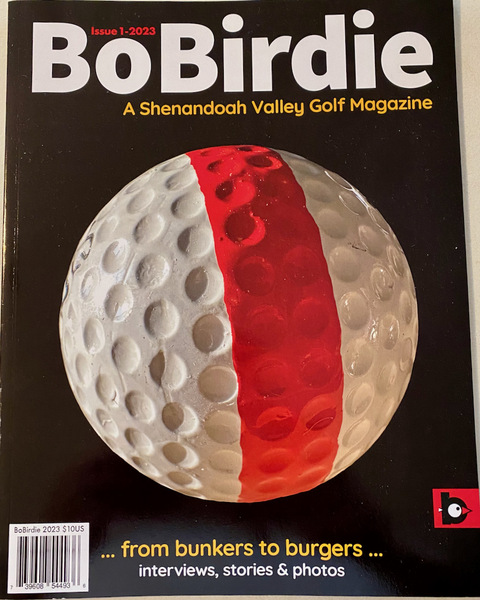 He loved his job, but as he entered his mid 50s, he was looking for a wider canvas on which to work. As of last year, with the publication of BoBirdie, that canvas became the entire Shenandoah Valley – its unique characters, its restaurants, breweries, wineries, its hidden cultural treasures, and its mostly unknown and under-appreciated golf courses. In June 2023, Jefferson published the first edition of his magazine, although he told me the idea was almost 20 years in the making.
"I was ready to go with it in 2005," Jefferson said, "but then I got promoted [to director of sales] and put it aside." He retired from the retirement community in 2022 and, straight away, dusted off his 17-year-old project.
The name BoBirdie is a mashup of "bogey" and "birdie" and reflects the publisher's view of life – sometimes good, sometimes not so good, but always interesting and entertaining. No matter the score, in golf and life, you always come back for more. When I picked up a copy of BoBirdie at one of Virginia's welcome centers, I thought at first, "What fool, in a digital era, would start a glossy, print magazine?" When I finally cracked open that magazine a couple of weeks later and started reading, I understood that the "fool" was "a man with a plan" – and research behind his idea.
"Male golfers 45 and older prefer a printed magazine," Jefferson said during a post-round discussion. "Younger golfers prefer the digital communications." Jefferson aims to capture both audiences.
BoBirdie is not just any golf magazine, but rather a location-oriented "lifestyle" publication that uses golf as an introduction to its geographical area. With its mixture of restaurant guides – Jefferson refrains from making judgments, so you won't find any snarky reviews – and articles about the valley's golf courses – again, no reviews but just some interesting facts and observations – the magazine is a kind of printed TripAdvisor with much more interesting and balanced "comments." You won't find any golf instruction on its pages and no one-star reviews, but count on praise for local institutions, the better to attract new blood to the area and make local subscribers feel even prouder of what they have.
"BoBirdie is about characters, food, wine, beer and the other entertainment activities [in the Shenandoah Valley]," Jefferson told me. Since he listed "characters" first, I decided to do this profile despite his modesty. ("I don't like stories about me.") After all, he is Exhibit A in terms of interesting characters of the Shenandoah Valley. Ask anyone. (By the way, he did endorse this article.)
His more than 20 years working and living in the Shenandoah Valley, all those charity golf tournaments he's played in, and a network of contacts that would make any politician green with envy gave Jefferson confidence that BoBirdie would find an audience quickly.
"He knows everybody in the valley," Blake Carter, the Shenvalee Resort's golf shop manager, told me, "and everyone knows him."
After learning Jefferson was taking ads for the first edition of BoBirdie, local breweries, restaurants and other valley businesses got in line to establish a presence in that first edition.
"I didn't want more than six ads," Jefferson said, emphasizing that editorial content was key to launching the project. "I had to turn down a few requests." He is a modest guy, and the odds are good it was more than "a few."
The first edition of the magazine reveals a bit about its publisher, although I learned a lot more during a round of golf with Jefferson at New Market, VA's Shenvalee Resort golf course, where he is a member. First, as noted, he came to the game of golf a bit late in life, in his 40s. During our round, he explained that his unique but strangely effective golf stance – an exaggerated bend of the knees, an extreme press forward at address, and an upright lumberjack's swing – was a consequence of his fateful birth night 58 years ago. A blizzard was raging, the local doctor could not reach the hospital and the nurse there made the fateful decision to wait – too long, as it turned out – for the doctor to arrive. Jefferson explained to me that because of the resulting brain damage, he has always been forced to learn and process information differently than the rest of us do. For example, he says, his memory mainly works through "sensory' learning."
"I learned the alphabet through running my fingers over letters cut out of sandpaper," he explained.
As for that "goofy" golf stance, as he puts it, it is necessary because of what he calls his "dexterity confusion and memory issues." (See Jefferson's approach below. It works.)

"I try to 'preset' as much as possible," he says, "so I only have one swing thought – 'turn your body'. Scores and handicaps mean very little to me; the feeling of hitting a good shot, the camaraderie and enjoying nature and the outdoors is why I play." That golf swing, by the way, yielded a fair number of pars.
Jefferson gives his mother most of the credit for his success in life and learning.
"She went back to college and received several graduate degrees learning how to work with learning disabilities," he told me.
If he hadn't told me his backstory, I would not have imagined anything like the personal history he shared. On the contrary, there was something rather Buddhist about him, as if the many challenges he has faced in life have made him calmer and more enlightened. (He later told me he embraces philosophies of Buddhism and Stoicism.) My new friend showed an atypically balanced view of all the subjects we covered over five hours of play and during our 19th hole discussion. At one point, we got around to politics – I brought it up gingerly – and he had nothing but questions, not opinions; he wasn't asking me in order to deduce my point of view but rather to add to his own. I found Jefferson refreshingly non-partisan.
All the questions he asked indicated a desire for continuous learning which is one reason why I am especially looking forward to future editions of BoBirdie. Jefferson said he plans to follow up 2023's first edition with two in 2024 and, most likely, three or four in 2025 if all goes well. (He has asked me to contribute an article about golf community living for the first publication of 2024, and I am pleased to do so.) He is buttressing his efforts on the print side with an active social media campaign and a growing website. As of June, shortly after BoBirdie launched, it had generated a total of 75,000 "views" on social media, including YouTube, Instagram and Facebook, as well as the print magazine and BoBirdie's website. The audience, so far, seems evenly split between men and women, Jefferson said.
Despite sharing with me the experiences of his lifetime, some of them challenging, Jefferson's Buddhist side was evident. during our round. He maintained an aura of calm and resolution about him, no matter the outcome of any shot. That spilled over to me; I was more relaxed over our 18 holes than I am with any of my regular golfing buddies. On a day I played a particular tricky layout for the first time with a person I had just met for the first time, I accomplished every golfer's goal – I shot my age, a 75 – for the first time. That's a lot of firsts for one day.
Under Jefferson's guidance, it is hard to imagine BoBirdie will not be a successful first and enlightening experience for the Shenandoah Valley.

The Homes of the Week column that appears here on Mondays will be posted tomorrow, November 7. If there are local elections in your town, please do not forget to vote.