I recently wrote here about combo tees which are becoming more and more common at golf courses across the land, especially those played by golfers experiencing a loss of distance on their shots. I elaborate further in this month's Home On The Course newsletter (subscribe here) and get a little personal about the subject below.

Golf is a tough enough sport without those of us who play it making it even tougher on ourselves. I see this all the time at Pawleys Plantation in Pawleys Island, SC, my home course away from my Connecticut home. Buddy golfers on vacation, presumably to have a fun experience, often choose the wrong tees from which to play, and they almost always create a longer golf course than they can handle – and a miserable experience.

The same can be said for many aging golfers who no longer drive a golf ball farther than 200 yards. (I am raising my hand.) Many still play layouts that range up to 6,400 yards with a bunch of 400-yard holes they can never hope to reach with anything but a fairway metal club. And unless they can hit such shots relentlessly well, they too are in for a miserable experience, with no hopes of ever shooting their age, or even breaking 80, until they move up.

Brad Chambers and I – he is the proprietor of ShootingYourAge.com – offer a wide range of tips for the aging golfer in our book, Playing Through Your Golden Years: A Senior's Golfing Guide. For me, the most important one has to do with playing a layout appropriate to your game. Brad offers a great analogy that should convince any senior golfer afraid that a shorter course will somehow mean he or she is cheating or – a male thing – that moving up will be akin to playing the Ladies tees. But, as Brad points out, PGA Tour players hit the ball so far that on 400+ yard par 4s, they mostly hit 7-irons and less to the greens. Why shouldn't the rest of us be rewarded for a straight, albeit 200-yard-shorter drive?

The answer is that we should. This year, I have been playing my favorite course in Connecticut, Keney Park in Hartford, from the white tees at a total distance of 5,629 yards. (That is not the shortest layout; the green tees play to 4,712.) Two par 4s on the white layout play to 380 yards, one from an elevated tee box; oddly, the hole nicknamed "Long" plays to 373 yards. The three par 5s are no longer than 480 yards.

The rating from the white tees is just 66.5 with a slope of 121. With large, undulating greens, many with severe fall offs, the course even from the white tees is no pushover. But twice this year, I have been within range of shooting my age of 73, two or three bad swings having sabotaged my effort each time. And that has nothing to do with the length of the golf course. When I do accomplish my ultimate goal, I won't be tempted to think it illegitimate because the layout wasn't as long as what I played when I was 20 years younger.

One of the beauties of golf is that everything is relative, thanks to the handicap system. I am currently playing to an 11, which means I will need to better my average score by about nine strokes to shoot my age. When I do it, it won't be because the course was short but because I earned it.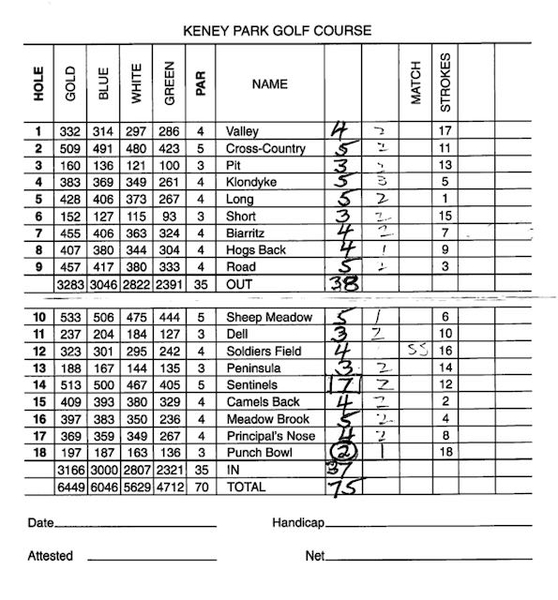 In July, I came as close to shooting my age (73) as I ever have, but a too-strong 9 iron flew the par 5 14th green and it took me four more strokes to get into the hole. The distances from some of the white tees at Keney Park belie the difficult greens, some of which are elevated and others that feature dips and swirls. The golf course is so much fun to play that it is almost distracting.
Comment
Be the first to comment