by Kenneth Kirkman
Ken Kirkman for years was a leading coastal environmental lawyer with clients throughout coastal North Carolina. He transitioned into management of large coastal communities, including Beacon's Reach in Pine Knoll Shores, Bald Head island off of Southport, Landfall in Wilmington, before personally developing the Carolina Colours community in New Bern, where he currently resides. In his career he has also provided consulting services to a number of developments and has acted as legal counsel to municipal governments, land developers large and small, and more than 100 community associations.
As the original developer of Carolina Colours, a 1,500-acre planned community in New Bern, NC, I had the opportunity to work closely with Bill Love, our golf course architect, in determining what we wanted to accomplish by constructing a golf course in the heart of our community. While New Bern is well known as a great place to live and retire, it is not a golf destination so we knew we would have many residents of retirement age with handicaps all over the place.
Working with Love, we established several design criteria: Make it friendly for high handicap golfers, including young, old, male and female; limit forced carries from the shorter tees, but make it challenging for the long hitters; allow for multiple teeing grounds with large tee boxes so the players that play multiple times a week can vary their experience; have a good blend of shot making, with 4 par threes of varying length, 4 par fives with differing characteristics, and with the par 4's being equally divided between short, medium and long. A player will use all the clubs in his or her bag.
We also are blessed with a wooded site, natural wetlands, abundant vegetation and varying elevations, so another objective, in addition to our design criteria, was to maintain a natural setting. We did not want a course with condos and small-lot homes crowding the fairways, so our limited number of multi-family structures are not situated adjacent to the course. Love, a long-time chair of the environment committee of the Association of Golf Architects, embraced all objectives and our players agree that our goals were met. The course has been consistently ranked by the NC Golf Panel, one of the few objective rating groups in our region, as the best course one can play in our central coastal region of North Carolina.
Love is a land planner as well as a golf course designer. We engaged Bill not only to design the course but to do the land planning for all of the residential areas of our large community as well. This allowed him to design residences around the golf course layout, with flexibility to use the natural features in the golf design as he deemed appropriate. Unlike some other communities where the golf course is force-fit to accommodate real estate sales, Carolina Colours is just the opposite. We required significant set-backs from adjacent housing, with a goal of forever having a natural feel to the play of the course. Many holes will never have housing on one side of the fairway.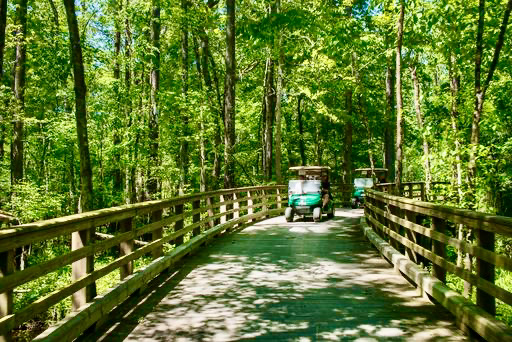 Plenty of flora and fauna to contemplate during a round at Carolina Colours.
The Golf Club was then structured to encourage equity membership at a reasonable price, while offering associate (annual) memberships at higher dues. In order to keep dues in our target range, public access with more restrictive tee-time reservation opportunities was allowed. We made it clear from the beginning that Carolina Colours was not to be a formal country club community but, rather, a great place to live with an excellent golf course.
We also maintain bent grass greens. We recognize that in the heat of the summer they sometimes get stressed, but the fact that we have both a spring and a fall growing season allows us to keep them playable and naturally green year-round. Our superintendent shares our belief that our greens are one of the best features of our course, and we have found that many of our retiree members who have migrated from the north love to continue play on our bent grass putting surfaces.
We have a very active LGA and MGA, plus frequent couples' events. Our community has a very active social life, and the property owner's association shares our nice activity center with our golf members and players. All residential property owners pay a small fee into the association as part of their property owner dues to support the club, whether member or not, recognizing that maintaining the course is key to maintaining residential property values.
We have recently added The Carolina Colours School of Golf with instructor Terri Magliacci, a well-recognized teacher who formerly worked as a teaching professional at Westchester Country Club, among others. She has a unique teaching style that focuses on results rather than form, and those players, both young and old, who are utilizing her clinics and individual teaching rave about their improvement. Our nice practice is a great setting to take advantage of her services.
New Bern was just recognized by Southern Living as one of the best small towns in the Southeast. Blessed with a five-star hospital and outstanding medical specialists, an airport, a number of historical sites, a great downtown with shops and restaurants, an active artistic group and welcoming residents, no small town can offer more. With two large rivers converging downtown, water activities are unlimited. As a bonus, the Atlantic Ocean and public beach access is close (but not too close). We adjoin one of the largest National Parks in North Carolina, which stretches about 30 miles, almost to the ocean.
Within Carolina Colours, our commercial area is anchored by a large Harris Teeter grocery, banks, pharmacies, physical therapy and other services, with more coming all the time. An age-restricted independent living and assisted living complex has just gone under construction.
Carolina Colours is a decade in the making and is still growing and evolving, as is New Bern and our surrounding region. Many of those that visit decide to call it home.
If Carolina Colours sounds like your kind of "forever home," please contact the editor for more information and an introduction.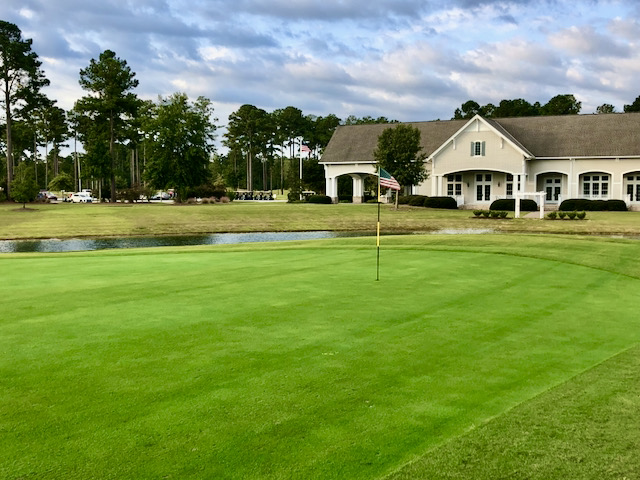 Carolina Colours' finishing hole and clubhouse . Photos courtesy of Carolina Colours

Comment
Be the first to comment