Newly retired folks looking to move to a Southeast golf community do not have many options at the moment, given the historic high demand and shrinking inventories throughout the region. But regardless of the market, few couples will spend their hard-earned savings on a home in an older community that is showing its age.
That is why the property owners of Rumbling Bald, formerly known as Rumbling Bald Resort, have decided to cheat Father Time with a wise and unusually bold move to reshape its golf courses and overhaul its infrastructure. They have committed $8.5 million over the next five years to the effort; the goal is to attract more permanent residents.
"We've gone through a couple of years of identifying ourselves, of who we are and who we are hoping to target," Rumbling Bald General Manager Jeff Geisler recently told Morning Read, a golf-industry-focused website. "It just made sense to focus more on the community part and not so much on Rumbling Bald on Lake Lure as a resort." The marketing thrust for the community reflects the transition: "Visit here, live here."
Rumbling Bald is a 3,000-acre golf community loaded with amenities and located on the northern end of 720-acre Lake Lure in western North Carolina. The community's name is derived from Rumbling Bald Mountain, which was renamed in the 1870s when a local preacher asked for a sign from above and received it in the form of a shaking and quaking mountain. (Geologists believe the phenomenon was the result of boulders falling into the many caves on the side of the mountain, but try telling that to those who saw it as a sign and hung a new name of the mountain.)
In any case, the eponymous golf community has decided to shake things up with its $8.5 million investment which will affect almost every part of the property, especially its two 18-hole golf courses. Geisler and Rumbling Bald's board recognized that golf's meteoric rise in popularity during the pandemic may not continue, but golf inside communities has certainly been reenergized as an important amenity. The board approved major enhancements to both courses, including brand new Champion Bermuda greens for Apple Valley, the marquee layout designed by Dan Maples, and significant landscape upgrades, new turf grass and tree trimming for Bald Mountain, which was designed by George Cobb protégé W. B. Lewis.
"Bald Mountain is a blast to play…and with the new greens on Apple Valley, the golf courses are the best they've ever been heading into the golf season," says Rumbling Bald Golf Operations Manager Adam Bowles. "We're excited to give golfers a fresh look at the courses they have enjoyed for years."
Other golf-specific investments include new signage on all 36 holes and at both clubhouses. Apple Valley and Bald Mountain have also added new E-Z-GO cart fleets and redesigned bag drop areas. And both practice ranges have enlarged hitting bays and added other improvements.
Non-golf amenities for homeowners at Rumbling Bald are among the most complete in any golf community and include an on-site spa and salon, wellness center, three restaurants, a beach and lakefront swimming, other water activities and a 125-slip gated marina. Some of the best hiking east of the Mississippi is only minutes away, and the exciting and popular mountain town of Asheville is less than an hour's drive. One of the largest and best-stocked Ingles supermarkets in the Carolinas is just outside the community's boundary.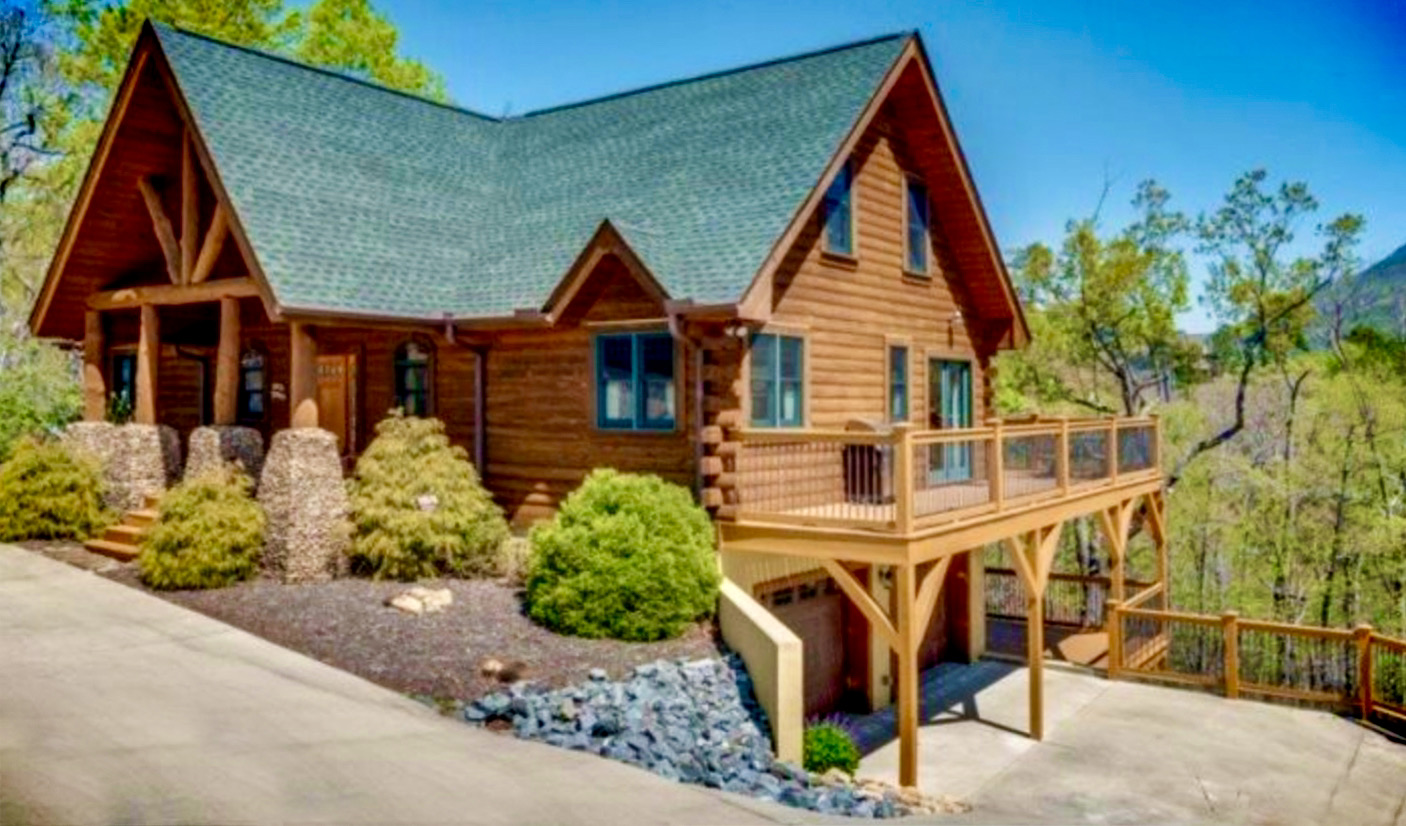 An example of a rustic but modern home at Rumbling Bald
Residential offerings include single-family homes and condos both on and off the golf courses, at comparably reasonable prices in a currently tight regional market. A quick check of inventory during this writing uncovered a one-bedroom condo under contract for $59,000, a fully renovated condo for sale for $69,000 and a small selection of single-family homes in the $400s.
Availability of home sites at Rumbling Bald is surprisingly ample; most lots are in the .8 to 1-acre range, priced from $5,000 to $79,000. Several lots have golf course views, while others offer lake views and, a few, direct lake access.
If you would like to sample life at Rumbling Bald before deciding on a move, discovery packages are offered that include golf, a tour of the property, scenic boat tour of the lake and lodging in the retreat's Apple Valley Studios. Although it has jettisoned its last name, Rumbling Bald still welcomes resort guests who can choose to book larger villas and luxury mountains homes and explore the community at their own pace. And Rumbling Bald is providing complimentary golf for two, exclusively for GolfCommunityReviews.com readers. Contact me, and we can get the ball rumbling on a visit to this reinvented community.
Comment
Be the first to comment