We all age and, as we do, our distances off tees and off all our clubheads diminish. Some of my fellow seniors just won't accept the hand that Father Time has dealt them. They continue to play from tees that were appropriate 10 years ago but doom them to ongoing struggles over the 3 ½ mile trek they insist on playing – 6,200 yards and longer.
I was in that camp until a couple of years ago when I realized there was no fun in what awaited me after a 200-yard drive on a 400-yard hole. If the best I could do with a driver was 200 yards, I certainly was not going to reach that green with a 3 wood with 200 yards more to go. That meant that on the two or three 400-yard holes per layout, I would be chipping for a third shot and par was unlikely (especially with my faulty chipping).
I have moved up to what on most courses are the "white" tees, on others the "executive" tees. On a 5,800-yard course, for example, the longest par 4 is typically around 380 yards, and the average is around 350. A 200-yard drive and no more than an approach with a 5 hybrid gives me a chance at every green in regulation. That is a lot more fun than hitting fairway metal on half the par 4s, and it makes the possibility of shooting my age for the first time realistic.
In our book, Playing Through Your Golden Years: A Senior's Golfing Guide, Brad Chambers and I devote an entire chapter to moving up a tee box or two. Brad compares the professional's game to the amateur's and makes this astute observation: Given the distance pros drive a ball on, say, a 450-yard par 4, and given that they leave themselves an eight or nine iron to the green, shouldn't the rest of us play yardage that leaves us a similar club for an approach? I have decided to say, "Yes" to that.
Most courses in the U.S. were laid out well before the Baby Boomer generation came of age and began demanding layouts more appropriate to their shorter distances. It would have been expensive for many clubs to develop new tee boxes but, cleverly, they devised another way, by creating "hybrid" or "combo" layouts from their existing tee boxes. On courses where, for example, the "blue" tees were 6,300 yards in total length and the "whites" were 5,800 yards, many seniors with a good dose of testosterone left in their bodies thought the 500-yard move a bridge too far. But 6,000 yards or slightly less was a magic number for them, and by combining tee boxes from the blue and white tee boxes, they could play a suitable and entertaining midway layout.
Last week I played the combo tees at the fine Pete Dye designed Wintonbury Hills golf course in Bloomfield, CT. The "green" tees at Wintonbury play to 6,287 yards and the white tees to 5,778 yards; the former is a bit long for me, but the latter – whose par 4s average about 350 yards with none over 375 – is a bit short. The combo tees, however, play to an ideal 5,936 yards, with most of the par 4s reachable with a 5-iron or less after good drives, and the par 5s – with only one over 500 yards – good birdie opportunities.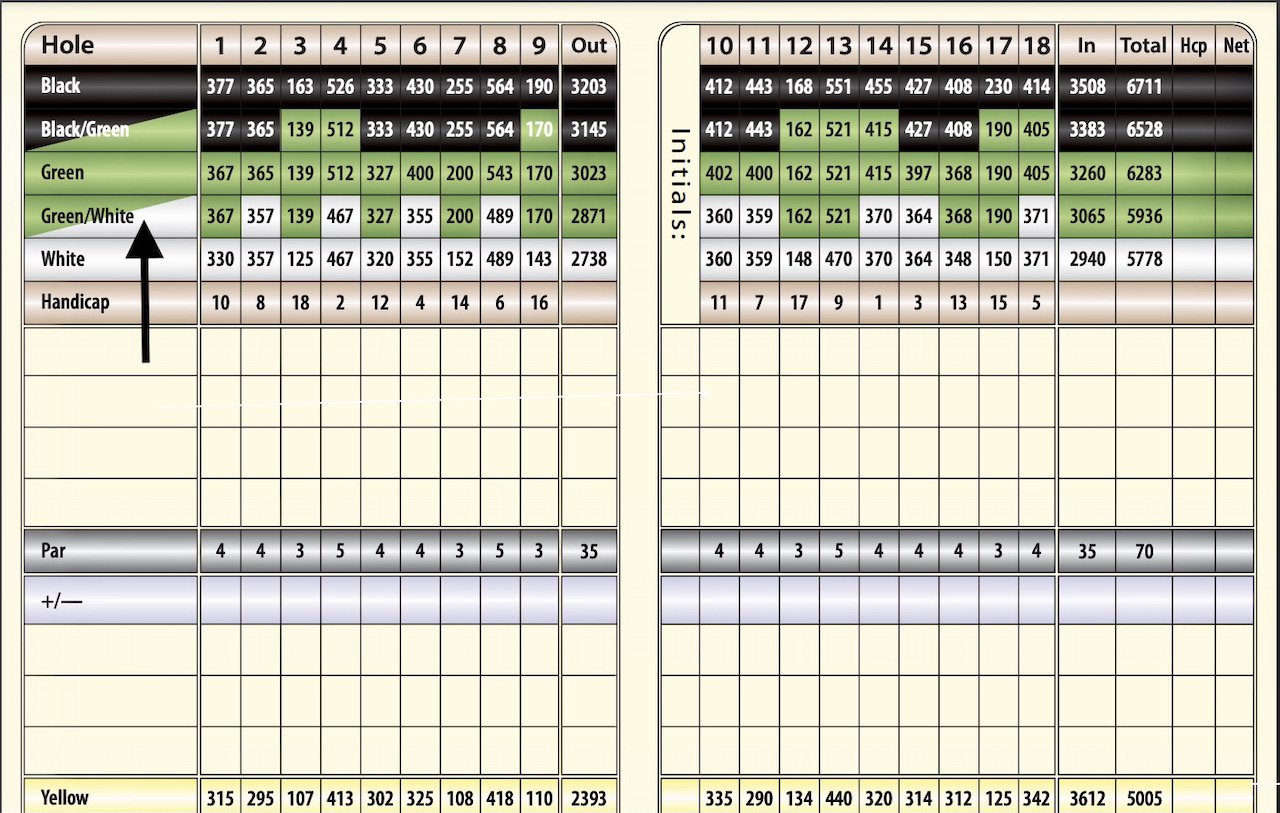 The scorecard for Wintonbury Hills, with combo tees noted.
My son Tim had treated me to a round of golf in early June at PGA Village's Dye Course in Port St. Lucie, FL. The Standard tees on the course play to 6,250 yards with a 70.7 course rating and 133 slope rating, a little too daunting for me with five par 4s stretching beyond 380 yards. The Middle tees layout is only 5,807, perhaps a little wimpy for someone who can still reach 200 yards on his drives; that routing's two longest par 4s are 380 yards, two other par 4s don't even reach 300 yards. But PGA Village combines the two into a 6,010-yard layout that I found perfect, even if my score did not reflect it.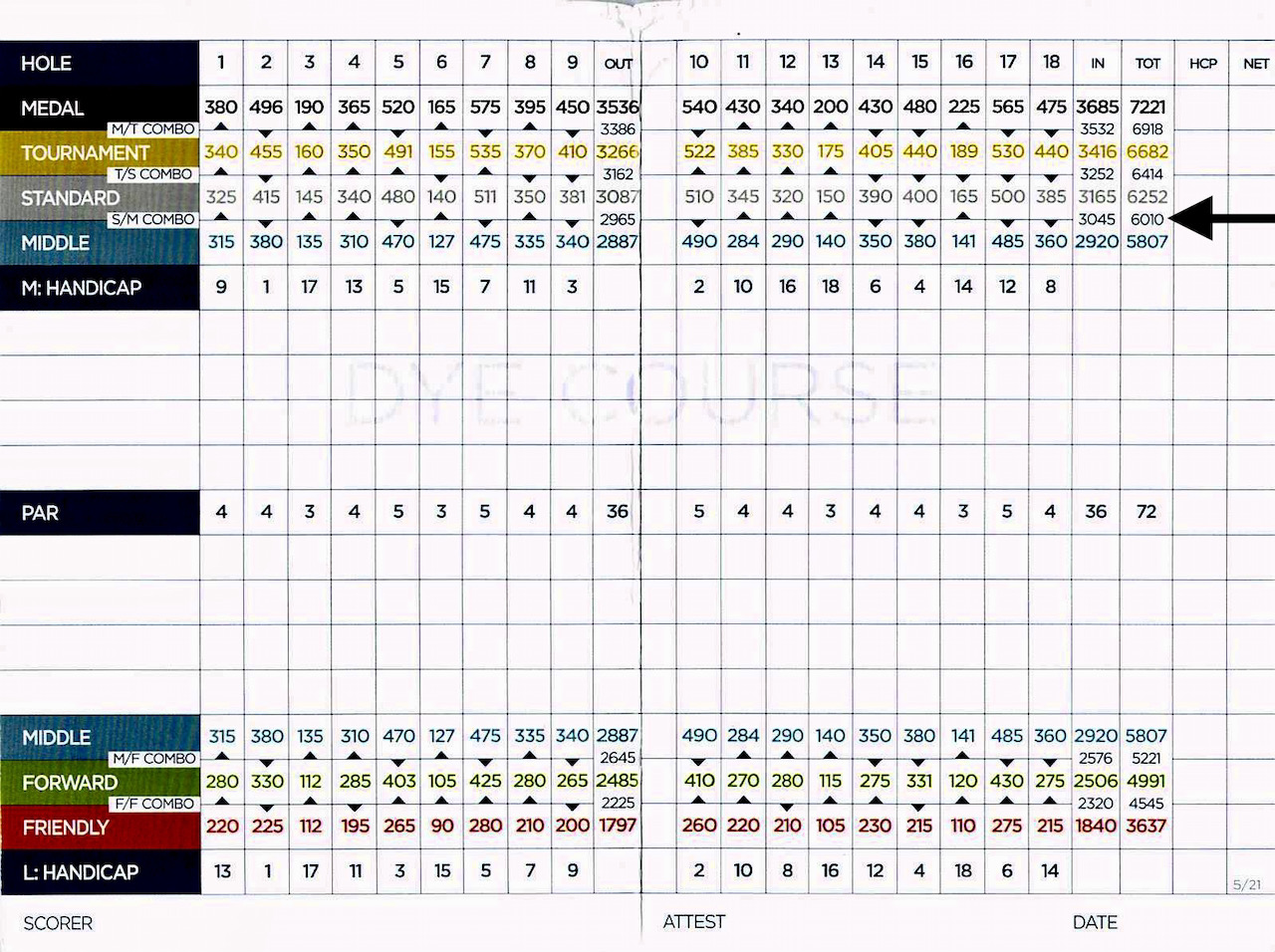 Scorecard for the Dye Course at PGA Village, combo tees noted.
In terms of degrees of difficulty, I'll defer to course and slope ratings. But my scores on the shorter layouts have been only marginally better, a stroke or two. You still need to chip and putt well to score low, but there is another thing about combo tees that toughen the challenge: The angles are not as gentle as from some of the longer tee boxes. Architects did not design the course for these "accommodation" tees and, therefore, you might find some extra trouble ahead. I have played the executive tees at some courses where a tree on the left side you would hardly notice from the back tees suddenly looms large. In other cases, the distances to fairway bunkers are just short enough to reach whereas that wouldn't happen from 40 yards farther back.
For testosterone junkies in their 60s and 70s, the challenge is still there with the combo tees; you just may need to re-channel that old energy in new directions.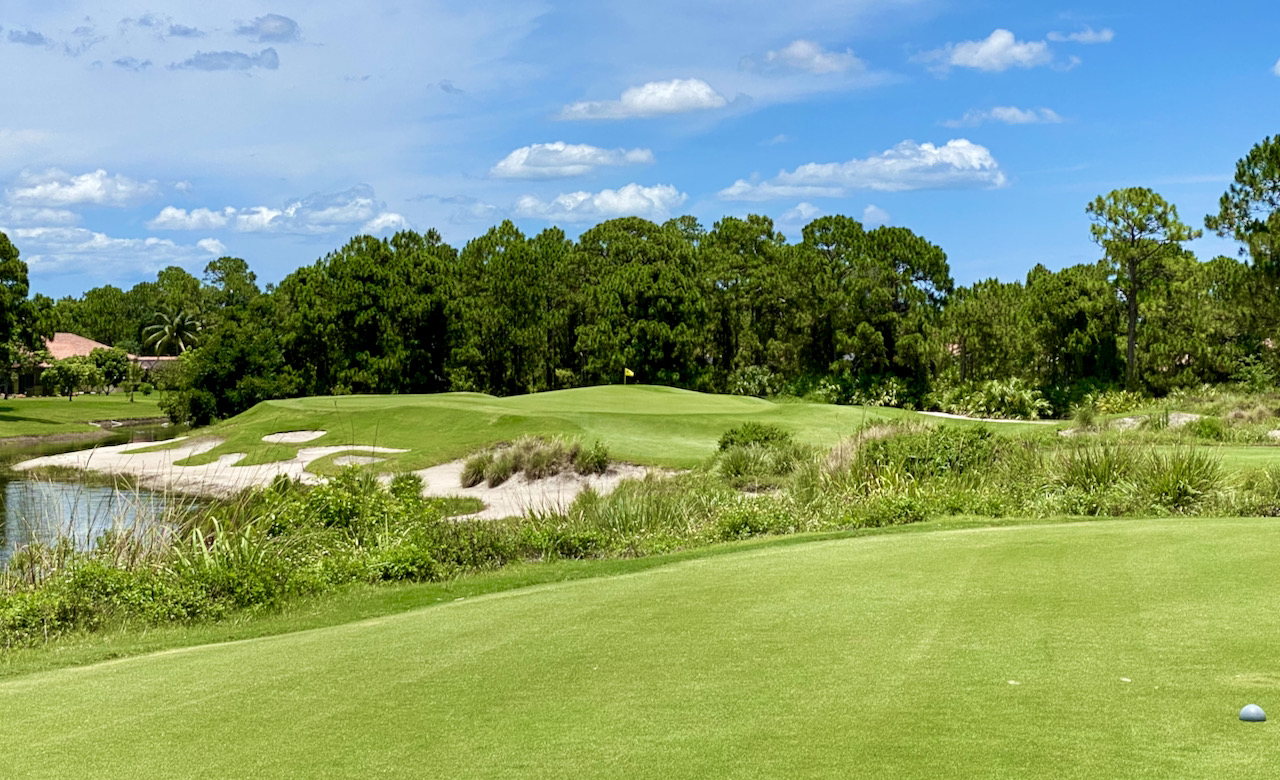 Par 3, Dye Course at PGA Village, Port St. Lucie, FL
Comment
Be the first to comment