I have not been able to revisit many of the golf communities I first encountered more than 10 years ago. Therefore, from time to time, I will invite those who are familiar with some of the best golf communities in the Southeast to provide updates here. This first one is courtesy of Shane Sharp, who lives in Greenville, SC, and has written about golf for more than 20 years. He is the owner of Southbound 4, a marketing and PR firm. Champion Hills and the Rumbling Bald Resort are among his clients. [Editor.]
Western North Carolina does not get the attention as a golf destination that Myrtle Beach and Pinehurst do. But word has spread over the years that it is a wonderful place for golfers to retire, semi-retire or simply relocate to enjoy the good life. At elevations of more than a half mile and with the Blue Ridge Mountains as a backdrop, the area is home to dozens of private golf communities and several of the country's top-ranked courses.
Champion Hills in Hendersonville, N.C. is a prime example. Conveniently located between Greenville, S.C. and Asheville, N.C., the community is less than an hour from each. Having recently celebrated its 33rd anniversary, Champion Hills is taking advantage of the real estate market upswell brought on by the exodus from America's urban areas.
Golf Community Reviews reported on Champion Hills eight years ago as the community was enjoying its 25th anniversary and launching into a number of new membership programs and initiatives. Since then, Champion Hills members selected the Troon Company to manage the member-owned club, undertook a major renovation of the clubhouse dining facilities, expanded the Wellness Center and updated Tom Fazio's distinctive mountain layout, which has aged gracefully over more than three decades.
The Golf Course
For golfers used to flat-land courses, Fazio's circa-1987 layout offers a dramatic change of pace – and scenery. The designer's routing pitches and rolls through heavily forested hills, deep ravines and mountain streams. Fazio and his all-star team of shapers deftly pulled ridges into valleys and filled hollows to create "playing platforms" that provide golfers with level lies despite the 350-feet of elevation changes. As a result, only six holes feature uphill routings while 14 holes are predominantly level or downhill.
Fazio and his wife moved to Hendersonville at about the time he commenced work on Champion Hills. He chose the town as a place to raise his family and host his business, opening an office in downtown Hendersonville. Today, he spends winters in Jupiter, Fla., but he returns to the western Carolina mountains in the summer.
Golfweek magazine recently elevated Champion Hills from 70th to 64th on its list of the Top 200 Residential Golf Courses in the U.S. In recent years the community has typically finished in the Top 10 in other golf rankings, including Golf Digest's "Best in State."


Champion Hills Clubhouse
The Community
Inventories of homes for sale are near a two-decade low in many southeast golf communities, but Champion Hills currently offers an array of residential options –- estate homes, low-maintenance cottages, lock-and-leave villas and a few remaining building lots. Lots for sale are priced from $50,000 to $300,000 and sized from one-half to 1 ½ acres. Move-in ready homes range from $500,000 to $3 million featuring golf course, mountain and wooded views.
In addition to the community, the surrounding area is a big draw for those who those in search of a mild, four-season climate and vibrant downtown. In 2020, Hendersonville was rated the No. 1 place to retire in North Carolina by the financial technology company SmartAsset. A few years prior, it was ranked the No. 1 "Great Unknown Place to Retire" USA Today. Suffice it to say, the word has gotten out.
Membership Options Expanded
Champion Hills offers full-equity and 12-month trial memberships. Both include full access to golf, dining, a wellness center, pool, spa and tennis courts. Most residents are either golf or social members. Full-golf members can enroll in the Troon Privé program which grants them access to 600 of the nation's top private, resort and daily fee courses in the Troon network.
"Our members are well-traveled, and they appreciate being able to visit other parts of the country and play at other world-class facilities," says General Manager Dana Schultz. "For our members who have homes elsewhere, Troon has a wide-variety of courses they can experience, often in proximity to their other seasonal residence."
The big news coming out of the Champion Hills club this spring was the announcement of the "Equity 55" Membership, a full-golf membership designed for those age 55 and under. With Equity 55, Champion Hills' $40,000 initiation fee is divided into four equal payments spread over four years and dues and replacement reserve fund contributions have been reduced by 50%.
"Equity 55 meets the upswell in demand by a younger demographic in search of both a club and community to call home," says Schultz.
Whether your winter residence is in a place like Florida and you want to cool off in the summer, or if you are looking for a full-time residence in a mountain location, Champion Hills can elevate your golfing lifestyle.
For more information or an introduction to Champion Hills, contact the editor.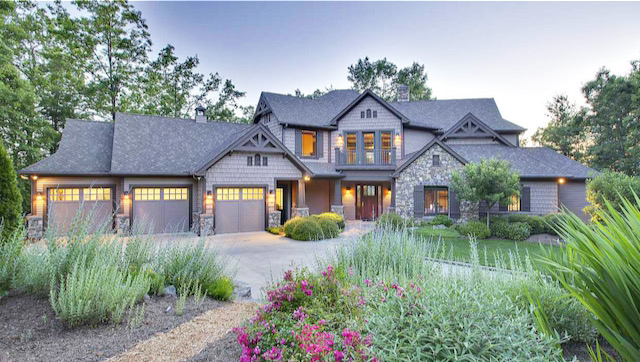 One of the luxury homes at Champion Hills
Comment
Be the first to comment