Golf Course Review: Oak Marsh, Amelia Island
There are days when every muscle locks up, every putt reads wrong, all the breaks uniformly go against you, every fairway lie seems to be a bad one, and lip-in is not part of the equation (but lip-out is very much so). Okay, that was me yesterday at the tough but fair Oak Marsh course at Amelia Island Plantation, from the double bogey on the first to the same fortune on the last. The only thing that kept me from verbally embarrassing myself -- beyond the embarrassment of my golf game -- was Jerry and Shirleen, the nice folks from St. Louis we were matched with (Bill Miller, friend and faithful subscriber to HomeOnTheCourse, our advistory newsletter, also was witness to my self destruction). I didn't want to act up in front of them.
Jerry and Shirleen return to Amelia every year for the month of March, and occasionally add the month of February as well. Clearly they like the island's golf courses and are enthusiastic advocates for resort golfing; when I asked if they had considered a retirement home in a golf course community, they replied "Never" in unison. They much prefer to have one home and various vacation spots. Their credentials as golf course afficionados are impeccable; their home course in St. Louis, Bellerive, has hosted the U.S. Open and PGA Tour Championships and is one of the most heralded clubs in America. They know of what they speak.
Thanks to them and Bill for putting up with me. We'll follow up soon with some comments about the Amelia Plantation courses; today we play Bobby Weed's Ocean Links course, and tomorrow it's the highly rated Long Point.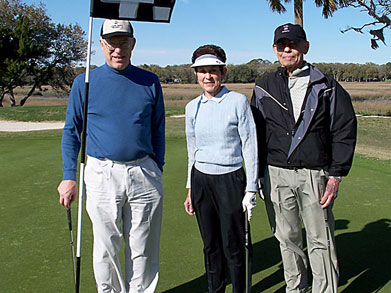 Not only was my golf game atrocious yesterday, but my picture-taking skills took the day off as well. Apologies to, left to right, Bill, Shirleen and Jerry.