The last time I played a so-called "executive" golf course before this past Sunday was about 45 years ago with my late father, Ed Gavrich. The course a few miles from his condo was named "Sabal" something or other in honor of Florida's state (palm) tree, and it was typical of Florida courses built specifically for old codgers like my dad, who was around 65 at the time. (I am an even older codger as I write this.) Sabal Something was short – under 4,000 yards total – and scraggly. The bunkers, as I recall, were more like worn-out grass patches with sandy soil, the fairway turf was essentially broadleaf grass, what some would call "weeds," and the greens were, generously put, "puttable."
A former stickball player in his native Bronx, NY, my dad's swing path that day was as outside-in as the human body is capable of producing, almost like the swing cricket players make. He seemed to be aiming for the top of a Bronx apartment building. Every shot – and I do mean virtually every shot – was a high slice or "dying quail." He saluted all my good shots but I felt guilty watching him struggle. For that reason, and especially the condition of the golf course, I did not enjoy the round and formed an unfair bias against shorter "executive" courses.
This past Sunday I thought about that day in Florida when my own son, Tim, suggested we compete in a local every-week event at Vista Plantation Golf Club 15 minutes from his home in Vero Beach. The pro at Vista sponsors the event in which you play as an individual against a "quota" you are assigned based on your handicap. A bogey is worth a point, a par two points, a birdie four and an eagle six. There are also four closest-to-the-pin awards. Based on all the scores and the size of the pot -- $45 per player covers green fees and buy-in – the pay off at the end on this day was $10 per point; the big winner passed his quota by 10 points and earned $100 in cash. My son, who plays to a scratch handicap, was just a point over his quota and earned $10.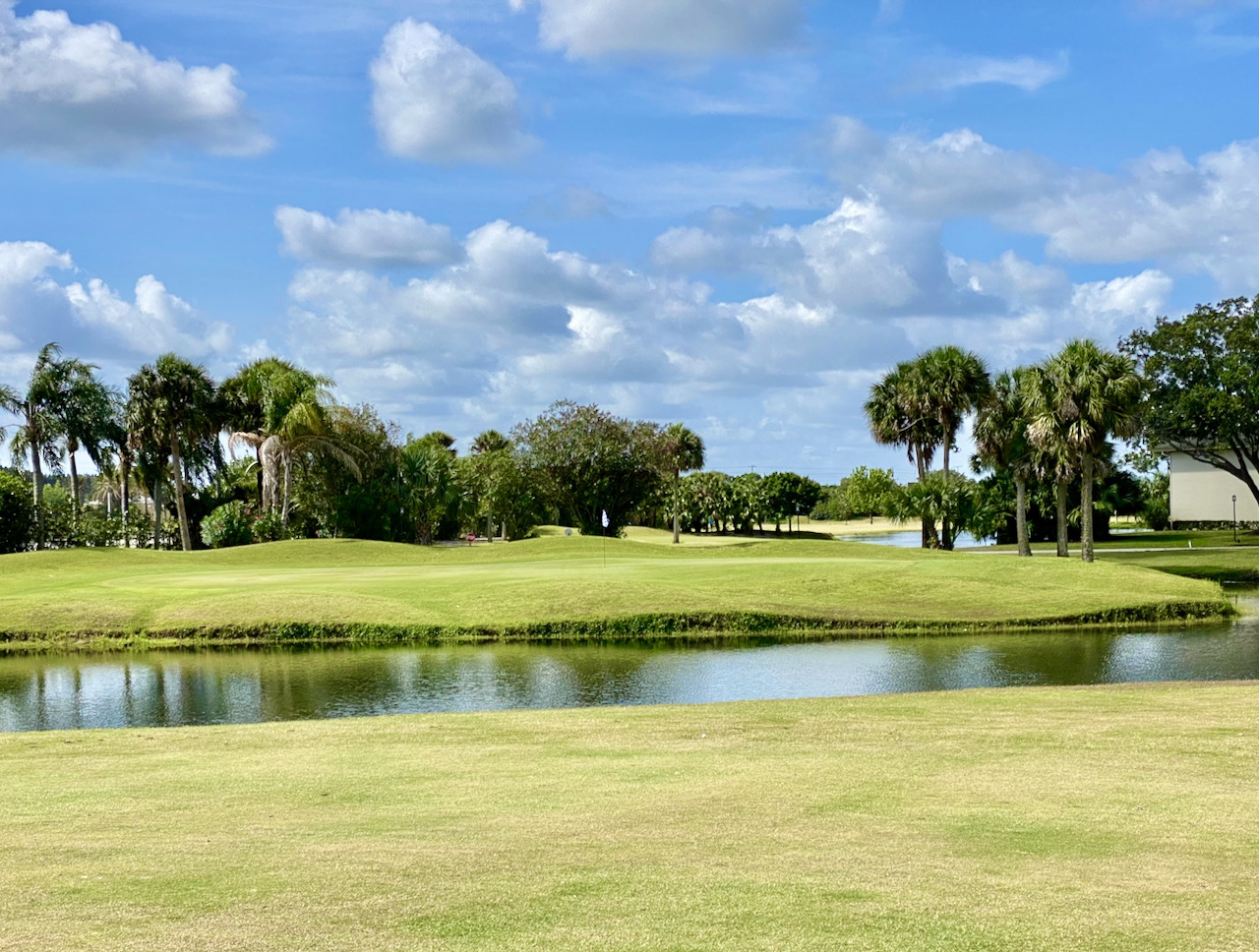 Even short courses can provide some daunting short approaches, as at Vista Plantation's 277 yard par 4 5th hole.
I won nothing, but the experience wiped away my bad feelings toward executive courses. (This one, by the way, played to just 3,448 yards at a par 62 – all par 3s and 4s.) The course was in fair shape and the greens were still showing aeration marks that affected roll. Forgetting the iffy conditions, any golf course you play for the first time is tricky, no matter how short it is. I was playing pretty well until #4, a modest 234-yard par 4 with trees on the left and water in driver range encroaching on the fairway on the right. All I needed was a 150-yard placement down the middle but when I slow down my swing to hit a "safe" shot, I tend to pull to the left…which I did, my ball coming to rest in sandy soil between trees, necessitating a punch out to the fairway. But then I overcooked my wedge beyond the green, pitched on and two-putted for a no-point six. That was pretty much the story of the rest of the round.
I admit I disrespected the golf course before I even walked to the first tee, thinking the distances were in my wheelhouse. The next time I have occasion to play such a short course I will have an attitude adjustment, mindful that any time a clubhead meets a golf ball, anything can happen – and that even a short layout can be long on lessons.