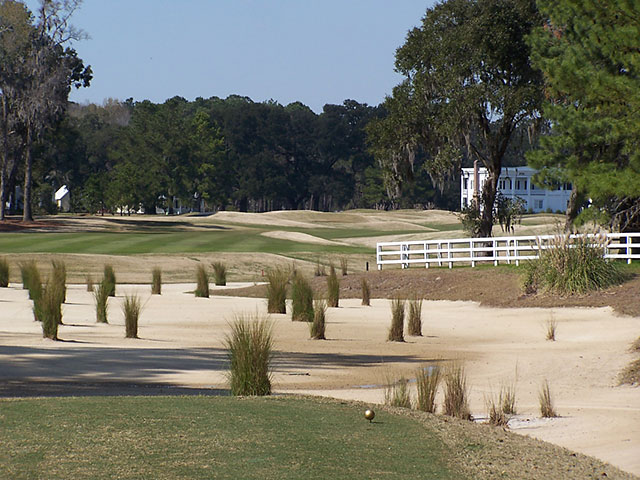 Golf Community Review: Ford Plantation
At the end of his infamous Civil War march, William Tecumseh Sherman's troops laid waste to the Silk Hope, Cherry Hill and Richmond Plantations, which later became The Ford Plantation. On a general's salary, Sherman might not be able to afford to live there today, but he wouldn't fit in anyway (too intense).
The laid-back Ford Plantation in Richmond Hill, GA, about 15 miles south of Savannah, is exclusive without being excluding, but if you have to ask how much it costs to live there, well then you probably can't afford it. For the record, custom homes begin around $1.9 million, but the average is about $1.3 million. (Update: Current golf homes for sale in Ford Plantation start around $700,000. See a selection of them at GolfHomesListed.) In the McAllister Landing area, Charleston meets Savannah, with 24 Charleston Battery-style homes planned around a well-treed square that evokes the layout of Savannah. Square footage of the homes ranges from 2,100 to 4,000 in six designs; expect home prices starting at about $800,000. The rest of the plantation is characterized by equally distinctive neighborhoods. A few lots remain from the original 400 sites.
Initiation fees and carrying costs are high compared with most other golf communities. At $115,000, the golf club's equity membership, which is required when you purchase a lot, is the priciest we have seen in more than 70 communities visited, but 80 percent of the investment is returned when you sell your property. Membership in the Ford Plantation club conveys much more than golf, however. The Plantation's 6,000-square foot Sports Barn provides a basketball court, squash, badminton and fitness classes (we were afraid to ask about something called "primordial sound meditation"). Other services, such as a spa, equestrian center, sporting clays, fishing excursions and use of the marina, are avilable for an extra charge.

Club dues and property owner fees together are high at $13,000 annually, but it is hard to put a price on the combination of deluxe amenities, high-class service, near perfect golf, a secluded location and proximity to city services, such as shopping, hospitals and restaurants less than 15 minutes away. And there are unique touches as well. Henry Ford purchased Richmond Plantation in the 1930s as a getaway for him and the missus; he built the plantation's centerpiece, The Main House, a Greek Revival mansion that served as his and Clara Ford's living quarters during their stays. The couple's separate portraits still hang in the mansion's living room. If you are considering property at Ford Plantation, call to arrange to sleep where the car tycoon himself slept, or in Clara Ford's bedroom. We didn't stay overnight, but we would have gladly paid the reasonable $200 to do so.
Ford Plantation's topography is flat, characterized by marsh and river views and achingly beautiful live oaks. The community has built 10 miles of walking trails (for horses, as well as humans) around Lake Clara, named for Mrs. Ford, and along the Ogeechee River. Ford Plantation has a strong water orientation, although its marketing materials highlight the equestrian aspects as well.

Terrific Dye Job
The Ogeechee Golf Club, named for the adjacent river, blends with the landscape beautifully. Like the community, the course is refined and elegant and never calls too much attention to itself. That certainly doesn't sound like Pete Dye, but we admire him for the restraints he imposed here and the way he let the golf course flow with the river. We drove a cart, but the course would be a joy to walk; even the #10 tee is near the #9 green, not always the case at modern, cart-oriented courses. Caddies are available for members who request them. Cart paths on the course were utterly unobtrusive, so much so that a few times we drove to the wrong side of the fairway looking for the path.
The front nine is studded with live oaks, and the back is a more open, Scottish links design, echoing somewhat Dye's work at the Ocean Course at Kiawah Island. Most holes played with a crosswind, but when the wind ran with the fairway it was with you on the long holes and against you on the short ones. The greens were near flawless in March and medium fast, and although the grass on the fairways was still a little thin, we didn't have a bad lie all day. Bunkers in the fairways and at greenside were definitely in play, and if you went left or right of a green and were fortunate not to land in marsh or water, you typically were faced with a loft over a bunker to the pin. The course was beautifully manicured; workers were in evidence throughout the afternoon round.
Links magazine recently anointed Ford Plantation one of its top 100 "premier" properties. And next August, the course will host the Georgia State Senior Amateur tournament. It will be interesting to see the scores.
Ford Plantation combines everything you would want in a golf course community -- a challenging golf course you could enjoy playing every day; a feeling of seclusion but in a location within 15 minutes of healthcare and retail options; a range of house styles without a clunker design among them; and well-chosen and executed amenities and services that appeal to both permanent and part-time residents. The price of admission is substantial, but for those with trust funds, hedge funds or enough mutual funds, it is worth a look.
For information, contact Lisa Andrews at 1-877-735-8367, or This email address is being protected from spambots. You need JavaScript enabled to view it.. Web site: http://www.fordplantation.com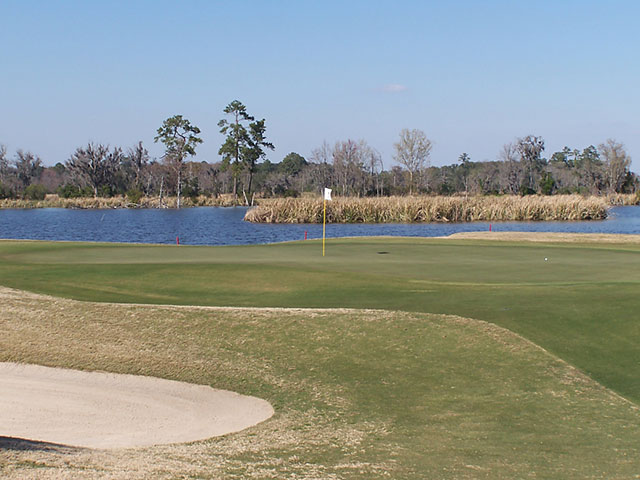 [where: 31324]