Golf Course Review: Rock Barn Golf Club, Hickory, NC
Larry Gavrich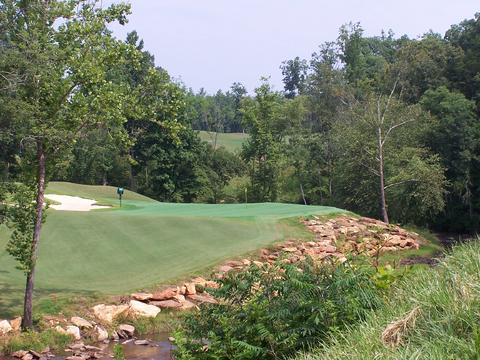 The 6th hole at Rock Barn, a long par 4, brings a creek into play in front of the green.
R.W. Eaks won the Champions Tour event at Rock Barn this past weekend. I had the opportunity to visit the community and play the course in 2006. Part of the experience was good, another part not so good.
First the bad. The woman in the real estate office blew me off after promising to be there to answer my questions and show me around. The receptionist greeted me with "Oh, she's not here, and she won't be coming back today." Since Hickory is fairly rural, about 90 minutes from Asheville, Winston-Salem and Charlotte, I was ticked off, but a round of golf on the Hickory, NC, course, which is open to the public, assuaged my anger.
I played the Robert Trent Jones Jr., 18 holes and left the shorter Tom Jackson course for another day. I liked the Jones course from the first hole which was what an opener should be, a fair driving hole where you can let out a little shaft if you want, clearing the bunker on the left for a mid iron approach. Choose the right side, and fairway bunkers come into play and you could be faced with a long iron over bunkers at greenside. Nice opener.
The risk reward formula was characteristic of the rest of the driving holes at Rock Barn, with fairway bunkers generally in play where approaches were shortest to the greens, but sometimes covering the edges
of the "safer" landing zones. Water, in the form of ponds and a stream that runs throughout a good part of the course, come into play on significantly offline shots and on a few of the par 5 approach shots. Overall, the most compelling featue of the well conditioned and beautifully designed classic course is the bunkering. Jones ran up the bill on sand, and to good visual and playable effects.
Rock Barn, whose homes are generally in the mid six-figure range with some impressive views of the golf course, also maintains a world class spa, as well as the customary amenities of country club living. But the place is serious about golf. Not only do they offer 36 holes of excellent golf, but also most of the street names honor legendary golfers. Now if they can only improve the sales office.
If you would like a local real estate agent to show you around Rock Barn, please let us know and we will arrange it without any cost or obligation whatsoever to you (all we ask is that you register here at GolfCommunityReviews, which is also free and without hassle). We will never share your personal information with anyone.
Rock Barn Golf Club, 3791 Rock Barn Club Drive, Hickory, NC. Tel: (828) 459-9279. Web: www.rockbarn.com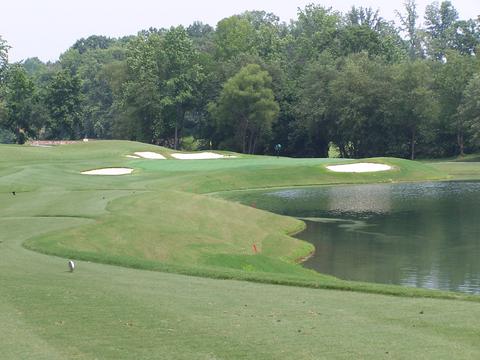 The par 3 17th at Rock Barn is vintage Jones Jr, water kind of in play, bunkers definitely so.