June 2021
Realtors across the Southeast are starving…for listings of homes for sale. This is also causing consternation among the hundreds of thousands of Baby Boomers looking to move to the region, as well as for all those employees now working from home and looking for larger homes (with a room for an office) in lower cost-of-living locations. What to do? We explore some options, as well as announce a new design for our blog site — much more mobile friendly.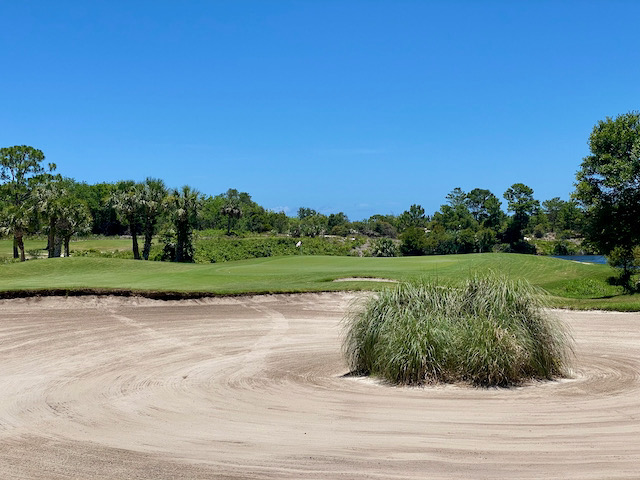 Sandridge Golf Club, Dunes Course, Vero Beach, FL
How to "Play" the CurrentGolf Home Market
Southeast golf communities remain short on supplies of homes for sale. Some realtors are on forced vacations, with little to sell; current homeowners who might otherwise list their homes for sale wonder where they are going to move. Virtually every market in the country has the same inventory shortage problem.
Options are few for those anxious to move to a golf community from a primary home they have lived in for years. Here are the major options:
Sell and Buy Now Regardless of Cost
With few exceptions, inventories of homes for sale are pretty tight nationwide, which means your own primary home has increased in price as well. Chances are you will downsize in retirement — kids gone, no need for all that space anymore — and you will pay less for your golf home than what your current home fetches. And your cost of living will drop, in some cases substantially, as the property taxes you pay on your golf community home in the Southeast will be half or even less than half of what you are paying now. (Example: Property taxes on a $400,000 home in Schaumburg, IL are $8,400 annually; in Leland, NC, they are $2,520. Source SmartAsset.com).
If you wait until the real estate market normalizes, you run the risk of your local market becoming "normal" before the golf community market in the Southeast returns to normal. Your home's value may level off while your target golf home will continue to rise in price as Baby Boomers step up their searches and stay-at-home employees in the North decide they can have larger homes (extra room for an office) at lower costs in the South. That will push up demand at a time supplies are still slim. And we know what that means.
Settle for a Little Less House
Some of the couples I work with start off thinking they need more house in retirement, or a larger vacation home, than is practical. Most of this is driven by family concerns; that is, we want our children and grandchildren to visit us as often as possible and, therefore, we need to make our house comfortable for their stays. But is it wise to invest for the exceptions rather than the rule?
Twenty years ago, my wife and I bought a condo beside the 15th tee of a Jack Nicklaus golf course in Pawleys Island, SC, located just six minutes from the Atlantic Ocean. In the last 10 years, our two children have been able to join us at the condo an average one week each year. In 2000, if we had built a house of three or four bedrooms anticipating frequent visits from the kids, it would have cost us twice as much as the condo, and we would have had all that extra unused space.
You may be thinking you need a home for your kids' visits. You don't. Find a community with rental properties nearby or a good family-friendly hotel. (I write this from one such hotel in Vero Beach, FL, where my wife Connie and I are quite comfortable being just 10 minutes from our son, his wife and their new baby daughter. If the situation were reversed, I know our kids would be equally comfortable and perhaps grateful that their parents are not underfoot 24x7.)
Wait Out the Market
Of course, what goes up must come down, and that is true of the current housing market. But that simple law of gravity could work against you if your timing is not exquisite. Economists are predicting an upcoming spell of inflation at which time most items, including real estate, will rise in price. We don't know whether this will drive a disproportionate number of Baby Boomers to rush South to secure their retirement homes before things get ugly, but if they get there before you do, you could find yourself priced out of the market as home prices in your target areas inflate faster than the value of your current home. Few real estate experts suggest anyone try to "time" the market, so watching and waiting may be the riskiest move of all.
Buy a Lot, Build a Home
Land is still relatively cheap. But, the price of lumber and construction labor costs have increased dramatically in the last two years, and a home in the Pawleys Island area, for example, that two years ago would have cost $150 per square foot to build is now estimated by local officials slightly above $200. On a 2,500 square foot home, that amounts to an extra $125,000, a premium upcharge even for a "dream" home.
But whereas you have little negotiation room on a single-family home — many are selling above their list prices — owners of lots are more flexible. Strike a good bargain and the construction costs may be a little easier to take.
Stay Put (Refinance?), Travel in Cold Weather Months
Some years ago, as my wife and I were planning our retirement, I conjured a one-home solution to what we would do during the winter months. We would find a home in New England and figure out what to do in the winter months. Whereas many folks high-tail it to a vacation home in Florida from December through March (or longer) — they either purchase one or simply rent the same place every winter — I thought it would be cool if we traveled the world, perhaps staying in the Caribbean for a couple of months one year, renting a pied a terre in Paris, Athens, Amsterdam or some other interesting city another year. (The costs, I reasoned would be even less than owning a second home.) Mrs. G. was a bit cool to that idea, way ahead of me in understanding grandkids would arrive during the early years of our retirement, and the lure to visit them would be strong. (How right she was? We welcomed granddaughter Alice in early June in Vero Beach, FL, and our next grandchild is on the way in August in northern Vermont. Traveling between will take some finesse.)
Those of us who opt to stay in our current primary homes and have a substantial amount of equity might consider unlocking some appreciated value and using the proceeds to fund a vacation home. Or, if your retirement income supports it, stay where you are and just travel to someplace warm or interesting a month or two each winter.
In summary, the current tight market requires a strategy that requires some sort of action. Hesitate, as the saying goes, and all may be lost.
Larry Gavrich
Founder & Editor
Home On The Course, LLC
New Look forGolf Community Reviews
After 15 years and almost 2,000 articles posted, it was long overdue to "change the furniture" at our blog site, Golf Community Reviews. I had two compelling reasons — design and functionality. The site has always been easy to navigate for those who use a laptop or desktop computer. But that is an ever-shrinking proportion of our readers as many of us rely on mobile devices away from home — and some, like me, on the recliner inside our homes. On iPads and especially phones, the layout of the prior site has made navigation a headache for anyone who wanted to engage with much more than the most recently posted article.
Our new design features a more user-friendly design for both mobile phones and tablets, while retaining ease of navigation for laptops and desktops. The most recent feature story will still appear front and center on all devices; on phones and tablets, scrolling below the lead feature will bring you to the other most recent stories for easy reading. On laptop and desktop, those recent stories will appear, in chronological order, down the left side of the screen. If you are looking for a specific topic in the nearly 2,000 articles I have published in the last 15 years, an easy-to-find search tool will list states, specific golf communities, golf course architects or whatever you are looking for.
We provide other categories of information from convenient "tabs" across the top of the layout on the larger screens; on mobile devices, they are embedded in what is colloquially known as the "hamburger," three stacked horizontal lines at top left of all pages. The burger delivers a convenient drop-down list of the "Home" page, "Contact Us," "Subscribe" (to our newsletter), "Find Your Home Now", "Archives" (web site and newsletters), "Links" to web sites we recommend, "About Us" and "Books," with information on the two books I have published (one co-authored).
The new design is less complicated than the prior one and, therefore, not only easier to navigate but also more responsive. On most devices, you should see an increase in the speed of transitions from one page to the next. And as a little extra-added attraction, you can now toggle between regular mode and a "night mode" that features a black background against which white typescript is even more readable in certain lighting.
If you have any comments or suggestions about the new look, please contact me here. And thanks for reading GolfCommunityReviews.com and Home On The Course.
New Golf Homes in mid $200sin Vero Beach, Florida
If you are currently looking for a golf community home, you don't need me to tell you the pickings are slim. Recently, my wife and I drove through the sprawling community of Pointe West in Vero Beach, FL, and were impressed with its many tree-lined streets with well-tended compact homes, reminiscent of Daniel Island in Charleston, SC, and many other nicely planned communities. We aren't looking for a home in Vero Beach but wherever I travel, I can't help myself; I need to understand the local golf community scene.
When we returned to our hotel room, I surfed the Internet for listings of homes for sale in Pointe West, whose homes surround a rolling John Sanford layout. I follow the golf real estate markets in the Southeast pretty carefully, and I know that inventories are extremely tight, but I was stunned at just how tight. Pointe West, home to a couple thousand homes, showed just eight re-sales listed, seven of them "pending" or "contingent" on financing. Median prices for those were in the $500,000 category.
R. Horton, a nationwide builder of inexpensive homes, bought a large piece of property across a canal on the eastern side of the community and has been rapidly producing new homes as fast as they can. At attractive price points that begin in the mid $200s for homes of less than 2,000 square feet, Horton appears to be looking to sell out quickly. The price seems especially attractive for those intending to live in Florida for just the winter months. For others, "golf front estate homes" with as much as 2,900 square feet are available beginning in the mid $400s.