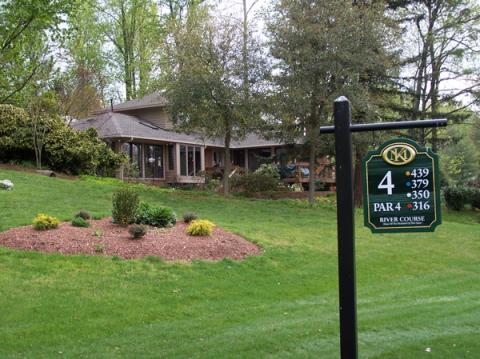 The attractive homes along Kingsmill's River Course do not encroach on the fairways.

This weekend, the Ladies Professional Golf Association makes its tour stop at the Kingsmill Resort in Williamsburg, VA. If you watch any of the coverage on television, you might catch a glimpse of some of the attractive homes adjacent to the course. I visited the resort in 2007, played the River Course, the best of the three on site, and held discussions with real estate agents and residents about the lifestyle at Kingsmill. My observations about the community follow; tomorrow I will review the River Course, site of this weekend's LPGA event.

The young at heart certainly could stay that way at the Kingsmill Resort. Adjacent to Busch Gardens and an Anheuser-Busch brewery - they run tours with free beer afterwards - and encompassing three golf courses that range from leisurely to professional-tour worthy, the Kingsmill Resort pretty much offers its residents a permanent vacation.
The entire Kingsmill property spans 4,500 acres, of which 3,000 are given over to residences and the rest to commercial interests, including the brewery, which is well hidden from the neighborhoods. All but 100 acres of the residential area is for the non-resort neighborhoods; the 100-acre area comprises 400 condo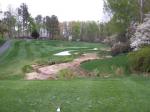 units, a conference center, golf and tennis clubhouses, and a marina. The condo units, priced anywhere from the $200s to $700s depending on views, are generally owned by investors and rented to Kingsmill's resort guests. Those guests have access to most of the community's amenities, and Kingsmill takes a 55 percent management fee for housekeeping and maintenance.
Despite the resort traffic, the community does what it can to neutralize any feelings of transience. Community regulations, for example, require that leases of single-family homes be for a minimum of one year. On average, no more than 5 percent of homes in the residential neighborhoods are leased at any one time. And Kingsmill's site plan ensures that neighborhoods remain "enclaves," with each ending in a cul de sac and well away from any main roads. A traffic circle at the community's heart is effective at dispersing traffic in four directions.
The assortment of real estate options is so diverse in Kingsmill that up to 45 percent of those who purchase a home on the property are already Kingsmill residents. They move between single-family homes, patio homes and town houses depending on their circumstances. Shortly before my visit, according to an on-site agent, one couple moved from their 4,000 square foot home to a 1,700 square foot patio home in the same neighborhood. In other cases, residents go upscale as their needs, and incomes, change.
Of Kingsmill's 1,500 single-family homes, 10 percent are of the small, "patio" variety, and another 900 are town home units. The "sweet spot" in the community are the three- and four-bedroom single-family houses that include a bonus room and are sized from 2,500 to 3,500 square feet. Most of these are in the $350,000
"Resort" is in Kingsmill's name and nature.
to $850,000 range, with the lower part of the spectrum those homes that require some updating. When I visited in April, the most expensive, a huge brick three-story Federal style house, with six bedrooms, seven full baths and four fireplaces, was listed at $4 million. A more modest 4,500 square foot home built in 2000 and on an "interior" lot was on the market for $863,000. The same house on one of the resort's golf courses would carry a $950,000 price tag, according to local agents. (Note: Like everywhere else, prices have moderated since my visit.)
At the time of my visit, the community was planning to open a 50-acre tract to accommodate 45 new single-family homes. An additional eight one-acre lots were available on the river for up to $1.5 million and were recently joined in the view by a group of luxury town homes priced between $1.3 million and $2 million per unit.
Kingsmill shines in the number and quality of the amenities it offers its residents, as well as its resort guests. The list is long, and includes not only 63 holes of excellent golf, but also 15 tennis courts; a modern fitness facility with indoor and outdoor swimming pools; racquetball courts; aerobic studio; and a full-service spa and salon. Five dining facilities are also available, including one for special "elegant" dining.
Of Kingsmill's 4,200 residents, about two-thirds either work at a local business or as consultants from their homes. The rest are retired. Those restless few who can't find enough to occupy them on site can be at a big shopping mall in Newport News in 15 minutes, Virginia Beach in 90 minutes and the Blue Ridge Mountains in two hours. Grocery stores are within five minutes and a hospital within 15. Oh, yes, and a brewery is within two minutes.
Make no mistake about it, "resort" is in Kingsmill's name and nature. But Anheuser-Busch has done a good job of segregating the residents from the tourists, and where they must overlap, mostly on the golf courses, the twain meet harmoniously. Kingsmill's most obvious appeal is in the range of activities it offers its residents, but don't underestimate the variety of the real estate. In short, you can act like a neighbor or a guest as you see fit.
COMING TOMORROW: SOME THOUGHTS ON GOLF AT KINGSMILL.