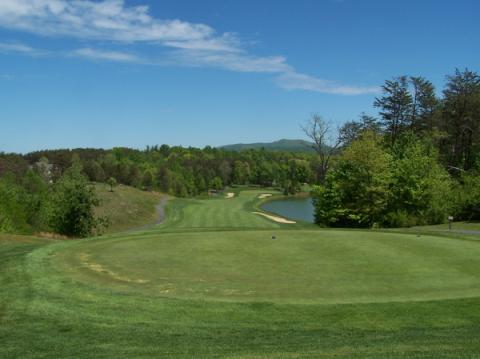 The par 4 first hole on Rees Jones' Tuckahoe nine has all the ingredients of the best mountain courses.

The Wintergreen Resort near the Blue Ridge Highway in western Virginia is not top of mind when it comes to golf vacations in the east, especially with the Greenbrier and Homestead just a few hours away. But if you catch the weather right in January, and you are so inclined, you could get in some skiing on the top of the resort's 4,000 foot high mountain in the morning and 18 quick holes in the afternoon on the fine Stoney Creek course at the base of the mountain.
Now, with significant renovations to Rees Jones' 27 hole layout at Stoney Creek, there is even more reason to put it on your list of places to play and, potentially, to live. You won't ski in June, but you will play a mighty fine group of holes.
I visited Wintergreen a few years ago and played the Shamokin and Tuckahoe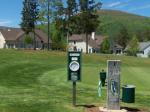 nines. The Tuckahoe course was recently renovated with a special new grass planted throughout. The new Cavalier zoysia replaces the previous bent grass fairways, according to a report in the Golf Club Industry newsletter. In addition, the club added six new tees and 300 yards in length; the Tuckahoe nine now stretches to 3,800 yards at the tips. All nine greens were resized to Jones' original specifications and replanted with a tight bent grass the course managers believe will result in smoother putting surfaces.
The resort includes an additional 18 holes at Devil's Knob on the top of the mountain. The course, designed by Ellis Maples, includes sloping fairways and dramatic views. Because of its altitude, it is closed during late fall and winter months; the Ross nines remain open all year.
Attractive homes dot the mountains surrounding the courses at Wintergreen. A nice lot at 6/10 of an acre along the 17th hole at Devils Knob is listed at $159,000. Charlottesville, home to the University of Virginia, is about 40 minutes away. If you are interested in Wintergreen, contact me and I will put you in touch with a real estate specialist who knows this interesting and impressive community.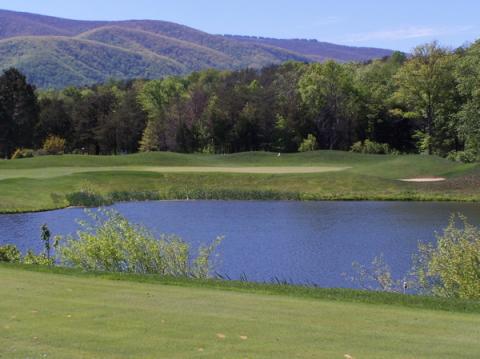 Water comes into play on a number of holes on Wintergreen's Tuckahoe nine.