There are two ways to look at the sale of a golf community. One is to say, "Oops, they were in trouble, and the owner had to sell." The other way is to understand that, with an improving economy and a wealthy baby boomer cohort, well-organized and developed golf communities may just be a good buy. Follow the smart money and you will know the difference.
Smart-money investment companies have announced in the past week the purchase of two well known golf communities. In Florida, the venerable Pelican Point Golf & Country Club in Venice, about an hour south of Sarasota, was sold for nearly $17 million to a New York City based investment company. Pelican Point was developed 20 years ago and includes 27 holes of golf designed by Ted McAnlis. With 1,355 home sites and 800 single-family homes, Pelican Point is the quintessential mid-range Florida golf community with a mix of villas, condos and single-family residences. Villas are priced from the low $200s and single-family homes from the low $300s.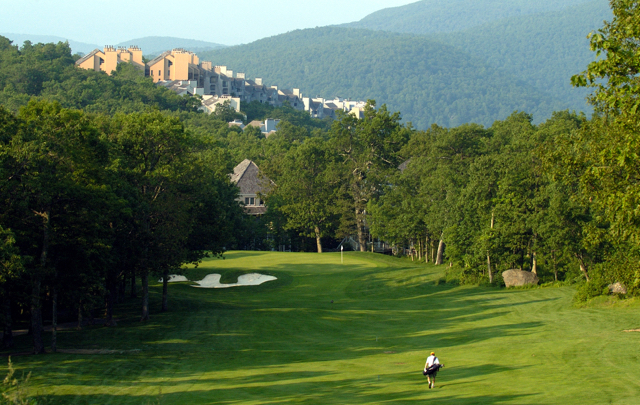 Things are looking up -- and down -- on and around the Devil's Knob Golf Club at the Wintergreen Resort, where both ridge-top condos and the fairways have commanding views of the surrounding mountains.
The new owner, Lex Pelican LP, is a Real Estate Investment Trust (REIT) that owns 13,000 hotel and resort rooms in the U.S., Canada and the Caribbean. The REIT is traded on the financial exchange.
At Nellysford, VA's Wintergreen Resort, residents, club members and potential residents have been waiting patiently for Jim Justice to snag a new owner for the residential resort, located about 45 minutes from Charlottesville. Justice bought the combination ski and golf community three years ago after breathing new life into the Greenbrier Resort in his native West Virginia. But after investing an estimated $12 million is infrastructure upgrades at Wintergreen, he either tired of his investment or thought better of what might be needed in the future and announced the community, its two golf courses and ski operations were up for sale. That, of course, made everyone with an interest in Wintergreen nervous.
After his initial investments, "Justice was not putting anything into improving the facilities going forward," says Steve Marianella, a Wintergreen real estate specialist. "Also, the uncertainty associated with a potential sale had affected real estate negatively."
The new buyers are the New York Stock Exchange traded EPR Properties, another REIT. A purchase price was not disclosed but the firm maintains a $3.9 billion portfolio that includes entertainment, education and recreation investments. Another company, Pacific Group Resorts, will lease Wintergreen and its facilities from EPR and will manage the community, something it has done successfully at three ski resorts and four golf courses.
"We now know who will own and operate [Wintergreen], and both parties have impressive track records and capital," Marianella added. "Time will tell but we are excited about the future prospects."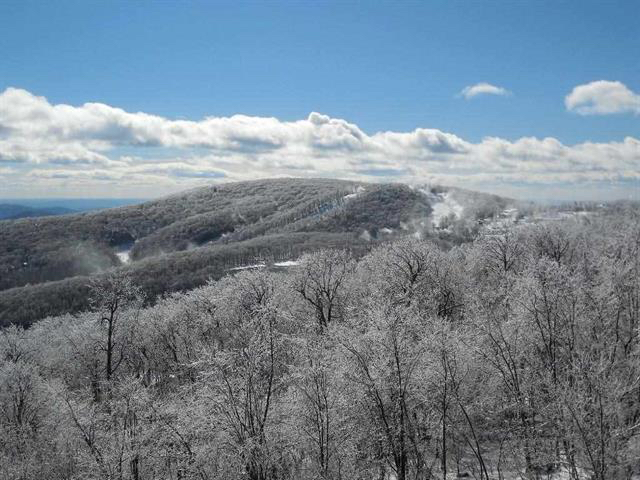 This is the view from a 2 BR, 2 BA furnished ridge-top condo currently listed for $214,900 at Wintergreen. Photo courtesy of Susan Phillips
The announcement by the Justice organization that Wintergreen was for sale was surprising on two levels: First, why, after only a little more than a year had the gazillionaire decided on an about face? And second, why announce an obviously anxiety-inducing potential sale so publicly and erode the perceived value of Wintergreen, which has a lot going for it, including one of the better ski areas south of New England, two outstanding golf courses, and extremely reasonable real estate, priced to attract a second-home crowd from the Washington, D.C., area as well as retirees looking for clean mountain air, excellent golf and the occasional jaunt on the Blue Ridge Parkway, adjacent to the community. The golf is excellent, 45 holes of it by Rees Jones and Ellis Maples; I wrote about the golf courses some years ago after my first visit.
Steve Marianella is offering a number of outstanding properties for sale currently, including a 2 BR, 2 BA condo and breathtaking views of the Blue Ridge Mountains from one of the highest points in the community. The unit, which is a short walk to the Devil's Knob golf course and clubhouse, comes fully furnished and with a fireplace in the living room and a the potential for excellent rental income. Its list price is just $214,900. Please contact me and I will put you in touch with Steve, who can provide information on this home and dozens more for sale at Wintergreen, where everyone believes the future looks as bright as a sunrise over the Shenandoah Valley.