We suppose it is fitting that a mountain golf community with skiing at its top and golf at its base should suffer fortune's highs and lows. That is what pretty much what has happened in just a couple of years at the Wintergreen Resort in the beautiful Blue Ridge Mountains of western Virginia.
After a couple of nearly snowless winters that dried up annual ski revenues for the owners of the community, Wintergreen Partners Inc, the financially strapped homeowners association put Wintergreen up for sale in 2012. No less a white knight than Jim Justice, savior of the famed Greenbrier Resort two hours through the mountains from Wintergreen stepped up and stepped in to save the day. Within a few months of his purchase of Wintergreen, which comprises 45 holes of golf and some of the best skiing east of the Mississippi and south of New England, Justice committed another $12 million and remade the entire snowmaking infrastructure of the ski operations. Club members did their part as well, most of them agreeing to pay a new initiation fee of $5,000 on top of the fee they had paid to join in the first place; new club members were assessed $10,000. The new infusion of cash, plus a couple of snow-filled winters, helped resort operations move from the red to black.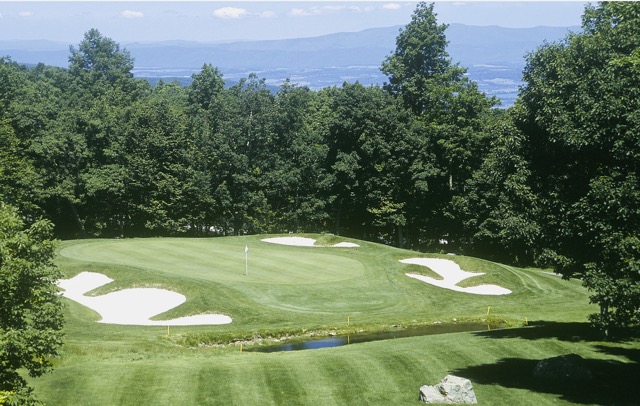 The 17th hole at Wintergreen's Devil's Knob golf course.
But for some reason that has not been communicated beyond the Justice inner circle, the white knight made the dark announcement earlier this year that he was putting Wintergreen up for sale after barely more than two years of ownership. That caught Wintergreen residents and those considering a home there by surprise, and communication from the West Virginia mega-millionaire has gone silent, creating a vacuum that has been filled with speculation and innuendo. The Justice organization accepted bids for the community and its infrastructure earlier this year, but only two emerged, one from a group led by a Wintergreen property owner. Reportedly, the bids were rejected without any attempt at negotiation by the Justice side. One local official told us that at least one of the bids was for slightly more than the $16 million Justice reportedly paid for the community's amenities and unsold properties. Since the West Virginian has well more than $16 million in the property already, and since the resort has been turning a profit since he bought it, he does not seem in a hurry to move it.
Nature abhors a vacuum, especially in the real estate market, and the lack of communication about Justice's plans or any tipoff to his strategy has caused angst among already anxious property owners and a precipitous drop in real estate values, good news only for those who might be in the market for a second or permanent home in a community with a unique duo of amenities. (Note: Your editor and his family have rented private homes at Wintergreen in the past, played the golf courses and used the other facilities and have always enjoyed our visits. Some of my observations are available by clicking here.) Although it is foolhardy to predict that a property owner can recoup all expenses from rental income, current listings at Wintergreen could bring that possibility close. More importantly, given that some properties are selling at 50% below their pre-recession prices, a buyer who holds on to a property at Wintergreen could very well see it appreciate in just a few years – especially when the ownership issue is resolved. After all, Wintergreen has location going for it; it is less than three hours from Washington, D.C., and less than two hours from Richmond, close enough to make it a potential four-season getaway for a large population of people.
Steve Marianella is the real estate professional I have worked with at Wintergreen for nearly 10 years (see his accompanying bio and email address), and he has some choice listings currently for sale. One of them is a two-bedroom, two-bath condominium that overlooks the 12th hole on the Devil's Knob golf course; the club recently was taken private after Jim Justice commissioned a renovation of the clubhouse restaurant. From the condo you can walk to the golf club, a spa, tennis center and the renovated restaurant, the Devil's Grill. The ski area is only a few steps farther. The price for the unit is just $87,900. For those considering a more substantial home, single-family homes start around $200,000 and buildable lots, many with outstanding mountain views, begin in the $20s.