Investors in contrarian stocks typically react counter-intuitively to bad news. Bad news scares away the timid, less savvy investors. But bad news drives down prices and leaves the door open for the smart money to step in, take some calculated risks, and grab a bargain or two that will pay off in the future.
It can work the same way with golf communities. If Bay Creek golf community in historic Cape Charles, VA, were listed on the New York Stock Exchange, some analysts would be touting it as a good "contrarian" investment. The hallmarks of a contrarian play, say investment advisors, is that it have inherent positives but also some notable flaws. Some negative news just makes the investment even better for the counterintuitive.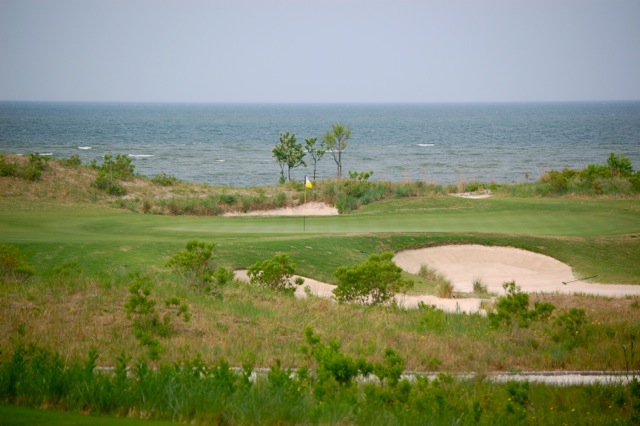 The par 3 4th hole on Bay Creek's Jack Nicklaus course has a links style air to it, with classic bunkering and the wide Chesapeake Bay behind looking for all the world like an ocean.
"Contrarians recognize future benefits that the crowd has so far ignored," says John Ruocco, a Connecticut-based financial manager whose advice we occasionally post in this space. "This could be due to a general slow market, as there is now in real estate, and also to the fact that a community [e.g. Bay Creek] might not be well known in real estate circles."
Bay Creek endured bad publicity this past weekend when 22 lots in the community and its iconic replica lighthouse were sold at auction. The online version of the Virginia Pilot newspaper posted an article last week about the auction in which it described Bay Creek as "mired in lawsuits and battered by the economy." (Gulp.) The lots are located in the development's Marina section, adjacent to downtown Cape Charles, a couple of miles from the main community and its 36 holes of golf. Property auctions are never good news for a residential community as they typically spell financial troubles.
Maybe more stable than at first glance
But in this case, the auction settled a financial dispute between the two partners who originally developed Bay Creek -– still not great publicity but not necessarily indicative of the current ownership's financial condition. Perhaps more germane is that the last partner standing, Dickie Foster, funded the construction of a beach club inside the gates of Bay Creek last year, and by all accounts, the Nicklaus and Palmer golf courses, two excellent layouts I have played a few times, are kept in fine condition. Foster's appetite for ongoing investment hints at the community's financial stability, but no one's pockets are deep forever. Bay Creek needs buyers and vacationers to sustain it. (Note: Foster earlier built a golf community in Virginia Beach, which is well established.)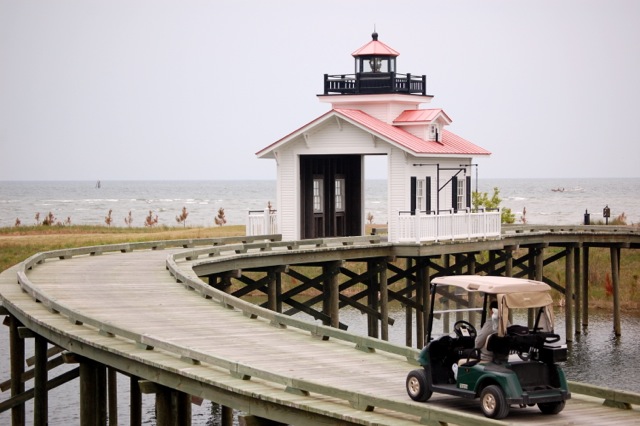 A replica of the replica of the lighthouse that once stood in the Chesapeake Bay adorns the cart path on Bay Creek's Jack Nicklaus golf course.
To extend the analogy, Bay Creek is an "out of favor" investment, largely because of perceptions of its location. Just 10 miles south of the community, one of the engineering marvels of the 20th Century, the Chesapeake Bay Bridge & Tunnel, provides a link to the thriving city of Norfolk and points throughout the South. The bridge/tunnel, which first opened northbound in 1964 and southbound in 1999, was designed to attract thousands of New Englanders and New Yorkers traveling to Florida and other points in the South. My family and I have used it many times to avoid the stop-and-gos on the New Jersey and Delaware Turnpikes; it adds perhaps an hour or two to the trip compared with good days on the turnpikes, but good days on the turnpikes are few and far between. A leisurely ride down the Garden State Parkway in New Jersey and a trip across the Delaware Bay on the Cape May to Lewes (DE) Ferry puts you in the right frame of mind for the long drive south.
Second-home option for New Yorkers; even better for Philly
But the bridge/tunnel charges a $20+ fare each way, which tamps down casual traffic from Bay Creek to Norfolk, even though it is just a half hour ride. Also, we doubt most New York or New England golfers have ever heard of Bay Creek, and yet a Big Apple couple can leave their home at 6 a.m. and be on the first tee at one of Bay Creek's two excellent golf courses by 2 p.m.
A couple leaving their New York City home at 6 a.m. could be on the first tee at Bay Creek by 1 p.m. From Philadelphia, the trip is just 4 hours.
Bay Creek has done a poor job of communicating its proximities to New York, New Jersey and Philadelphia, or its charms as a quiet, laid back second-home destination for harried northerners looking for great getaway golf at reasonable prices. The extra bonus is that a condo purchased today at Bay Creek could turn out to be a great investment years from now. Nicely sized 3 BR and 2 BA condos in the community are priced from under $200,000.
"As some investors start to notice the relatively close proximity [of Bay Creek] to NYC or other major cities," says our financial advisor friend John Ruocco, "they will attract other investors of that same caliber to the area...and the word starts to get out. This could bring in the herd mentality of high demand and a bull market for that 'investment.'"
"Investors" will only notice Bay Creek if it markets itself aggressively, something it should do soon, especially now that the costs of initiating and fighting law suits are reportedly behind it. There is nothing contrary about lifting the bushel that hides the community's charms.