As part of the celebration last week of my son Tim's graduation from Washington & Lee University in Virginia, our family stayed for a few days at the Wintergreen Resort in the western part of the state.  I reviewed the Wintergreen community after my first visit in 2007.  The following is an updated look at the sprawling mountain golf community.
        At the four-season Wintergreen Resort, you can ski and play golf to your heart's content, sometimes on the same day.  Located in Nellysford, VA, about 35 miles from Charlottesville, Wintergreen is one of those hybrid resort/residential communities where the transient and permanent exist in peaceful harmony.
        At 11,000 acres, Wintergreen is huge, with mountain real estate accounting for about 2,000 acres and the Stoney Creek community in the valley below sitting on 3,000 acres.  The rest will remain natural forever thanks to an arrangement in 1994 between Wintergreen's owners and
On the Devil's Knob golf course, summer temperatures can average 10 degrees cooler than in Richmond or Charlottesville.
the Wintergreen Development Company.  The result, the Wintergreen Nature Foundation, maintains a full-time staff of six, supplemented by many volunteers from among the community's residents.  The Foundation promotes a wide range of activities, including wildflower reseeding efforts, workshops and nature walks on the community's 30 miles of marked trails, some of which link directly to The Appalachian Trail.  Mountain bikers have use of 24 separate trails, mostly near the ski slopes.
        At Wintergreen, the core recreation activities are skiing and golf, although the community offers its members the full range of customary amenities, including an Aquatic & Fitness Center and a tennis program that one magazine rated among the top 20 in the U.S. Wintergreen's mountaintop area is warm and inviting, with a Euro-village style lodge just steps from the resort's 24 slopes, more than half of them lighted.  The resort has little trouble filling its lodge and rental units with eager skiers from Charlottesville, Richmond and Washington, D.C.  Attracting golf play is a little more challenging, in spite of 45 holes of excellent and scenic golf.  Devil's Knob, an Ellis Maples 18-hole layout that inspires fear and a little loathing in those uncomfortable with fairly tight mountain tracks, spans the top of the mountain, one of the highest courses east of the Mississippi.  [For some comments on Devil's Knob, click here.]  Opened in 1977, the course provides the views you'd expect from 3,800 feet, but some occasionally crazy rolls and (cliff)hanging lies as well. Many local golfers prefer the two original nines of the 27 holes at the Stoney Creek course at the bottom of the mountain, which is open year round.  It is not uncommon in January and February for Wintergreen's hardiest sportsmen and women to ski in the morning and play golf at Stoney Creek in the afternoon.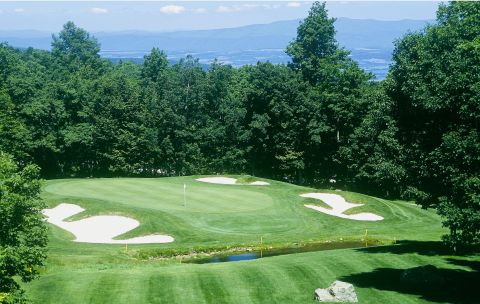 Far Out:  The 17th hole at Devil's Knob is nearly 3,800 feet up, providing spectacular views of the Shenandoah Valley.  Photo courtesy of Wintergreen Premier Properties.

        The Shamokin and Tuckahoe nines at Stoney Creek are the combination most favored by members.  Rees Jones laid out the Shamokin and Monaccan nines in 1988 and added the Tuckhoe 10 years later.  The routing is clear and without surprise, with only one or two blind shots from the tees and no gussied-up landscaping.  The greens, which are well bunkered, roll fast and true with many undulations, yet we didn't scratch our heads once over a misread break.  The first hole on the Tuckahoe nine starts from a dramatically elevated tee to a generous fairway framed by bunkers on the right and a huge lake at greenside right.  It forms a beautiful and intimidating tableau from the tee box.  A decade ago, Golf Digest named Stoney Creek one of the top 50 resort golf courses in the U.S.  With a grand smorgasbord of activities at Wintergreen, the community offers a dizzying array of membership plans.  After dropping the prices of their "Premier (equity)" and non-equity membership fees last year, Wintergreen sold 140 new memberships.  That was enough to convince them to retain the promotional fees at $12,000 for the Premier, 50% of it refundable when a membership is resigned and reissued; and $5,000, with no refund.  (Note: Wintergreen permits new members to pay for their membership over five years at 0% interest.)  Membership opens up the resort's amenities on a "cafeteria-style" basis that includes not only golf, but also tennis, skiing, fitness centers, pools and access to the community lake.  Depending on what amenities you choose, and whether the membership is for an individual or family, annual dues range from $1,800 to $5,000.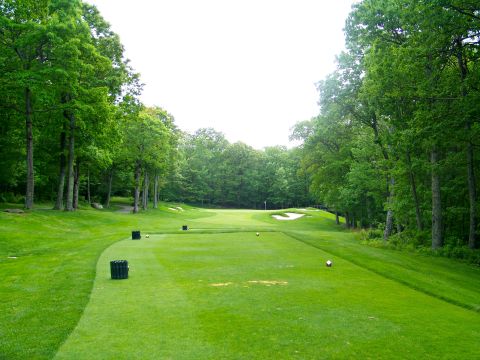 The flat par 3 6th hole at Devil's Knob belies the mountain venue, but is characteristic of all but a few holes on the course.  Most tee boxes, however, are elevated.   
Photo by Tim Gavrich
        Housing options are high and low in Wintergreen in terms of both altitude and price, with nice golf course lots in the ½ to ¾ acre range typically selling for between $100,000 and $125,000.  Count on an average of about $150 to $175 per square foot in construction costs.  A few of the most expensive homes, some with impressive views, top $1 million but the median price is close to $450,000, down from around $600,000 when I first visited Wintergreen in 2007.  Town homes rarely exceed $300,000, and some feature spectacular mountain views from about 3,800 feet up.  Some of the homes in Wintergreen are approaching 35 years in age, and across the mountain you see roofs and windows being replaced.  Last week we drove by a home we rented last year and noted extensive renovations underway; would that the dismal home we rented this year had undergone a thorough cleaning, if not a total renovation.  (Note: We did not rent it through the resort, a mistake we shall not make again.)
        Life at some remove from a sizable town (Wintergreen is 40 minutes from Charlottesville) demands a few modest accommodations.  At 15 miles, it can seem a long way to a supermarket, and some Wintergreen residents take coolers on their weekly grocery expeditions.  Wintergreen Partners Inc., the group of residents that runs the community, recently took over the on-site market with plans to enhance the offerings.  Nearby Nellysford has opened a few interesting small restaurants.  The Ambrosia Bakery and a small bistro called Bare Necessities offer boutique food and wine offerings.  Next door to the Ambrosia, the Blue Ridge Pig is properly rough and rustic in its décor and its nicely smoked barbecue.  For beer lovers, a number of brewpubs have sprung up in the immediate area.  For those who love their cars and their cameras, the amazing Blue Ridge Parkway, with some of the most spectacular views east of the Mississippi, is less than two miles from Wintergreen's front gate.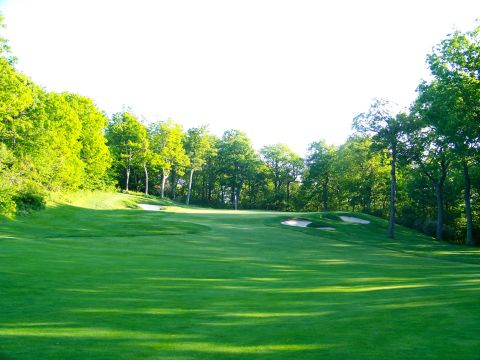 The 13th at Devil's Knob begins a spate of holes that are more tilted and challenging than earlier holes.  Photo by Tim Gavrich
        Although the area around the Stoney Creek golf course is home to many year-round residents, the mountain resort attracts a large transient population.  Condo and other homeowners have little trouble renting their places to skiers for the three core months of the ski season, but golf course competition in Virginia and the Carolinas makes it tougher to attract summertime guests in spite of aggressive golf package pricing.  An average temperature at least 10 degrees cooler than in Charlottesville, Richmond and other hot Virginia towns certainly helps the cause.
        Golf resorts that are also golf communities must strike a balance as they try to appeal to both their full-time residents and their short-term guests.  Although Wintergreen's residents and resort guests co-exist quite peacefully, the full-timers tend to arrange their recreation schedules accordingly, opting to play golf and ski on weekdays rather than the more heavily trafficked weekends.  Given the incredible amount and variation of the natural landscape in Wintergreen, its residents are more than happy to literally take a hike on weekends.
*
If you would like more information about life at Wintergreen and the wide range of properties for sale there, please contact me.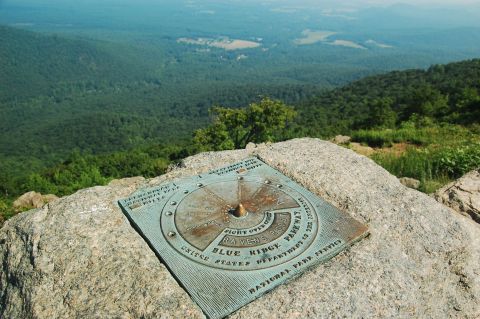 An entrance to the Blue Ridge Parkway is less than two miles from Wintergreen's gate.

Comment
Be the first to comment