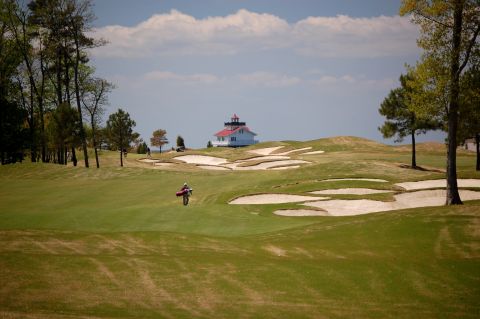 The Arnold Palmer Course at Bay Creek opens with a stunning par 5 that moves toward the Chesapeake and a replica lighthouse.
        Bay Creek Resort & Club may be the best golf community you've never heard of.  Burdened by its location on the underappreciated Delmarva Peninsula (Delmarva for Delaware, Maryland and Virginia), Bay Creek's positioning may not strike many folks as particularly southern in climate or temperament.  In spite of its Virginia address, it feels as much Mason as it does Dixon.  Its tiny historic town of Cape Charles is not exactly Williamsburg, the nearest hospital is 20 miles north, and the closest Walmart about a half hour.  Those barreling south on Highway 13 toward the Chesapeake Bay Bridge-Tunnel would be hard pressed to imagine that 36 holes of stellar golf and a beautifully turned out waterfront community were a mere three minutes to the west.
        Yet, Bay Creek's middle-of-no-place vibe is deceiving.  It is just six hours from New York City, thanks to modern ferry service from Cape May, NJ, to Lewes, DE.  Jersey residents and Philadelphians are hours closer, giving Bay Creek a proximity advantage, especially as a vacation home location, over Virginia Beach and points farther south.  And the remoteness issue is pretty much a figment since Norfolk, with its modern shopping and international airport, is just 35 minutes away.
Tiny town, big plans
        Not that vacationers or permanent residents will be encouraged to venture from Bay Creek too often.  Once inside the guarded gate, first time visitors will be amazed at the profusion of flora spread over the community's 1,800 acres, a veritable botanical garden of 50,000 roses, azaleas and flowering trees.  Cape Charles, whose size could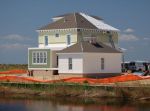 have inspired the line "Don't blink, you might miss it," nonetheless has just enough in the way of restaurants and other services, plus an honest to goodness old fashioned drugstore with a throwback soda fountain, to render it as useful as it is charming.  Seafood fans won't have to go far for shrimp, oysters and clams plucked from nearby waters.
        In the 19th and early 20th Centuries, Cape Charles served as an important railroad terminus for cargo heading across the bay; and its many Victorian-styled homes are in various states of renovation, indicating that the town's best days may lie ahead, and Bay Creek is doing its part.  Cape Charles' most modern housing lies just a few hundred yards beyond town, in Bay Creek's Marina Villages, which looks back across the Chesapeake toward "mainland" Virginia, separated from its golf resort section by about two miles of coastline.  The two- and three-story homes in the Villages arc their way along the bay, with million dollar views of brilliant sunsets at home site prices that range from $300,000 to $600,000.  An adjacent marina accommodates up to 225 boats as large as 200 feet.  Upscale shops and Aqua, the best reviewed restaurant within 30 miles, serve the Villages' permanent residents and rental guests.
The 3rd hole on the Palmer is the toughest on the course, as beautiful as it is treacherous.
The King and Bear, together at last
        Bay Creek is the brainchild of Richard "Dickie" Foster, whose career as a developer tracks somewhat that of the more elaborately marketed Jim Anthony of Cliffs Communities fame.  Anthony, Cliffs fans will tell you even if you don't ask, is a former lineman for the telephone company who went on to become one of the biggest landowners in the Carolinas.  Foster's career started just as modestly.  In the early 1960s, he was part of the construction team on the Chesapeake Bay Bridge-Tunnel, that engineering marvel that spans 20 miles of water from 10 miles south of Bay Creek to Norfolk, VA.  The job must have paid well, or 1,800 acres of land abutting the bay and Cape Charles must have come cheap in the 1990s, because Foster bought it all and conceived Bay Creek.
        Like The Cliffs' Anthony, Foster is not a golfer -– "The sport bores me," he once told a writer -- but he understood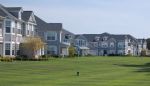 that golf courses helped sell dirt, and golf courses with big names attached to them could push up the price of the dirt for both vacationers and retirees.  He knew the names of only two golf designers, Arnold Palmer and Jack Nicklaus, and was actually working with Palmer at The Signature, a course Foster had commissioned in Virginia Beach.  But he was unaware the two golf legends had never worked on the same property and had never showed an inclination to do so.  Foster would become something of a marriage broker, doling out space to each for nine holes along the bay and giving them the run of the rest of the land.  Palmer completed his course in 2001 and Nicklaus followed in 2005.  They are excellent complements to each other, courses you will want to play more than once during a golfing vacation and, therefore, probably need at least a week's stay to do it.  Golf packages at Bay Creek are reasonably priced (e.g. 4 nights, 4 rounds of golf, $525 per person), and if you are serious about looking at property there, the price is even better (contact me and I can arrange a visit).
        Those who could not suppress a tear or a smile at the sight of Palmer
Bay Creek united Palmer and Nicklaus golf courses in the same community for the first time.
and Nicklaus together at Augusta National earlier this month will be impressed to learn the two are united at Bay Creek.  Palmer's 18 holes meander up and down and left and right over a tract of land that surely was pretty flat before the bulldozers were called in.  The designers also trucked in a lot of sand, but this Palmer course does not feature the typical over-the-top bunkering of The King's more steroidic designs.  Indeed, as he ages and turns more of the design responsibilities over to his capable staff architects, Palmer's designs seem mellower, not the in-your-face layouts of yesteryear.  I walked the course for three days behind groups of good collegiate golfers and observed that the firm and fast greens and forced carries are a stern test for single-digit players.  I scratched my head over the design of only one or two holes, which is well below the quota of missteps on many Palmer courses.
        In virtually any multi-course golf community, this Palmer course would be the most challenging, but not at Bay Creek where Nicklaus' layout is a brute, at least three or four strokes tougher, according to those who have played both.  After borrowing a cart and touring the Nicklaus layout -– it was being aerated –- the only relief I noted were the wide fairways on a couple of holes.  Natural grasses at the edge of play were abundant, and the greens were much smaller and narrower than on the Palmer course.   If they come back after aeration as firm and fast as those on the Palmer course, the 72.5 rating from 6,456 yards and slope of 135 will seem conservative, especially given the prevailing winds coming off the bay.
Coming next:  Bay Creek sales ready to burst forth?
The Nicklaus Course at Bay Creek was closed for aeration, but even without the flag whipping in the bay winds, the difficulty of the short par 3 4th hole was plain to see.

Comment
Be the first to comment