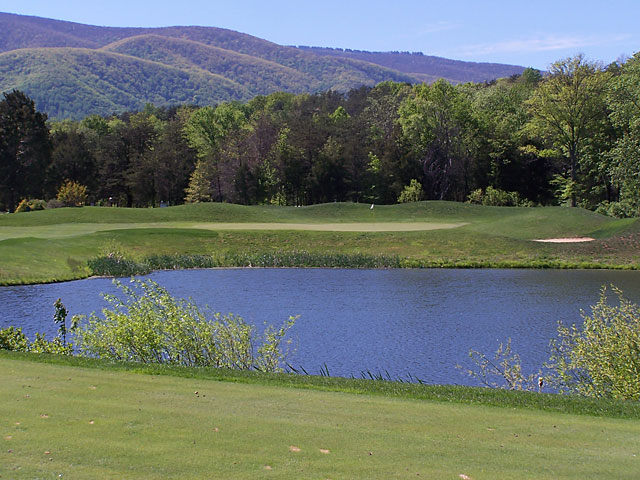 At the Wintergreen Resort, you can ski and play golf, sometimes on the same day. Located in Nellysford, VA, about 35 minutes from Charlottesville, Wintergreen is one of those hybrid resort/residential communities where the transient and permanent exist in peaceful harmony.
At 11,000 acres, Wintergreen is huge, with mountain real estate accounting for about 2,000 acres and the Stoney Creek community in the valley below sitting on 3,000 acres. The rest will remain natural forever thanks to an arrangement in 1994 between Wintergreen's owners and the Wintergreen Development Company. The result, the Wintergreen Nature Foundation, maintains a full-time staff of six, supplemented by many volunteers from Wintergreen. The Foundation promotes a wide range of activities, including wildflower reseeding efforts, workshops and nature walks on the community's 30 miles of marked trails, some of which link directly to The Appalachian Trail. Mountain bikers have use of 24 separate trails, mostly near the ski slopes.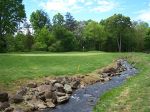 At Wintergreen, the core recreation activities are skiing and golf. Wintergreen's mountain top area is warm and inviting, with a Euro-village style lodge just steps from the resort's 24 slopes, more than half of them lighted, and from the clubhouse and pro shop for Devil's Knob, an Ellis Maples 18 hole layout that inspires awe, some fear and a little loathing. Opened in 1977, the course provides the views you'd expect from a mountaintop, but some crazy rolls and cliff hanging lies as well. Many local golfers prefer the two original nines of the 27 holes at the Stoney Creek course at the bottom of the mountain, which is open year round. It is not uncommon in January and February for Wintergreen's hardiest sportsmen and women to ski in the morning and play golf in the afternoon.
The Shamokin and Tuckahoe nines at Stoney Creek are the combination most favored by members. Rees Jones laid out the Shamokin and Monaccan nines in 1988 and added the Tuckhoe 10 years later. The routing is clear and without surprise, with only one or two blind shots from the tees and no gussied-up landscaping. The greens, which are well trapped, roll fast and true with many undulations, yet we didn't scratch our heads once over a misread break. The first hole on the Tuckahoe nine starts from a dramatically elevated tee to a generous fairway framed by traps on the right and a huge lake at greenside right. It forms a beautiful and intimidating tableau from the tee box. A decade ago, Golf Digest named Stoney Creek one of the top 50 resort courses in the U.S.
With a grand smorgasbord of activities at Wintergreen, the community offers a dizzying array of membership plans. A fee of $17,000, 80% of it refundable when a membership is resigned and reissued, opens up the resort's amenities on a "cafeteria-style" basis that includes not only golf, but also tennis, skiing, fitness centers, pools and access to the community lake. For example, you can buy unlimited golf for $4,000 annually, or unlimited golf, tennis and snow sports for $4,350, a bargain.
Housing options are high and low in Wintergreen in terms of both altitude and price, with nice golf course lots in the ½ to ¾ acre range for under $200,000. Count on an average of about $175 per square foot in construction costs. A few of the most expensive homes, some with impressive views, top $1 million but the median price is close to $600,000. Town homes rarely exceed $500,000, but a new top-of-mountain luxury building, called The Summit, will provide large condos and spectacular views for around $1 million.
Life at some remove from a sizeable town (Wintergreen is 40 minutes from Charlottesville) demands a few modest accommodations. At 15 miles, it can seem a long way to a supermarket, and some Wintergreen residents take coolers on their weekly grocery expeditions. And although Wintergreen's residents and resort guests co-exist quite peacefully, the full-timers tend to arrange their recreation schedules accordingly, opting to play golf and ski on weekdays rather than the more heavily trafficked weekends. Given the incredible amount and variation of the natural land in Wintergreen, its residents are more than happy on weekends to take a hike.

Bottom Line: Wintergreen's residents share the community's ample number of amenities and 6,000 acres of unsullied natural space with more than 100,000 resort guests a year, yet there is plenty of room for all. If you don't require the cosseted life of a private country club community, Wintergreen's range of year-round activities, fine variety of golf courses, reasonable real estate prices and beautiful views could put you on permanent vacation.
Comment
Be the first to comment