A round of golf this past Monday in rural Vermont was a good reminder that a golfing lifestyle does not always mean life in a planned golf community. While visiting our daughter in St. Albans, VT, just 20 minutes from the Canadian border, my son in law and I played the circa 1920 classic layout at Champlain Country Club in nearby Swanton. The course is short – just under 6,300 yards from the tips – but sporty and fun, with a few extremely challenging holes (two par 3s stand out). I have played the golf course at least a half dozen times over the last five years, but Monday was the first time I focused on the view from behind the 8th green. Out there in the distance, just off the edge of the country club property, were a couple of homes. A little bit of online research after the round indicated they are part of Country Club Estates, with homes built in the 1980s and '90s.
This is a reminder for those who don't require the built-in amenities of a golf community – and who are reluctant to pay the homeowner association dues that come with those amenities – that you can find some very good deals close to counbtry clubs you can join in a more organically developed neighborhood. In Champlain Country Club's case, it is one of those deals, with membership fees that will seem a bargain to anyone living in a planned community with a private or semi-private club.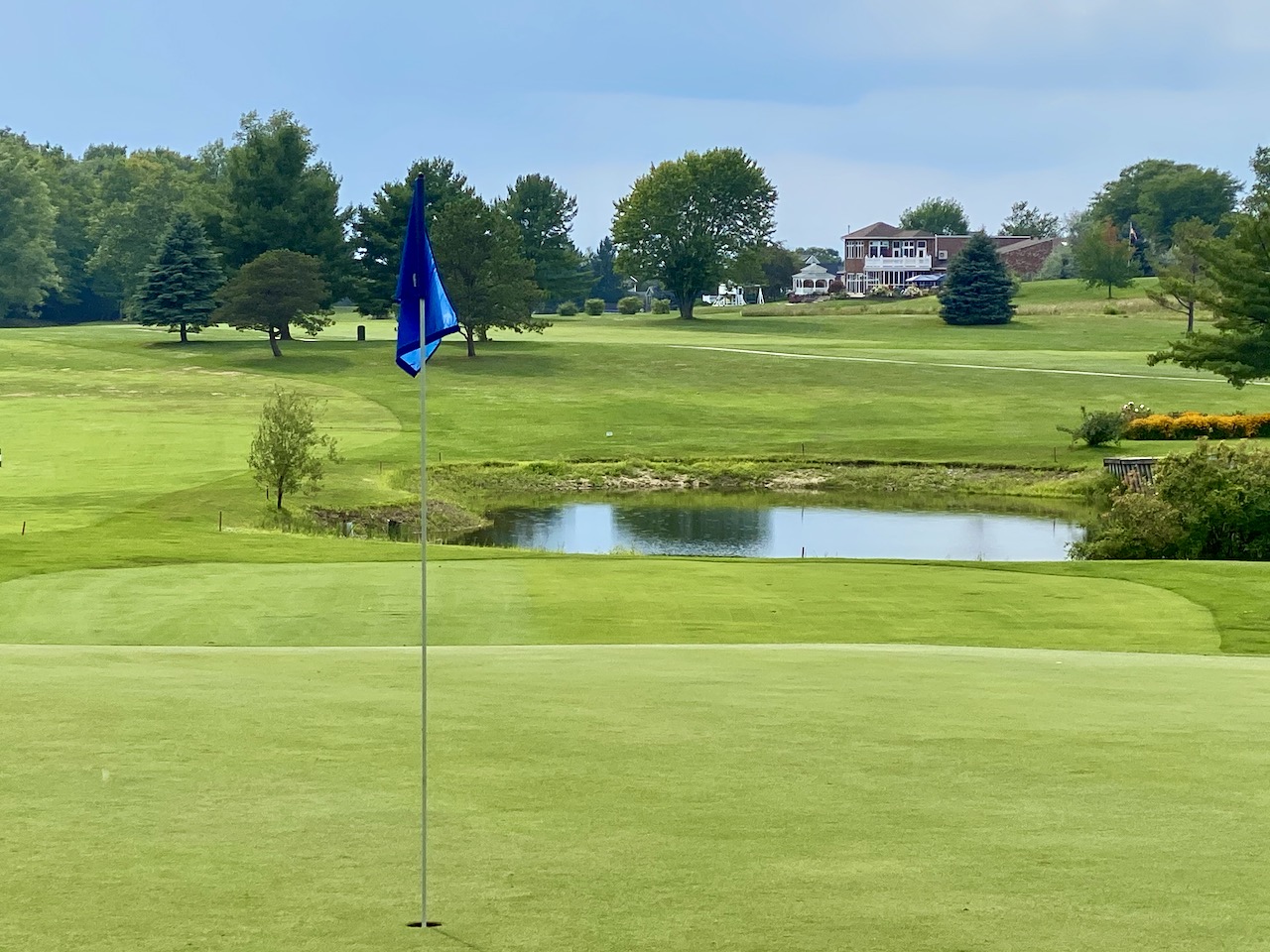 From behind the 8th green at Champlain Country Club in Swanton, VT, homes in Country Club Estates dot the horizon.
Currently, for those of us in the "Pre-Golden Years" category (70 to 74), annual membership is set at $881; with a weekday rack rate of $40, the membership pays for itself beginning with round 23. If you have made it to 75 and play golf twice a week, the annual fee of just $671 is a special bargain. (Other adults up to the age of 70 pay $1,128 per year, still quite a deal if you play a few times a week in the April to November season.) What I was impressed with especially, from a cost perspective, was that you can rent a golf cart for the year for just $448 (for a single seat) or $757 for a full cart. That single seat cart pays for itself by the 22nd round.
The adjacent community of Country Club Estates is home to a couple dozen houses, none of which appear to be on the market currently. Last May, a 3-bedroom, 2-bath "executive ranch" home with 2,240 square feet sold for $365,000. Assuming future homes that come on the market are priced similarly, a summer home in Vermont -- which, by the way, has one of the lowest per capita rates of Covid infections in the U.S. -- could pair nicely with a winter home in the South, providing comfortable year-round golf.
I'll have a little more to say about the Champlain Country Club golf course soon at OffTheBeatenCartPath.com, our companion site which features some out of the way gems.