I brought the clubs with me on a visit to see our daughter in northern Vermont this past holiday weekend and was able to play 18 at the Champlain Country Club in Swanton, whose logo features a bright red-orange maple leaf (the course is just 15 minutes from the Canadian border). Champlain, designed by someone named Duer Irving Sewall in 1915, is a classic layout, and the club has the feel of a family run enterprise, which it is, and with a friendly and loyal group of members.
On a crisp and breezy summer afternoon, which is to say about 70 degrees and alternately sunny and cloudy, I was stuck as a single behind a foursome and waited before every shot on the front nine; that was okay because I was taking pictures and trying to solve some chipping and putting issues. However, when the foursome stopped for lunch in the popular dining room at Champlain, I saw my chance to speed things up a bit and scooted to the 10th tee. I made it around the back nine in less than 90 minutes, without rushing, and the entire round clocked in at just 3 hours and 15 minutes.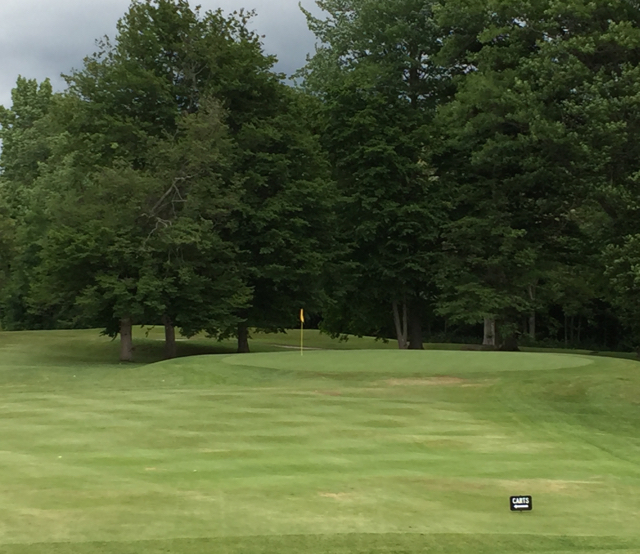 The greens are small, and fast, at Champlain Country Club (#1 green pictured). Although there were a few brown and bare spots near greens and in some of the fairways, the putting surfaces were nearly perfect and as fast as any publicly accessible greens I have played in recent memory. Clearly, the membership exerts influence on course conditions, and those non-members who pay the fairly modest green fees -- $40 on weekdays -- are beneficiaries. There are no initiation fees, and an annual membership for a single golfer is just $1,022; of course, the season that far north is short (April to October, in a good year), but if a retiree can get out on the course three times a week, the greens fee per round works out to about $13.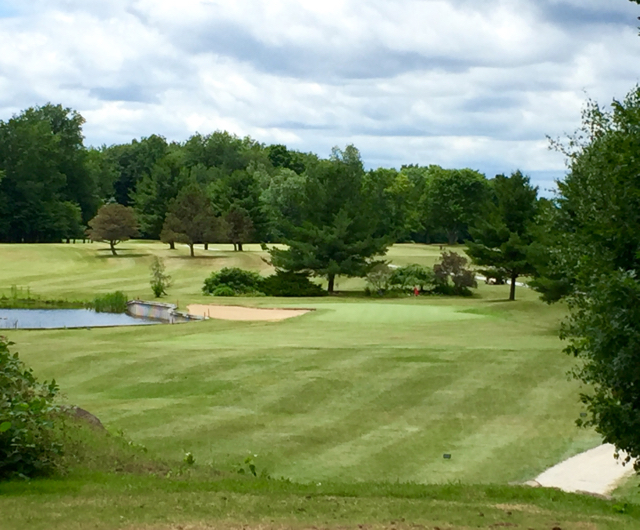 The par 3s at Champlain offer the best opportunities to pick up strokes. Vermont, especially in the Burlington area, is an underappreciated golf vacation destination. If you love consistently good food (heavy on the farm to table), a beautiful lake (Champlain), mountain views, and an almost endless variety of local craft beers, you won't be disappointed. If you have a golf pro willing to intercede with a call to Vermont National Golf Club in Burlington or Country Club of Vermont a half-hour away in Waterbury, do it, although there are many interesting public course options in an hour radius of Waterbury, a small town with a selection of restaurants the equal of much larger cities, including Prohibition Pig, Arvads and Blue Stone Pizza. (I've eaten in all of them and can recommend.) Just across the interstate and located on a fast rushing stream, Hen of the Wood is arguably the best restaurant in the entire state. (The New York Times once said so.) Stay at nearby Stowe Village –- a couple of nice courses there too –- and if you must, take the tour of the Ben and Jerry's ice cream factory. (Just make sure they are actually making ice cream as the tour is boring when the pints aren't moving along the conveyor belts.) At least you get to sample the flavor of the day at the end of the tour.
Most of all, if you like beer, all the local restaurants serve Vermont craft beers on tap and in bottles, more different brands and types than you could drink in a year; don't be afraid to order the weird sounding ones like Folk Metal or Heady Topper. And when you fall in love with one, head for Waterbury's Craft Beer Store where you just may become tipsy while contemplating the mind-numbing selection of beers on the shelves.