There are plenty of good reasons to visit Burlington, VT.  The restaurants are outstanding, almost all of them serving food grown on local farms.  Downtown Burlington's Church Street is a mall, closed to traffic along a five block stretch, with boutiques, restaurants, coffee shops and bars that attract a rather youthful crowd (the University of Vermont is just a half dozen blocks away).  The beautiful Lake Champlain laps up against Burlington's western edge, with plenty of activites for those inclined toward the water.  For the rest of us, a walk along the lake's shore is a great way to spend an hour or two.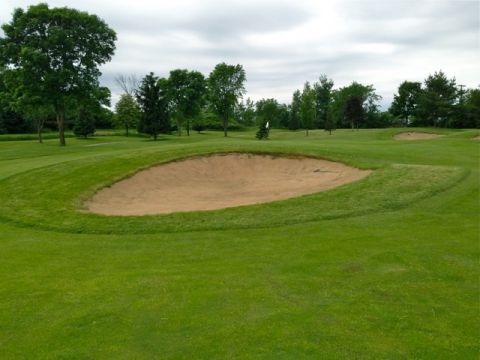 Links at Lang Farm may be short, but it also features some rather tricky pin placements behind menacing bunkers.  And the turf was in excellent shape.
        Golf options in Burlington are relatively few, the best of them the private Vermont National and Burlington Country Clubs.  A few public options are just enough to justify bringing the clubs along, but for an unusual treat with a practical excuse, try The Links at Lang Farm, just 10 minutes outside town in Essex Junction.  The practical is the chance to practice your short game, especially your play to par 3s, as Lang Farm is a short course, par 59 over its 18 holes and 3,900 yards, each one of them clearly distinct from the others.  I used driver only twice on two of the course's five par 4 holes (there are no par 5s).  The golf course is in excellent condition from tee to green, although the greens could be a touch faster.  I bogeyed most of the holes on the front nine before getting my bearings on the back; with rare exception, there was not a pushover hole among the par 3s, and the par 4s were designed in the manner of short two-shotters on a regular 18 hole golf course -- trickier, with bunkers in play off the tee and on the approaches so as to compensate for the 320 or so yards.  As for the par 3s, there is nothing short about them; they span 160 yards to more than 210 yards.
        I played the course, which was designed by Michael Asmundson, with two friends from Scotland visiting the States for 10 days.  We all enjoyed the option to rent pull carts (just $6) and have a good walk over the 2 1/2 mile layout.  Since my short game has been in a funk lately, I especially enjoyed the number of chip shots I was forced to play, compressed into one pleasant 2 1/2 mile round.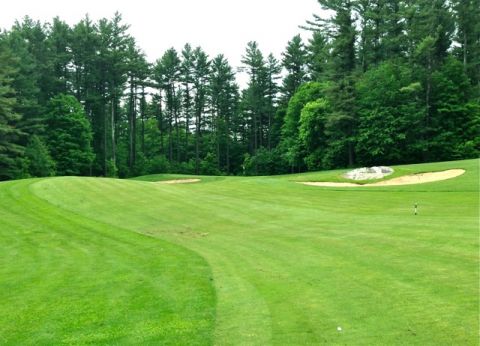 Lang Farm features just five par 4s, but they would fit neatly into most regulation 18 hole layouts.
Comment
Be the first to comment