I
n a few weeks, or sooner, northern New England golf courses will start to close down for the winter. Their golf pros' thoughts will turn to skiing -- or perhaps a winter in balmy Florida. But there is still time, and good reason, for intrepid golfers to get in a few last whacks before the snow falls.
I can hardly remember an October when New England golf courses, within a few hours of my home in Connecticut, have been in such exquisite shape. Except for un-replaced divots or poorly fixed ball marks, turf conditions are perfect. Cool days and nights have emboldened greens keepers into shaving putting surfaces down to approximate professional tournament speed. The surrounding mountains are ablaze with color, and green fees are downright bargains at most top-level courses.
And so it is at Stratton Mountain, where I teed it up with a fellow traveling golfer (from Austin, TX) a couple of weeks ago. It was one of those cool mornings in Vermont that are almost as bracing as a cup of coffee (but not quite, especially since Vermont coffee roasters are among the best in the nation).
Stratton Mountain Country Club holds its own among the ubiquitous ski & golf course resorts that dot the mountains of Vermont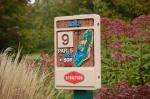 and include Mount Snow, Killington, Stowe, Sugarbush and Okemo. Stratton has the added benefit of a well outfitted and respected Stratton Golf University nearby, which includes the David Ledbetter Golf Academy. Students have access not only to the academy's instructors, but play on the golf course is complimentary to all students.
The golf course features 27 holes of Geoffrey Cornish golf, although his student, Brian Silva, gets co-design credit on one of the nines. We played the Lake and Mountain courses which, on the card, is the easiest 18 for the bogey golfer but toughest for the better players (rating 71.9 from the tips, yardage at 6,600 yards and slope rating of just 125. The Forest/Lake combination is the sternest test for bogey golfers at 6,525 yards and a slope of 130. The Mountain/Forest combo carries just a 70.7 rating, no pushover but the easiest routing on the card,
Cornish is a master at using foothills terrain to create challenging but fair layouts. He is a shot maker's friend who resists the temptation to build more than a scant few blind shots into a round a golf. At Stratton, the holes may not all be straightforward, with a few interesting doglegs, but even the first-time visitor does not have to guess at where the proper shot should be played. The helpful yardage book serves more for confirmation than to answer questions about proper direction.
The Lake nine is oddly named since little water comes into play until the par 5 9th, where your drive must carry at least 180 yards over a long lake in front of the tee. But the toughest body of water on the hole is a hidden pond that guards the front and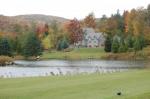 left side of the green. You cannot see it from below the elevated fairway, one of the few times Cornish makes you guess about direction. In his pre-round pep talk, the starter warned us to keep the ball well right on our tee shot and second shot, but a huge rock outcropping will impede your second shot if you are too far right. Although not long for a three-shot hole, a par on the 9th is a good way to end the nine.
The Mountain nine begins with a short, straight-on par 4 with Stratton Mountain behind the green. The Mountain is ever-present during the round, and it exerts a pull on most putts, although I had trouble figuring if there was a consistent pattern to the rolls, toward or away from the mountain. No matter; the greens were beautifully cut; you did not have to take the club head too far back to get the ball rolling.
The Mountain is a little more straightforward than the Lake, with just one dogleg. The 8th was the most visual one-shot hole of the day, well protected by both water and sand. It is short, and birdie is certainly a reasonably possibility, but a steep slope beyond the green and those bunkers in front raise the intimidation level. The Mountain nine also features the longest par 5 in Vermont, at 621 yards from the tips but all downhill.
There are plenty of properties available at Stratton Mountain, and they run the full range of real estate. Condos and town homes are priced beginning in the $200s but, depending on views, size, fit and finish, can run well into seven-figure territory. Choice single-family homes begin in the mid-six figure range to well above $1 million. Stratton Mountain will suit skiers and golfers well, but if you are both, life on the mountain can fill your days with all the physical activity you want.
If you are interested in real estate opportunities at Stratton Mountain, contact me and I will be pleased to put you in touch with an on-site agent who can provide more information.
Stratton Mountain Country Club, Stratton Mountain, VT. (800) STRATTON. Web: www.Stratton.com. Three 18-hole combinations ranging from 6,500 to 6,600 yards from the blue tees, 6,000 yards from white and 5,400 from red (ladies). Ratings on blue tees from 70.7 to 71.9; white 68.9 to 69.7; red 70.1 to 71.4. Family golf membership: $749 for unlimited play (cart additional); other memberships available. Green fees from $59 to $99 for daily play. The Stratton Resort also offers stay and play packages, including the one I used called "Break 100" (less than $100 for a room and golf).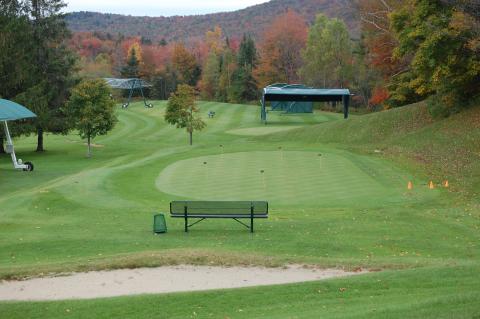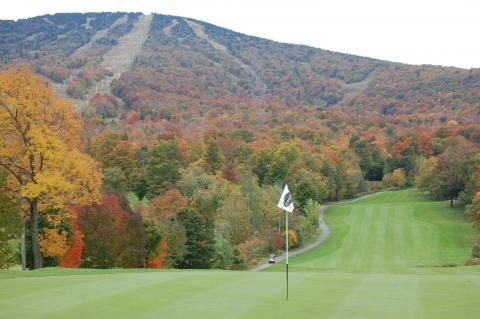 After you spruce up your game at Stratton Golf University (top), you can practice what you learned on the par 5, 621 yard 5th on the Mountain course.
Comment
Be the first to comment