I
wrote yesterday about The Links at Lang Farm, an exquisite little short course in impeccable shape, directly across the street from The Essex, which bills itself as "Vermont's Culinary Resort & Spa." It has grown over time from one of those ubiquitous New England Inns to a charming hotel that offers golf, spa treatments and its highlight feature, cooking classes for adults, thus the resort designation. [Editor's Note: In the spirit of full disclosure, The Essex director of business development, Dave Hakins, is a friend of some 35 years, so you can take my comments with a grain of Dave. But, as always, I have tried to be as objective.]
Like the golf course across the street, The Essex is also in impeccable shape. With an attention to detail Japanese quality experts could copy, my room had all the necessities and then some, a treat for me after weeks of Holiday Inns, tattered ski lodge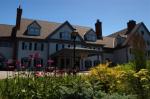 rooms, and clean new condos that were about five times larger than my requirements (although the big screen TV was nice for watching end of season baseball games). Painted in a warm red with contrasting white chair-rail around its entire length, Room 112 in the main building of The Essex was as comfortable as a wing chair, of which there were two in the room, plus a full-length sofa (with bed underneath, just in case the plush king size bed was not enough). I used to love to travel with my kids when they were younger, but The Essex is built for adult enjoyment and guilt-free golf. No golf-playing spouses in their right minds would begrudge their partners a one-hour lesson in how to keep a soufflé inflated or an hour spa session. The Essex offers a wide range of spa treatments that include such exotics as muscle melt, noni fruit calming facial and warm stone massage. Most sessions last more than 50 minutes and begin under $100.
My morning exercise routine typically involves coffee, and I especially appreciated the Keurig coffee maker in the room. These compact little units are showing up in many offices and homes. You take a plastic pod of coffee, in this case (Paul) Newman's Own extra-bold, pop it into the maker, pour a cup of water in and, three minutes later, you are enjoying a great cup. This was quite a refreshing change from those Mr. Coffee type machines that require you to rip open a bag, jam the coffee filled filter into an infrequently washed basket, rinse out the coffee urn, and then pour three cups of water into a receptacle with more lime deposits than the Bonneville Salt Flats. What's in that coffee could kill you, if the taste doesn't. The two cups of Newman's Own Extra-Bold set me up perfectly for the rest of the day.
A full range of soaps and toiletries are attractively displayed in a small wicker basket in the bathroom. The two laundry bags hanging in the closet, rather than customary one (if you're lucky) the hotel chains provide, saved me a trip to the front desk. The two
Japanese quality experts could learn a thing or two from The Essex attention to detail.
pillows were plush yet firm, a far better alternative to the three you typically need in other accommodations just to keep your heart above your ankles. Perhaps most stunning of all, with the fan on in the bathroom during a shower, the mirror over the sink did not mist up. I am not a big fan of holding a razor in one hand and washcloth or towel in the other -- to wipe the mirror -- during the morning shaving ritual. This, more than anything, exemplifies The Essex' approach to quality.
Warm-up golf and brushing up on your short game is available across the street at the executive-sized Links at Lang Farm (see my review yesterday). The Essex has also made arrangements for guests to play at the otherwise private Vermont National Golf Club in nearby South Burlington. I drove the back nine at Vermont National, and it is a sleek track that maximizes views out to the Green Mountains, although some hookers and slicers may feel encroached upon by the adjacent homes. (Condos and single-family homes range from the high $300s to seven figures.) If you are a straight hitter, though, and enjoy a modern layout in impeccable condition, Vermont National is an excellent course to wake up to after a comfortable night's rest at The Essex. Golf typically adds a reasonable $44 or so to your bill. I am hoping to play Vermont National next spring, and post a review here at that time.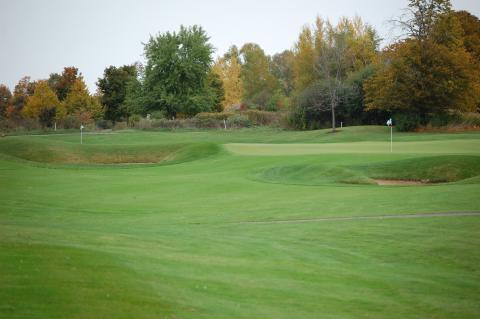 The 10th & 15th holes share a green at Vermont National Golf Club.
With its billing as "culinary" resort, I looked forward to a splendid meal cooked by The Essex chef instructors and served by a staff of eager interns. On my way to the small but comfortably appointed dining room, I passed by two wide interior windows that looked into a large and modern kitchen where couples were being instructed in some style of cooking. I wanted to bang on the window and tell one of the women she was cutting onions the wrong way, but I'm sure the instructor chef was going to get to that. Whatever they were cooking smelled great, and I made a mental note that this would be a nice way for my wife and me, who collaborate on most meals at home, to spend a weekend.
Maitre d' Matt was able to scarf up the best table for a single diner in The Essex dining room, Butler's, way in the far corner with a view of the room's expanse and its filled tables. I noted animated conversations at all the other tables, and not a few times the expression "Wow, this is very good." The British couples at a nearby table were especially impressed with their perfectly rare filet mignon.
Shortly after I sat down and ordered a glass of wine from the extensive by-the-glass list, I was served a tiny pastry shell filled with a crunchy lobster salad, a perfect starter and expectation raiser. I ordered a cheddar cheese soufflé as my appetizer, the cheese from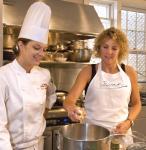 nearby Grafton, VT. I don't know if the cheese from Grafton tastes that much different than the cheese from, say, Montpelier, but the soufflé was both intense and pillow light, a fabulous combination of taste and texture. After a refreshing small salad, I was eager for the duck breast in mole, the Mexican sauce that somehow makes a marriage of chocolate and peppers. Although the duck turned out to be a little tougher than befits an accomplished chef, the unusual taste, texture and earthiness of the mole sauce made up for it.
I passed on dessert, but that did not prevent the student waitress from proffering a few chocolate truffles with coffee, a sweet end to a sweet evening.
On the way back to my room, I passed again the windows looking into the instructional kitchen. Everyone was gone, but napkins and used wine glasses covered the table near the windows. It still smelled great in the hallway.
The Essex, 70 Essex Way, Essex, VT (near Burlington). 800-727-4295. Web: http://www.vtculinaryresort.com. Most rooms range from the $200s per night; spa, golf and other packages available. Golf is available at Links at Lang Farm across the street, and at the private Vermont National Golf Club, by Nicklaus Design.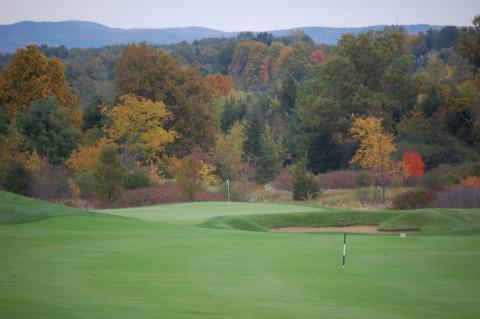 The approach to #11 at Vermont National, which is a product of the Nicklaus Design shop.
Comment
Be the first to comment