Serious golfers generally disdain nine hole and short "executive" courses. Guilty as charged. Eighteen is the only round number for us when it comes to a round of golf, and any 18-hole course under, say, 6,000 yards from the tips is, well, for wimps or beginners. For us serious golfers to be caught on a 4,000-yard course probably means we have an eight-year-old child with us trying to learn the game, and we don't want to push her or embarrass ourselves on a longer "legitimate" track.
But as I have traveled through New England these last few weeks, it is apparent that nine hole
Serious golfers can benefit from a seriously designed short golf course.
and executive layouts are more rule than exception, and that both modern and classic designers, like the dean of Northeastern course design, Geoffrey Cornish, have assigned their talents and names to interesting short courses. One of the most notable is the Michael Asmundson-designed Links at Lang Farm.
Asmundson, a landscape architect by training and painter of golf landscapes by hobby, has laid his hands on dozens of courses worldwide, including the much written about and photographed Coeur d'Alene Resort in Idaho; you may know it for its "floating" green that can be moved from spot to spot on the adjacent lake. A serious architect like Asmundson does not design frivolous golf courses, no matter their length.
There is nothing at all frivolous about Lang Farm, "Vermont's only championship executive golf course," according to the club's marketing. The "championship" designation is a result of the U.S. Golf Association having put its seal of approval on the course. At 3,905 yards from the tips, Lang Farms is designed for quick play and a test of the short game, with just six par 4s and the rest 3s. I might be tempted to leave driver at home, but a couple of the par 4s are longer than 350 yards. Still, if you want to travel light, you can leave all your metal woods in the trunk and adjust your tee boxes (there are three of them per hole).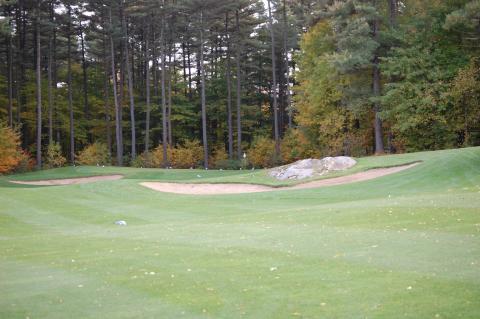 Even the sea gulls from nearby Lake Champlain like the 12th at Lang Farm, a clever par four with a rock outcropping guarding the right and bunkers and trees taking care of the rest.
The course was in impeccable condition on a cool October afternoon, the greens of varying sizes and a few significantly undulating and tiered. Asmundson's landscaping experience is clearly evident in the way the ground swells in places where a little separation is needed between green and next tee box, or green and other nearby green. Shrubbery has been planted to accent the landscape without interrupting views of the Green Mountains beyond. Parallel fairways are well separated from each other, mostly by planted flora but by some good-sized ponds as well. The painter in Asmundson must have been thinking about how to work the course visually against the mountain background, and he succeeded.
I arrived at the course an hour before sundown and did not get to play it -- I toured in a cart -- but serious golfer though I am, I won't hesitate to grab the clubs from the car trunk the next time I am in the Burlington, VT, area during golf season (which runs from May through October). In addition to helping your short game and getting you around 18 holes in about three hours, The Links is an enjoyable walk, essentially flat although surrounded by those Green Mountains which, in October, are anything but green. With only 11 clubs in my bag and at least three hours to devote, this will be the first course I walk in some time.
The Links at Lang Farm, 39 Essex Way, Essex, VT. 802-878-0298. www.linksatlangfarm.com. The course is located across the street from The Essex, a culinary and spa resort across the street (golf packages, which include play at the private Vermont National Country Club, are available).
Designer: Mike Asmundson. Pro: Steve Gonsalves.
Blue tees: 3,905 yards, rating 59.8, slope 103; White tees, 3,445 yards, 58.0, 96; Ladies, 3,007 yards, 57,89.
The par 3 16th at Lang Farm shows how designer Mike Asmundson, a landscaper by training and painter by hobby, layers the different elevations on the course to enhance the sweep to the distant mountains.
Tomorrow: Across the street, the sweet part -- The Essex.