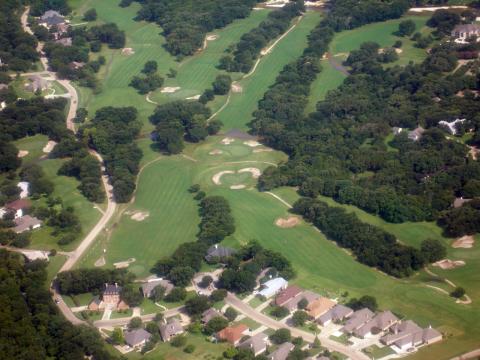 Heart of Texas: Robert Trent Jones Jr. presented Mill Creek Golf Club with a valentine when he designed the course in the 1980s. The heart-shaped green is at top center in the photo. Photo by Travis Fell.
Golf review: Mill Creek Golf Club, Salado, TX

With thousands of golf courses across the U.S., it is impossible for all of us to have an appreciation for more than a small percentage of them. We rely on the reviews and comments of others to advise that, if we are ever passing through Simsbury, CT, Cedar Rapids, IA, or Salado, TX, for example, we might just want to stop for at least four hours (half if we only have time for nine holes). I was gratified, therefore, when Letta Meinen, a resident and club member at Mill Creek in Salado, offered to provide an overview of her golf club and community. I've never been to Salado, but based on Letta's comments, I hope to in the near future. Her proud reviews of her town, community and golf course follow. I invite others to share here their own odes to their clubs and communities.

by Letta Meinen

The Mill Creek Golf Course has been around since the 1960s, originally as a nine-hole layout. Within the confines of the village of Salado, about halfway between Austin and Dallas/Ft. Worth, the former ranchland was originally untamed country rife with brush, mesquite, live oaks and a range of other flora and wild life. The course and community are named for the meandering limestone-bottom creek that runs through the property.
Salado is a small, historic village whose famous and popular Stagecoach Inn restaurant was an official stop on the Chisholm Trail. (For more history and dozens of photos of the town, visit SmallTownGems.com). Original investors in Mill Creek saw a different trail, Interstate 35, as bringing enough traffic to the area to justify a golf course. In the late 1980s, a local investor, Don Mackie, led a group that bought the course and expanded it to 18 holes with a vision of expanding the adjacent residential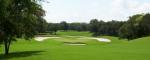 community. He organized the Mill Creek Community Association and made plans to build additional homes on the land his group had purchased. He also built condominiums and town houses that were used mostly as rental properties. (Mr. Mackie passed away in 2001, before he could realize his vision of a 36-hole golf club. Morris Foster, a lifelong resident of Salado and a local businessman, purchased the club.)
Mr. Mackie was a friend of golf architect Robert Trent Jones Jr. and hired him to design Mill Creek's first 18 holes. (Jones added another nine holes in the 1990s to accommodate the growing community.) When friends of Mr. Jones asked him where he was working, he kept answering "in the heart of Texas." He brought his response to life, designing the green complex on his signature hole at Mill Creek in the shape of a heart, and the tee box in the shape of an arrow. [Editor's note: It must be a popular place on Valentine's Day.] Jones also designed three holes with trees in the middle of fairways.
The three nines are named the Mill, the Creek, and the Springs, the Mill and Creek being the original 18. They feature water on eight of the holes, as well as plenty of trees and sand. The Mill carries a par of 36 and the Creek a 35. The Spring course is more open, although three holes are ringed by trees; #9 has two of those Jones trees in the fairway. Par is only 34. The most challenging combination of nines carries a rating of 72.1, slope of 128 and yardage of just under 6,500. The Mill Creek pro shop makes sure we play alternate combinations of holes each day, which keeps things challenging and never boring.
The Mill Creek community, which is not gated, is home to 650 residents. Condominiums start around $90,000 and patio and single-family homes are in the $150,000 to $1 million category. Golf membership,
which is just $3,000 and $275 per month for dues, is not mandatory for residents, but it does provide advantages. Active Men's and Ladies Associations sponsor a number of tournaments and other activities throughout the year. The two swimming pools and tennis court are well used. Residents are permitted to own and use a golf cart in the community and on the course, with the payment of an annual "trail fee." A driving range and putting green are available for practice sessions and golf lessons. As a semi-private club, we encourage large groups to use Mill Creek for their events, but with 27 holes, we always have the extra nine for members to continue playing on the days of the outside events.
All kinds of artists will feel at home in the Salado area. Our residents get involved in painting, writing, music, humanities, and drama; throughout the year, the community is host to stage plays, community chorus and art festivals. Salado also has a great library, several active churches, a number of bed and breakfast inns, as well as shopping that includes boutiques and art galleries. We have several great gourmet restaurants and excellent coffee shops and tearooms.
Smack in between the flat metro area of Dallas/Ft. Worth and the Texas Hill Country of Austin, our town is a little bit hills and a little bit farmland. Salado, which was incorporated just a few years ago, is a few miles from the town of Temple, whose Scott and White Hospital is well regarded; we are also near Killeen, which is home to one of the largest military bases in the nation, Fort Hood. With Austin and the Dallas/Ft. Worth areas just an hour away, and Houston just three hours, Salado is truly at the heart of Texas.
The Mill Creek web site is at MillCreek-Golf.com.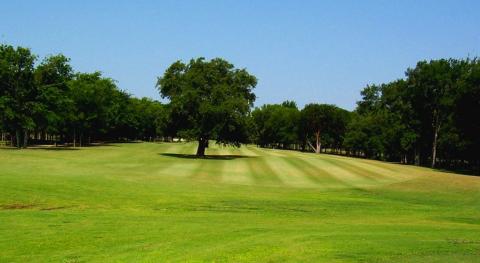 Jones' gotcha: The finishing hole on the short, but tricky Spring nine at Mill Creek features not one but two trees dead smack in the middle of the fairway. Photo by Letta Meinen
If you would like to visit the Mill Creek community and golf course, contact me by using the tab at the top of the page, and I will help you make arrangements.
Comment
Be the first to comment