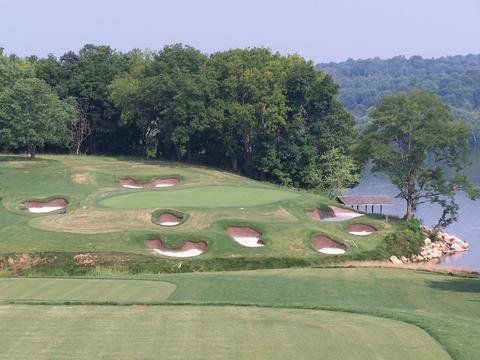 Greg Norman designed the course at Tennessee National to include sod-faced bunkers and a challenging layout along the banks of the Tennessee River.

This week's Wall Street Journal reported that Greg Norman's ex-wife, Laura Andrassy, is buying a nearly $8 million estate in New York's Hamptons. Whereas Mr. Norman found love with former tennis star Chris Evert, Ms. Andrassy collected a divorce settlement from the golfer/entrepreneur of more than $100 million.
The implication, unless Australia is a community property country, is that Mr. Norman is worth many multiples of the settlement. His golf equipment, clothing, cattle ranching, wine making and real estate development enterprises must be doing pretty well. He certainly has the right attitude for these challenging times.
"I've had some three-putts in the business world," he has said, "but if you're going to be in the game, you have to accept those and move on."
In the current real estate market, Norman's imperturbability is surely being tested. His Medallist Company, which develops golf communities around the world, five of them in the U.S. southeast, is suffering through the same slowdown in demand as its competitors, with the inevitable price reductions. South of Knoxville, TN, at Medallist's Tennessee National, for example, a home initially offered at $699,000 is now priced at $599,000. It overlooks the 18th green on the brawny Norman-designed course. You can experience a video walk-through of the house by clicking here. One of the community's golf villas, in a cluster called The Cottages that is adjacent to the 9th tee, is on the market for $585,000. It too is available for viewing [click here]. It is unusual to be able to compare and contrast online the features of two similarly priced homes in one golf community. God bless YouTube.
At $149 for two days and one night, Tennessee National is offering a reasonably priced Discovery Package that includes "an exclusive golf course and real estate tour." I have a call in to their on-site real estate office to determine whether the "golf course tour" includes a round of golf. I will report back when I hear from them.


Comment
Be the first to comment