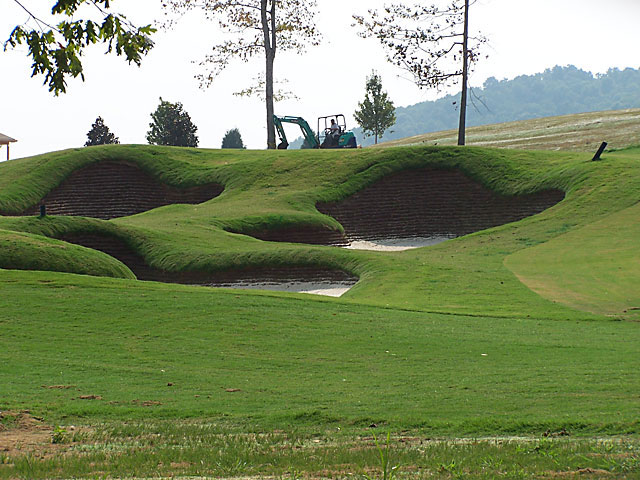 As a competitor, Greg Norman went for broke on every shot, the advice of his caddie or cooler heads be damned. The results were sometimes glorious, and sometimes painful to watch. But there was never a doubt that he was trying his hardest every time he swung. At the recently opened $500 million Tennessee National community near Knoxville, golf course designer Norman is firmly in control of his game.
The golf course will be noticed for its bold design as well as its bold designer. A shark can't live without water, and on the Tennessee National club's 240-acre canvas, this Shark has painted in a lot of blue. Manmade and natural lakes come into play on 11 holes, and the Tennessee River is a factor on five of them. Yet the course's sand traps may generate the most conversation. They reflect an obvious soft spot Norman has for the only major golf championship he ever won, The Open (what jingo Americans refer to as The British Open). At Tennessee National, he has designed more than 75 stacked sod bunkers (of the total 105 bunkers) echoing those at Turnberry, where he first secured the claret jug. (His other Open victory was at Royal St. Georges.) The bunkers give the design an extra jolt of eye candy and ensure that the steep faces of the mostly deep traps neither cave in nor embed Titleists (they are held together with a special epoxy compound). At 7,400 yards from the tips, the course provides a stiff challenge for the accomplished golfer, its four other tees providing less exhausting routings.
Visually, the course puts most emphasis around the greens, which are framed by some fierce looking deep traps with those sod walls. The par 3 12th (below) is a signature hole in the making, combining both the traps and river into a beautifully intimidating tableau. At 209 yards from the back tees, you face a downhill shot with six deep sod bunkers built into a hill in front, another one left and another at left rear, and the river immediately on the right. There is little room for a bail out, and if you come up short and land between the traps, the slope will take you down to wetlands. It is the kind of hole that makes you sigh deeply on the tee box for its beauty and difficulty.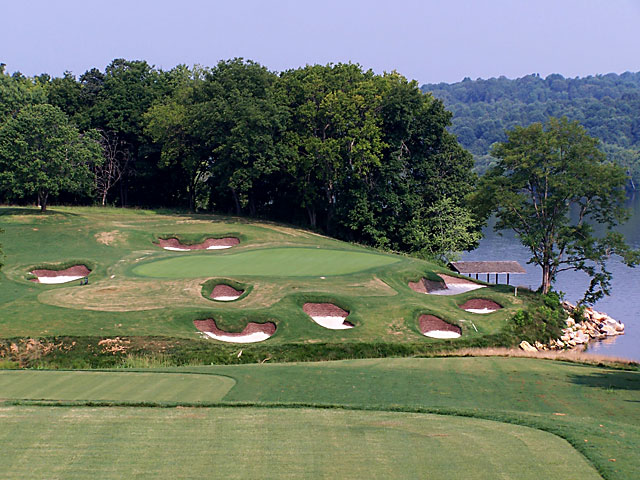 The initial few "spec" houses at Tennessee National are of the "mountain craftsman" style that we've seen elsewhere in the Blue Ridge and Smoky Mountains, which is to say lots of stacked stone and indigenous timber, very rustic. Prices begin around $375,000 for amply sized "cottages," and villas will range from $500,000 and up. Tennessee National includes all the customary amenities expected of a high-end community, plus a planned marina and adjacent village that will accommodate residents bearing boats, as well as golf clubs. Golf memberships are $30,000 with dues pegged at $385 per month. Tennessee National's web site is www.tennesseenational.com.