Businesses are doing their best to adapt to the pandemic, and golf community marketing departments are no different. President of Administration Diana Peters at Woodside Plantation in Aiken, SC, was kind enough to let me be a fly on the wall when she and her staff hosted a Zoom meeting with prospective buyers. Zoom, for the uninitiated, is FaceTime on steroids, with the ability to put as many as 100 in a room at one time – the room being the screen on your computer or tablet. (For an additional price, the upper limit is 500.)
I've participated in a number of Zoom meetings with family, friends and groups of people who want to discuss a specific topic. Just prior to writing this, my wife and I sat in on a Zoom discussion of the late 1990s movie "As Good As It Gets" starring Jack Nicholson as a mean-spirited, emotionally damaged, obsessive-compulsive writer. (I recommend.) The movie discussion included about the optimal number of participants, just over a dozen. With any larger group, people tend to talk over one another; and the variable response times of modems and wireless routers can cause a lag that causes participants to miss a lot. There are also some moments of freeze frame that always seem to occur when a participant is about to say something important, perhaps profound – but there is no way to know that, and you don't want to stop momentum by asking someone to repeat him- or herself.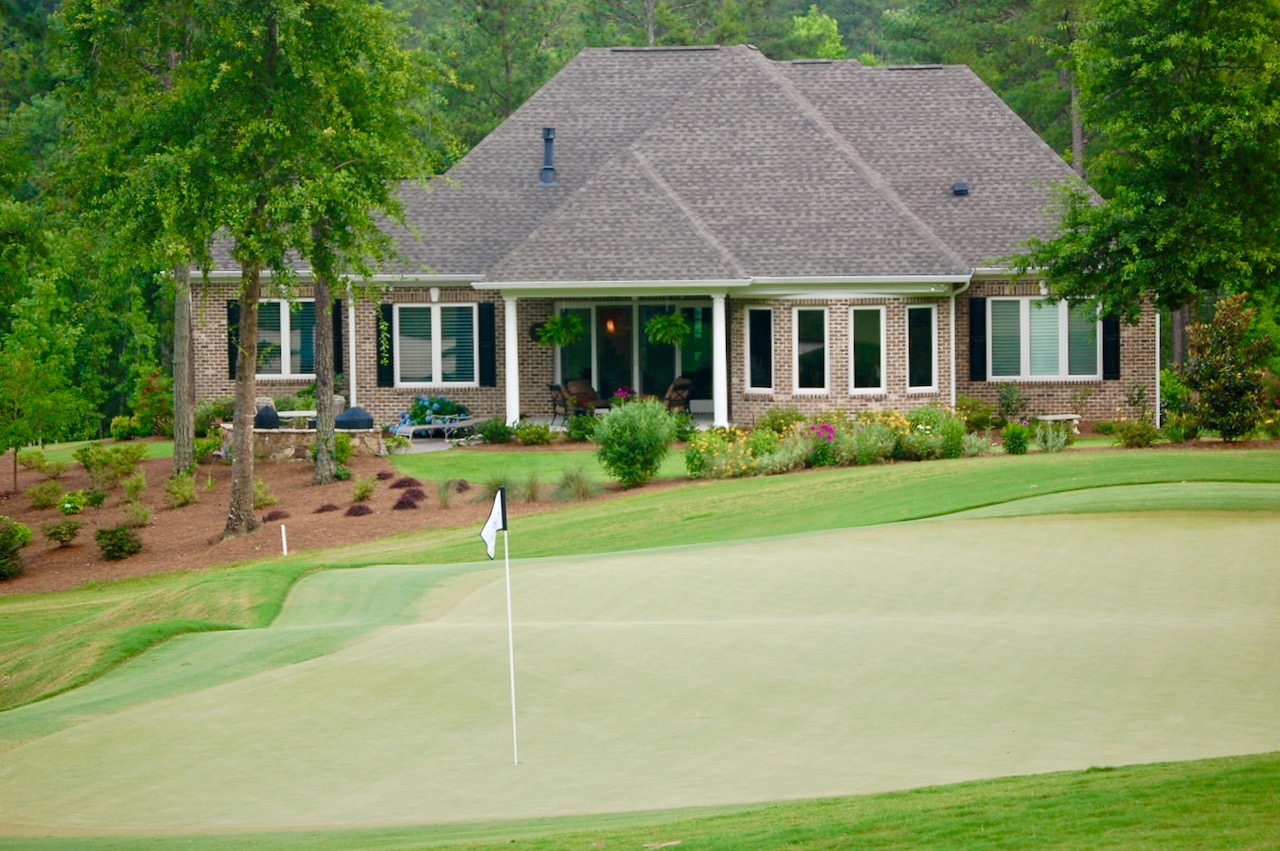 One of the swirling greens on the Nicklaus Course at Woodside Plantation.
The Woodside Plantation meeting was burdened with some of these technical issues, but it was well organized and the agenda was geared to providing plenty of information for potential buyers with a range of prior knowledge about the community. The first half of the hourlong meeting included introductions from marketing and sales staff, followed by brief stories from two couples and a single resident who have chosen Woodside as their homes. The owners were well chosen, with one couple living there permanently, another couple shuttling between Aiken and their home in Washington, D.C., and the single woman whose husband passed away a couple of years ago. Her heartfelt story about losing her husband and how she held fast against the urgings of her family to return to her native Minnesota was priceless marketing communication as it demonstrated, in human terms, one person's serious commitment to life at Woodside. She and her husband had created the "ambassador" program there that partners resident couples with prospects who visit the community and helps new residents adjust. She still runs the program today.
The last half of the meeting included a question and answer session. Some of the questions were general but the specific ones were relevant to all, including about distance to the nearest airport (answer, 45 minutes), if fences to keep pets inside a property are okay (yes, with permission from the architectural review board), the range of home prices ($300,000 to over $1 million), the number of part-timers (vacationers) who own homes (relatively few) and the cost of a social membership ($140 per month which provides access to clubhouse, dining and fitness centers). One of the owners mentioned that the Fuzzy Zoeller designed golf course will open in July, joining the Nicklaus designed golf course to give golfer residents a full 36 holes.
One participant asked a question I tend to ask when I visit a golf community and speak with residents: "What are the best and worst things about living at Woodside?" One owner answered, "Southern hospitality is alive [at Woodside]." And the "worst" was about "traffic," the respondent adding with a smile, "It takes you 15 minutes to get anywhere."
Now that should be enough to sell Woodside to any Northeasterner who has commuted to work.
Comment
Be the first to comment