This is the first in a continuing series of weekend itineraries for those considering a golf community home in the southeastern U.S. If you would like us to develop a customized itinerary for you, please contact the editor.
No one southeastern city attracts more interest at our golf homes listing site than does Greenville, a sophisticated upstate South Carolina town whose economy took a lasting shot in the arm in 1994 with the opening of BMW's North American manufacturing plant in nearby Spartanburg. With an excellent regional airport, a bustling cultural scene anchored by the Peace Center in the city, good restaurants, higher-education options like Furman University, and a wide range of golf communities ringing the city –- and one excellent one with two top-notch golf courses inside the city limits –- Greenville deserves the attention it receives from those looking for the best combination of real estate and lifestyle.
Thursday afternoon: Assuming you are flying into Greenville/Spartanburg International airport -– flights arrive directly from 18 other airports –- pick up your clubs and bags, head to the car rental counter before proceeding to your hotel (plenty to choose among, contact us if you need a recommendation). Unwind from your flight with a stroll through downtown Greenville and along the Reedy River, debate over a craft beer or cocktail at Larkins on the River whether native son "Shoeless" Joe Jackson got a bum deal in the 1919 Black Sox scandal aftermath, and then stick around for dinner (or head to any of the other good choices within walking distance). Return to your hotel to rest up for your remaining three big days.
Gary Player's course for The Cliffs at Mountain Park features acres of strategically placed
sand. The Black Knight's golf design firm is located just off the course.
Friday: After breakfast, head toward the Cliffs at Mountain Park, a still developing high-end golf community where Gary Player has built a home and relocated his golf architecture design firm. Tour the evolving community with our local expert, Wanda Reed, who once worked for The Cliffs, and then tackle the unique Mountain Park golf course, where the Black Knight, Mr. Player's nickname, has used bedeviling starkly white bunkers to trap slightly errant golf balls. For a bit of a splurge, consider a drink and dinner at Hotel Domestique's Restaurant 17, adjacent to nearby Cliffs Valley; we especially like the sound of the Braised Short Ribs with Anson Mills brown rice, smoked onion peanut miso, Asian greens and braised daikon.
Saturday: The fresh air and elevation at Mountain Park helped you sleep soundly. That's good, because a long day awaits even though it begins with a short drive to the eclectic community of Green Valley. Unlike Mountain Park, where golf and real estate are superintended by the same development company, Green Valley is more a neighborhood that just happens to have a golf course adjacent to it. Homes run the gamut from small, tidy, old and relatively inexpensive to mansion-like, and priced that way. The Tom Jackson layout echoes the classics; Michael Kaplan, a local industrialist, purchased the club a few years ago and has thrown his heart and soul –- and a few million dollars –- into building a world-class private country club. After spending 18 holes with Kaplan, we are confident he has a good shot at it.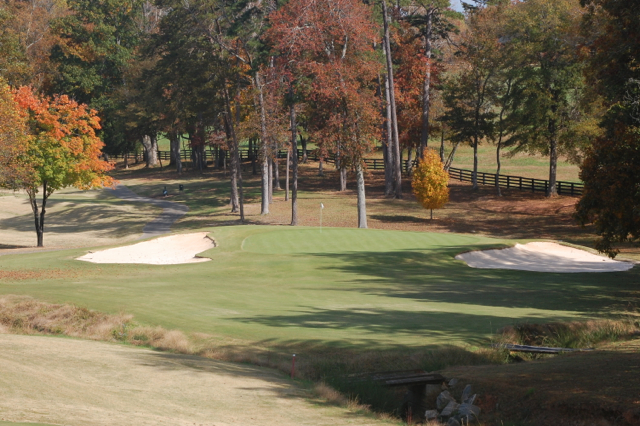 The par 3 3rd hole at Green Valley shows designer Tom Jackson's desire to create a classic
looking one-shot hole which reward a straight tee shot and punishes a slightly errant one.
Sunday: Start your day with a tour of the Pebble Creek community in Taylors, which puts you back close to the airport for your return flight. Pebble Creek spells economy all around –- in the prices of homes that span condos to larger single-families, the cheap cost to join two golf courses, and the relatively lower cost of living compared with your current northern lifestyle. Golf course designer Tom Jackson lives in the community, a telling sign that he is proud of the golf courses he fashioned there. If time permits, play on one of its two 18-hole golf courses (one public, one private, both available to members), possibly with club owner Lyn Young, a veteran golf club operator in the southeast.
If you can extend your visit by a day, we encourage a visit to Greenville Country Club, actually two golf clubs under one membership but separated by about three miles inside the city limits. The Chanticleer course, typically ranked in the top five of all courses in South Carolina, is magnificent and challenging and all about golf (no pool and tennis), surrounded mostly by homes priced beginning in the high six-figures. The Riverside course, redone totally about six years ago, is the more popular among members for its classic, Seth-Raynor-like routing and the expansive clubhouse and extra amenities for the entire family. Other golf community choices in the area include two Cliffs Communities -– Cliffs at Glassy and Cliffs Valley –- both among the most established Cliffs communities and offering among the lowest home prices of the group; and Thornblade Club in nearby Greer, with a Tom Fazio that is lovingly maintained by its members.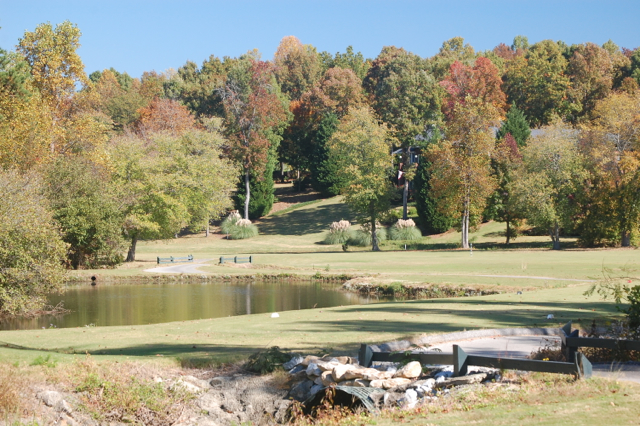 Pebble Creek features two 18 hole golf courses by Tom Jackson, who lives in the community.
The dogleg par 4 13th promotes a risk/reward tee ball over a large pond on the private
Linkside layout. The Creekside golf course is open to the public; members can play both
layouts for zero green fees, and the initiation fees and dues are quite reasonably priced --
as is the surrounding real estate.
Total Travel Time Among Communities: 1½ hours
Click here for map
Cliffs at Mountain Park
Home sites from $170,000
Homes from $390,000 (townhome) and $1 million (single family)
18 holes by Gary Player
Green Valley
Home sites limited
Homes from $499,000
18 holes by Tom Jackson
Pebble Creek
Home sites limited
Town homes from $140,000
Single-family homes from $165,000
36 holes by Tom Jackson
Greenville Country Club
Home sites limited
Town homes from $399,900
Single-family homes from $439,000
36 holes by R. T. Jones and W. Langford/B. Silva
Cliffs at Glassy
Home sites from $69,000
Homes from $425,000
18 holes by Tom Jackson
Cliffs Valley
Home sites from $199,900
Homes from $549,000
18 holes by Ben Wright
Thornblade Club
Home sites limited
Homes from $490,000
18 holes by Tom Fazio
If you are interested in exploring Greenville or any other golf-community-rich area of the South, please contact us for assistance.