When home prices drop in a town surrounded by other areas where prices have risen, sometimes dramatically, the natural inclination is to think something has gone awry in that town (taxes have risen sharply, a chemical spill, an ordinance to permit unlimited strip joints). But, try as we might, sometimes there is no discernible reason for the price drop; or, if there is a reason, it does not rise to the point that an otherwise interested purchaser should be deterred. On the contrary, those price drops may indicate a short-term buying opportunity for savvy buyers.
Consider the area immediately north of Myrtle Beach, SC, not surprisingly named North Myrtle Beach. Buddy golfers and families looking for a combined golf and beach vacation will be familiar with the golf community/resorts in the area, chief among them Barefoot Resort (four excellent golf courses) and, just below the town's border, Grande Dunes, with two excellent courses, one private and one public). According to an article by Steve Jones, the real estate columnist for the Myrtle Beach Sun News, the median price of homes sold in North Myrtle Beach from January 2013 to January 2014 dropped 16%. A few miles south, the Myrtle Beach market enjoyed a 58% price increase for single-family homes; farther south, in the Georgetown area, which comprises the upscale community of DeBordieu Colony and its Pete Dye golf course, prices rose a robust 82%.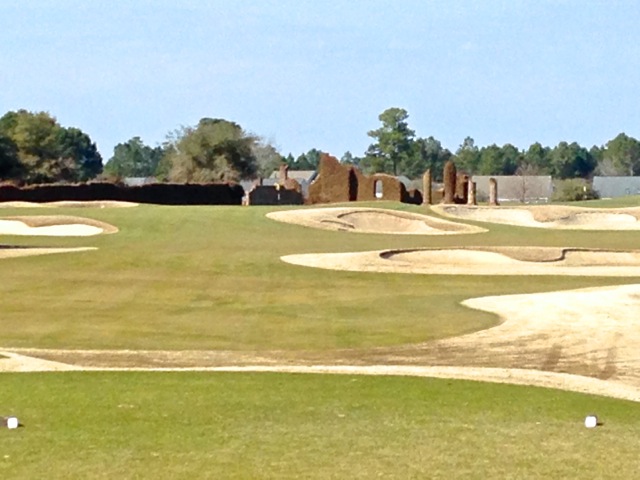 The Davis Love designed course at Barefoot Resort in North Myrtle Beach, SC, is one of four on site. Note the faux ruins behind the 4th green, a touch of Love here and at Grand Harbor near Greenwood, SC.
North Myrtle Beach's price drop wasn't at all a function of an inactive market; in fact, home sales rose in town by nearly 42% year over year. Although you can find a wide selection of properties in North Myrtle Beach priced under $100,000, the town's average listing price over the last two years is the second highest in South Carolina, according to Steve Jones, at $372,000. A local broker told Jones that his firm had seen a large number of referrals from the web sites Zillow and Trulia, and those were generally at prices well under the median. That certainly could have depressed the one-year average of prices in North Myrtle Beach.
Another strong explanation for the price reductions is that people comparing the cost to buy a 3-bedroom home with the cost of renting a similar home are finding it is cheaper to buy –- about 30% cheaper, in fact, according to RealtyTrac.com. That too could have a downward effect on selling-price levels as folks considering their first home opt for a $100,000 purchase price and $700 a month mortgage compared with $1,000 in rent for a comparable property.
You won't find single-family homes for sale in Barefoot Resort and Grande Dunes priced at under $100,000, or even $200,000 for that matter, but there is a selection in the $200s at Barefoot and the low $300s at Grande Dunes (for brand new homes at well over 2,000 square feet). Contact me if you are interested in more information about homes in these golf communities or any others along the Grand Strand of Myrtle Beach.