When it comes to golf, no one area east of the Mississippi offers more than Myrtle Beach, SC does. With 100-plus courses packed into a narrow spit of land about 90 miles long, a good golfing option is never much more than a drive and a seven iron from any one spot.
But what the area has in the way of links, it lacks in cultural diversions. The Burroughs-Chapin Museum in Myrtle Beach is good for an hour or so stroll whenever the small facility changes exhibits, but that is typically a few months apart. And although Coastal Carolina, the area's largest (its only, really) university in nearby Conway is up and coming, it is its athletics programs that are getting the most investment and attention locally, not its deference to art works.
But there is one bastion of culture in the Myrtle Beach area that just might make up for all the local cultural shortcomings, and that is Brookgreen Gardens, a large swath of marshland that can overwhelm the unsuspecting first-time visitor with its collection of huge garden sculptures, its serene walking trails and its history.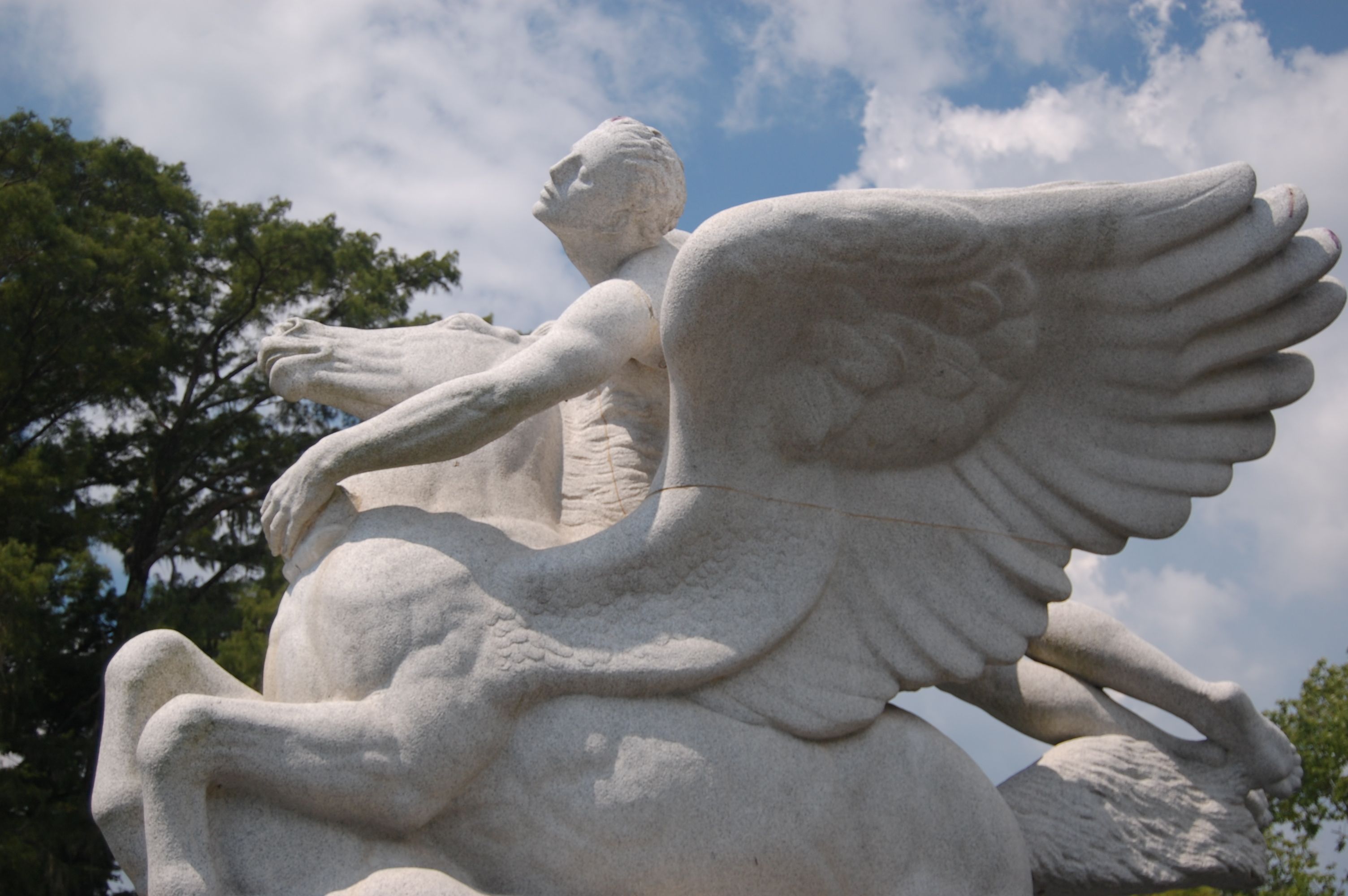 Pegasus makes an appearance, in marble, at Brookgreen Gardens. (More photos; click Read More)
The property comprises 9,100 acres that include four former rice plantations and includes a beautiful beach inside the gates of Huntington State Park in Murrells Inlet. The land was bequeathed to the state by Archer and Anna Hyatt Huntington, he the son of a wealthy philanthropist and she one of America's foremost sculptresses. (Huntington's Joan of Arc sculpture adorns the corner of 93rd St and Riverside Drive in New York City.) The Huntington's former beachfront home, Atalaya, is a favorite site for weddings and other group events. Brookgreen was originally intended to be the couple's coastal home, but after their purchase in 1929, Anna saw the property's potential as one of the nation's most important sculpture gardens. The online service TripAdvisor named Brookgreen one of the country's top 10 public gardens last year.
My wife and I purchase an annual pass to Brookgreen each year in order to use the property for the occasional stroll during nice weather. Visitors can buy a weeklong pass for $14 and enjoy seven days of repeated trips. (You can't really cover everything in one day.) It is a great buy and augmented by summer evening concerts and other special events and exhibitions that fill out the calendar most of the year. On a 60-degree day earlier this week, after a severe ice storm downed limbs along the Grand Strand, we had the gardens almost to ourselves for a bit of walking exercise and some feasts for the eyes. A walk through Brookgreen is a great way to relax after a tough day on one of the local golf courses or even on a day without golf. The organizers of the Gardens were smart to dot the landscape with lots of comfortable benches and chairs facing some of the most impressive sculptures you will ever see. And the hundreds of species of plants and flowers, especially in the spring, add a colorful background.