New developers at Bella Collina, the central Florida deluxe golf community originally developed by Bobby Ginn, recently won a local court judgment that clears the way for them to restart development there. One couple has purchased a lakefront lot for $87,000 that originally sold for $1.7 million. We only hope the original owners were able to afford that staggering loss.
Other property owners who were seduced by the Ginn story of impending riches could not afford the losses. We were especially moved by the story of one of our readers, a police officer in Minnesota who retires next May and whose life was turned upside down by an investment in a Ginn property at Cobblestone Park, just north of Columbia, SC. After paying $265,000 for a lot at Cobblestone in 2005, he and his wife watched the value of their investment virtually disappear in the wake of the Ginn empire's financial troubles, followed shortly after by the 2008 crash.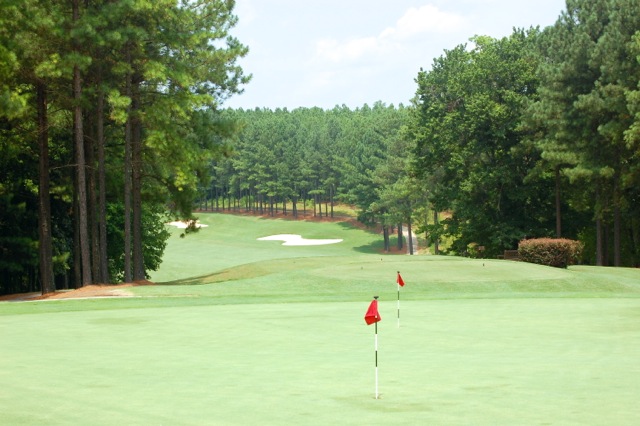 The practice facilities at Cobblestone Park are especially good, given that the top-flight University of South Carolina gamecocks golf teams ofter practice there.
"We thought we were in for a sure thing, investment-wise," says Ray, not his real name. "We expected great returns, money that we would eventually use to help our boys through college."
"Now, our boys are stuck with significant student loan debt to follow them for decades. We are now eight years into making monthly mortgage payments [on the lot in Cobblestone], membership dues, HOA fees, and taxes…"
The family lost more than $240,000 on paper. Recently, D.R. Horton purchased most of the remaining developer properties at Cobblestone Park and made Ray a lowball offer for the lot, which he was willing to accept just to get out from under the carrying charges. But then Horton withdrew the offer shortly after for reasons only a bureaucrat could understand.
I told Mike Wyka about the story and he offered to list the lot. Mike is the Columbia area real estate agent we work with. He says the property, although just ¼ acre, has an excellent view of the golf course, and Horton is already in the process of building a home on one of the adjacent properties. Mike is talking with a number of local builders to see if they might want to purchase the lot for a spec golf home. He has listed the lot at $39,900 on the Cobblestone Park page of our GolfHomesListed site. At that price for the lot, it would not cost much more than $300,000, full-up for a new house and the cost of the land (count on $130 per square foot to build). Cobblestone, now that the major developer Horton is involved, seems like an excellent "value" and "growth" play since the long-awaited clubhouse is just a few months away from completion; the golf course and its 27 holes are popular inside and outside the golf community; the development is gated and guarded, although it hardly seems necessary that far out in the suburbs; and the vibrant university town and state capital, Columbia, is just 20 minutes away.
If you would like the full details on the lot and other properties currently for sale at Cobblestone, please visit GolfHomesListed, click on the property on Mike's page of listings there, register with your name and email address and you will wind up on Mike's own web site with the details on Ray's lot and other properties for sale in Cobblestone. Or if you would like more direct contact with Mike, please get in touch with me.