Recall some years ago the TV ad in which the owner of the Remington Shaving Company addressed the camera (and audience) and said something like: "I liked the shaver so much, I bought the company." The golf community equivalent of that story is the Links at Stoney Point, a modern golf club in a nicely landscaped community along one edge of Lake Greenwood in South Carolina. Denise and Jim Medford liked their community and its golf club so much, they bought the club after the recession sent the prior owners packing.
The couple's own geographic diversity –- he was born an hour away in Greer, SC, she in southern California -– is reflected in the Stoney Point neighborhood where, Denise says, "most people are from elsewhere," meaning not Greenwood and not substantially from South Carolina. That lends the quiet community something of a cosmopolitan air, but without any pretentiousness.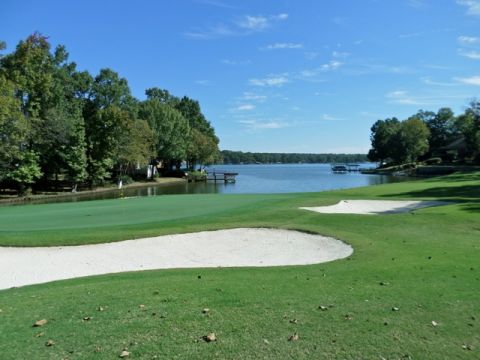 The lake comes into play only on a couple of holes at Stoney Point, but the views from the golf course -- and some of the homes -- are impressive.
You could say the same for Greenwood at large, one of those towns that would benefit from a lot more marketing propulsion from its Chamber of Commerce. I've now played or toured five golf community courses within a half hour of Greenwood's active downtown –- Savannah Lakes (two golf courses), Patriot Links at Grand Harbor, Greenwood Country Club and Stoney Point –- and they provide plenty of options for a retiring couple looking for the most reasonable real estate prices in an area not beset with traffic, pollution or other suburban and big-city woes. Plenty of fine golf community homes, some on the golf course and a few even with lake views, can be found in the $200s. According to bestplaces.net, homes in Greenwood are 23% less expensive than those in Greenville. Overall cost of living in Greenwood reflects the cost of its housing; for example, living in Greenwood will save you 16% over a comparable lifestyle in Asheville, NC, and a 17% savings compared with living in Richmond, VA.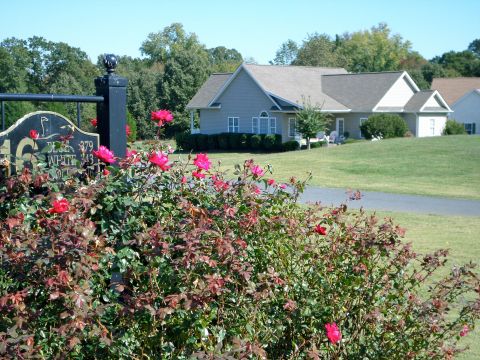 Homes at Stoney Point begin in the $200s but rise closer to the lake, and for brick construction.
I've found myself in Greenwood over a half dozen nights the last two years, and the hunt for a good restaurant took a lot less time than in some larger, more popular cities –- yes, because the choices are much more limited, but unless you go out to eat every evening, you will find more than enough to satisfy and occasionally excite you –- and not just the ubiquitous fried chicken and barbecue joints (although plenty of them). I've had three fine meals at the small but lively Pascal's Café, run by a French chef who married a local girl and decided to countrify his craft; shrimp and grits, meatloaf and a pork rib eye dot his dinner menu, but he also slips in a platter of escargots, a nod, we suppose, to his roots.
Montague's serves escargots also, but the highlight of my dinner at the bar there, besides the well-prepared upscale American food, was the lively conversation with the barmaid and the local resident sitting next to me. Montague's is a friendly place, larger than Pascals, but just as intimate. I noted this week on Montague's Facebook page -– their web site is under construction -– a call for friends of Anna Nicole Rogers to let her know she had won a free special dinner for two, but time was running out to collect (dinner was that night). Someone contacted Anna who contacted the restaurant within a couple of hours, via Facebook again, to say a friend would be picking up her free dinner tickets. Good news travels fast in a small city.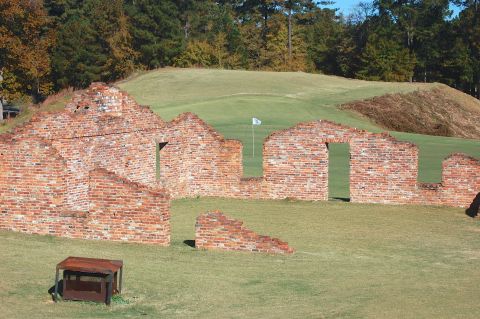 You would be right on if you said Grand Harbor's Patriot Links is in ruins, courtesy of Davis Love who celebrates a local Revolutionary War battle.
Although Greenwood does suffer from a lack of notoriety, it and Stoney Point will get a welcome boost next year when the Symetra women's golf tour, formerly the Futures Tour, comes to town in May. The Charity Classic will benefit the Self Regional Healthcare Foundation, contributing additional resources for the chief hospital and healthcare system in the area. Plans are in the works to host a "Taste of the Lakelands" on site at the golf club to further extol the virtues of the local restaurant scene.
The ladies of the Symetra tour will find a beautifully conditioned Tom Jackson golf course whose fairways are lined with hardwoods and whose greens, if golf tour officials decree it so, will be fast and tricky. I found it hard enough to read putts on Stoney Point's medium fast greens that I considered having my eyes checked afterwards (my 30-something playing partners, with much younger eyes, had similar problems, so I decided to skip the ophthalmologist visit). The golf course is not overly difficult -– in keeping with Jackson's customary design principles -- but it offers enough chances to get into trouble that the rating of 70.5 and slope of 124 from the white tees (6,248 yards) seemed a bit of an underestimate. No matter, the excellent condition of the turf was a pleasant surprise. The Medfords clearly are lavishing a lot of attention on their baby, and if they can get the locals to come out to see some future LPGA players test their excellent course, it should help with memberships and additional public play.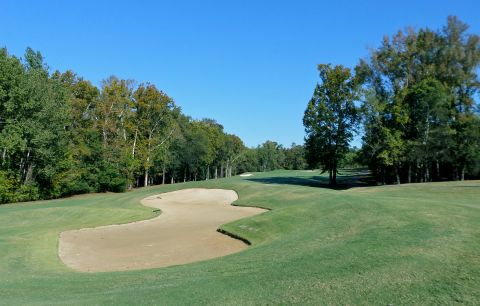 Players on the Symetra Tour will try to avoid a few of Tom Jackson's big bunkers at Stoney Point next May, when the tour comes to Greenwood.
Speaking of membership, as well as daily play, they are both bargains at Stoney Point. Green fees for daily players don't top $40, cart included, and full-family member dues are just $315 per month. Consider a couple that plays, say, three times a week, or six total rounds: Their cost per round would amount to around $12. The young fellows who invited me to play along with them thought they had scored the ultimate golfing bargain at $35, even after a one-hour drive from Columbia.
Stoney Point is not the only golf community option in the area. We have written previously about the lakeside community of Grand Harbor (click here for our review) and its wildly unusual Davis Love golf course, dotted with replicas of Revolutionary War ruins. Current homes for sale in Grand Harbor run from the high $200s, a reflection of some financial issues the former owners encountered. (The Grand Harbor developers also owned Stoney Point before the Medfords bailed it out.) Challenge Golf Group, which also owns Balsam Mountain Preserve in the western North Carolina mountains, is now in charge of both the Grand Harbors real estate sales and golf course operations. For a roster of current homes for sale in Grand Harbor, click here.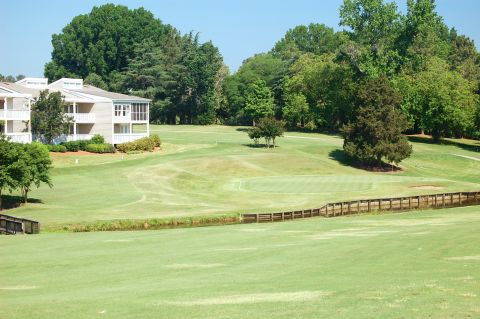 Greenwood Country Club is the grandaddy, the oldest in the area but its classic layout doesn't get old.
About a half hour away, and beside the 71,000-acre Lake Thurmond, which was named after Strom, the long-time Senator, Savannah Lakes Village boasts two excellent member-owned private golf courses that provide two different playing experiences. The Tara Golf Club layout dives up and down the hills (and a few "mountains") near the lake, imposing blind shots and sloping fairways on the unsuspecting first-time player. But once used to the angles and bounces, golfers of the widest range of handicaps can spend a fun and challenging four hours on the Tara course. The Monticello Golf Club, whose flatter fairways run along the lake in places, is more of a player's golf course, generally higher rated by lower handicap players. I liked both golf courses and was surprised at the peak conditions when I played them a year ago.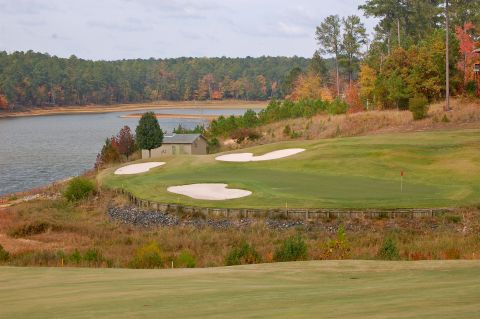 The Monticello course at Savannah Lakes (approach to #5 above) is considered the "player's" course on site, but the Tara Course (below) is a lot of fun, mixed in with some severe ups and downs.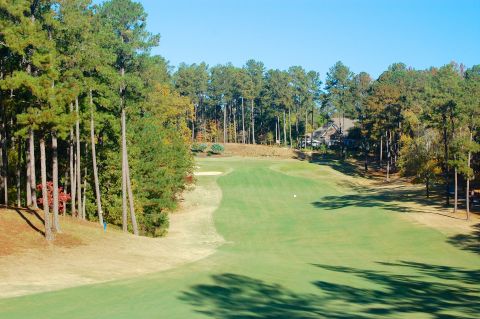 A good 40 minutes from Greenwood and 10 minutes from the small McCormick –- their Chamber of Commerce web site lists just nine restaurants, most fast food or pizza –- Savannah Lakes is remote. If that is the way you like it, you'll find real estate options of the widest variety, with single-family homes starting below $200,000 in the Monticello section of the vast community, and into the low $100s in the Tara section.
Other options closer to the center of Greenwood include Greenwood Country Club, whose layout is the most classic in the area. Surrounded by some of the older homes in the town, but nicely cared for, the Greenwood layout presents two entirely different nines, one tree-lined and the other imposed on by ponds and streams. Neither nine is particularly challenging, but altogether pleasant. We haven't played the 27-hole Hunters Creek Plantation course yet, another local layout by the ubiquitous Tom Jackson. It is set within 856 acres just west of the city and, when fully built out, will contain a total of 600 homes. Lots are currently selling for as low at $19,000, and we noted a couple of fairly large and modern homes for $279,000.
There is much to choose from in the under-appreciated Lake Greenwood area. Please contact me if you would like more information or to be in touch with our real estate professional in the Greenwood area.