I never promised you a rose garden...but Furman University does if you visit in the spring.
        Played the Furman University golf course outside Greenville Thursday.  Greens were recently redone Donald Ross-style to put some character into what had been a flat and pretty easy layout.  Very little in the way of water hazards, and the fairways, even when they dogleg one way or the other, are rather generous.
        Course opened in 1955.  Renovation in 2008 that closed things down for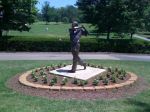 four months and added 18 new greens, bunkers and new tee boxes.  Work done by architect Kris Spence.
        The South Carolina Golf Course Ratings Panel recently placed the course in the Top 30 You Can Play in the state.  High praise considering the 100 courses in Myrtle Beach and nearly 300 other competitors in the golf rich state.
        Furman University campus may be among the best looking in the nation, especially at this time of year (Rose Garden was spectacular).  Nearby Greenville an attractive and growing town, with entertainment and other activities to rival Asheville, which is about an hour up the interstate.  Other top rated courses include Chanticleer at Greenville CC, Thornblade Club in nearby Greer and a few at the Cliffs Communities.
The par 3 8th hole at the Furman University Golf Club.
Comment
Be the first to comment