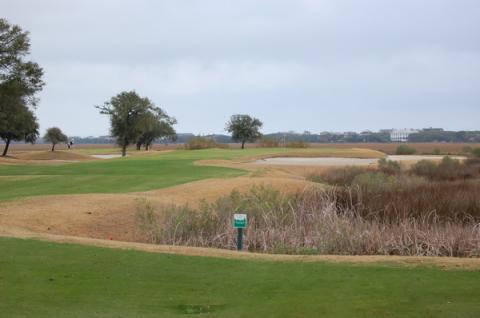 Pawleys Plantation, home to a fine Jack Nicklaus layout along the marshland, is just one of dozens of Myrtle Beach area golf communities that are "on sale" in the current market. This is the approach to the 16th hole, perhaps the toughest par 4 on the course.
Myrtle Beach prices could lure some off sidleines
It is déjà vu all over again, as Yogi Berra might say. This morning, we learned that housing starts across the nation increased dramatically in February, shocking economists who had predicted a more than 1% decrease in starts. Instead, the numbers rose more than 22%. (Editorial comment: No wonder so few economists predicted the near collapse of the financial system. They are like weathermen; they predict sunny, we get rained on without protecting ourselves, then they say, "Oops, conditions no one could have predicted." Nice work if you can get it.) New home construction starts in the southern U.S. rose an impressive 30%.
Coming as they do after three months of double-digit drops in housing
Sheer demographics will have a positive effect on prices in other areas attractive to retirees with equity in their homes and warm weather in their souls.
starts, these latest numbers might be cause for optimism about the general trend of the market. But we still have more than 13 months worth of unsold inventory across the land, much of it foreclosure sales whose pricing keeps solvent homeowners from listing their own homes. In short, most homes in the current environment are forced sales by those who must relocate for one reason or another (relocation, old age, death, foreclosure) -- all reasons that keep prices low. Until the majority of the foreclosures are flushed out of the system, the best we should hope for is a stabilization of prices before they start to inch up again in certain areas.
Those areas may not include Miami, Las Vegas and the Phoenix area for
When you start asking yourself about a property "How bad can it be?" it may be time to start considering a nice little vacation home, before others do.
some years to come, given the huge inventories of unsold and half-finished projects there. But sheer demographic power will have a positive effect on prices in other areas attractive to retirees with equity in their homes and warm weather in their souls.
I am in the Myrtle Beach, SC, this week and, scanning the real estate sections and talking with local residents, it appears the market has come to pretty much of a standstill. Neighbors of ours who have two properties in the area -- a condo and single-family home -- have put both up for sale and will take the first reasonable offer on one of them and live in the other. Prices have eroded up and down the Grand Strand, especially on the high-end properties; at the lush Grande Dunes resort, which includes a resort and private golf course, both excellent, million dollar homes are on the market for nearly half what they sold for a few years ago.
More modest homes in the Myrtle Beach area have not dropped by such significant percentages from their highs, but bargains abound. In Sunday's paper, a 2 BR, 2 BA unit overlooking the Greg Norman course at the Barefoot Resort was listed for just $135,000. (See other examples below.) When prices are such that you start asking yourself "How bad can it (the property) be?" it may be time to start considering a nice little vacation or retirement home.

I am following closely the prices in many southern golf communities and have good contacts across the region to provide updates. If you would like more information about specific communities, or would like to arrange a visit to any of them,
contact me
and I will get back to you swiftly. There is never a charge or obligation for my services.
Other current listings in Myrtle Beach:
International Golf Club, 4 BR/3 BA on golf course, $379,500
Grande Dunes lot, $399,900
Grande Dunes, 4 BR/4 BA on lake, short sale*, $795,000
Long Bay Club, 4 BR/3.5 BA, golf views, $359,900
Indigo Creek patio home, 17th fairway, $219,000
River Club, 3 BR/2 BA, water & golf view, $369,900
Brunswick Plantation, lot, view of Crow Creek golf course, $69,000
The Legends golf resort, 4 BR/4 BA, lake view, $419,000
Wild Wing Plantation, 3 BR/2 BA, golf view, $220,000
Prestwick, 4 BR/3.5 BA, lake, golf views, $499,000
Wachesaw Plantation lot, 5th fairway private Fazio course, $189,500
Pawleys Plantation 3 BR/2 BA, $349,900
True Blue condo, 2 BR/2 BA, golf and water view, $169,000
* a "short sale" occurs when the price of the home is lower than the amount owed. The owners try to get what they can on the sale, then work out the difference with their mortgage holder.
Comment
Be the first to comment