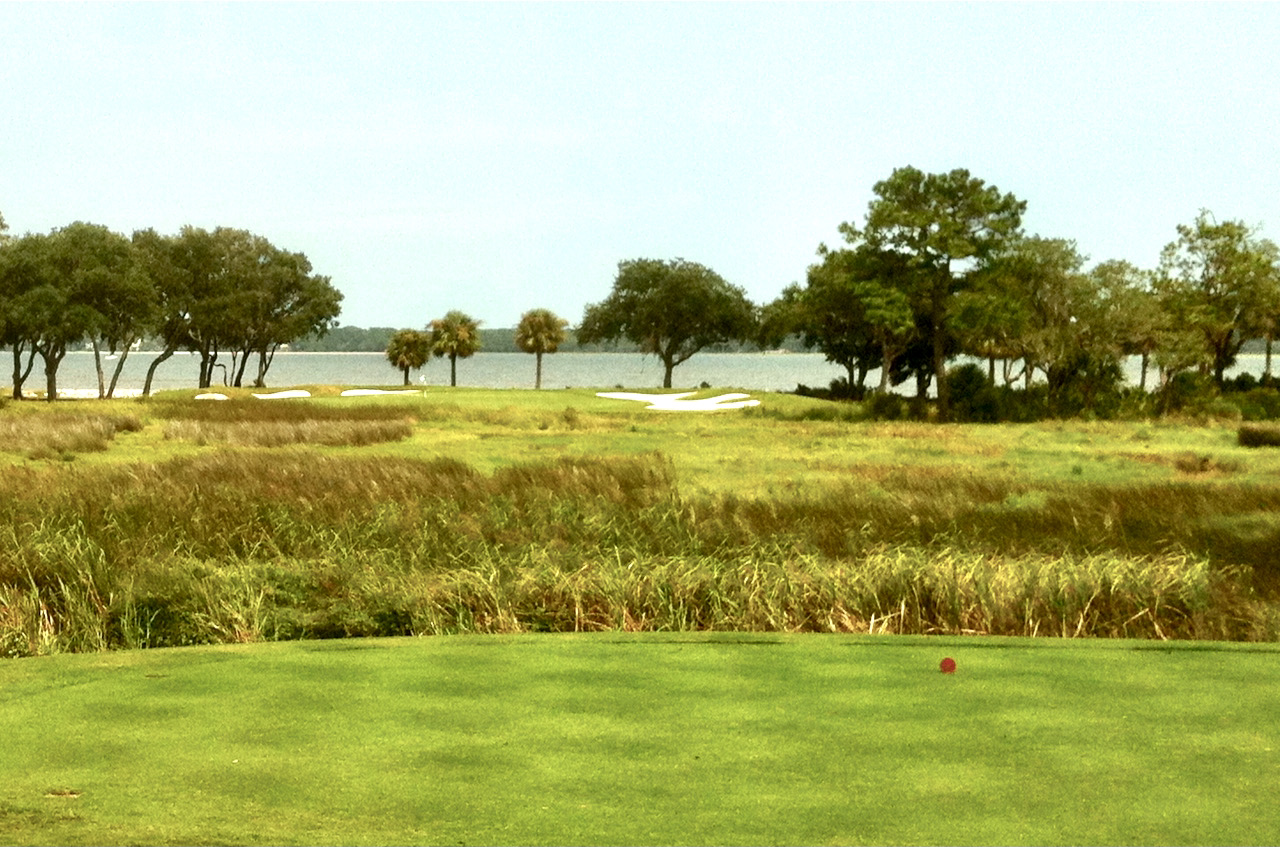 It is tough to keep your head down when the Calibogue Sound is in view at Rees Jones' Haig Point layout on Daufuskie Island.

Haig Point, Daufuskie Island
Island golf communities are a misnomer in all but a few cases. Hilton Head Island is reached by a bridge and Kiawah Island by a causeway, both built to promote growth; of course, traffic and pollution ensue. True golfing islands – those fully separated from the mainland by water -- are few and far between; the two I know best are Bald Head Island, off the coast of North Carolina, and Daufuskie Island, separated from Hilton Head by the Calibogue Sound (pronounced Cala-bogey).
Bald Head is essentially a luxury beach resort with a fine, and recently updated, George Cobb links course at its heart. It gets pretty cold on Bald Head during the winter and, for that reason, and Haig Point's 29 holes of golf (not a misprint), the Daufuskie Island community gets my nod for "true island golf."
Some may know Daufuskie as the setting for Pat Conroy's memoir, The Water is Wide, about teaching the Gullah children of the island in a two-room schoolhouse. Conroy's stories opened the children up to a world they did not know existed, changing his life and theirs. Many of the remnants of early island life remain, such as the tabby slave quarters beside the water and close to the Strachan Mansion (see below); and the schoolhouse is still standing as well.
The only transportation in Haig Point is via golf cart, and the only way to get to the island is by ferry – unless you are fortunate enough to have access to a helicopter or private boat to the community's dock. The ferry runs hourly to and from the Haig Point Embarkation Center on Hilton Head, where all residents park their cars. Although there is a general store in Haig Point, many residents take the ferry back and forth – it is about a 40-minute trip each way – to pick up provisions at the supermarket and to run other errands. Employees of Haig Point unload the groceries from the residents' cars at the Haig Embarkation point on Hilton Head and load them onto their golf carts at the other end, or deliver directly to their homes. The Water Taxi, a 10-minute ride, runs hourly between Haig Point and Harbour Town harbor on Hilton Head, upon request.
The Rees Jones golf course has been ranked among the best in South Carolina by a number of golf magazines and, in its early days, Top 100 in the U.S. It features some breathtaking views across the Calibogue Sound to Hilton Head, and on a clear day, you can see the famous Harbour Town Lighthouse clearly from the Haig golf course. Jones built an extra two par threes – the 8th and 17th – to challenge better players and to put more marshland in play and the Sound even more in view.
Haig Point, Daufuskie Island, SC
Homes from $289,000 to $2.2 million
Golf: 29 holes by Rees Jones
Golf communities nearby: A bunch on Hilton Head Island, a ferry ride away.
Notes: Haig Point was developed in the mid-1980s by International Paper Company (IP) at a time some paper companies thought such developments would help their balance sheets. (In many cases, they didn't.) In 1986, IP was offered the Strachan Mansion, which was located on St. Simons Island, GA; the Sea Island Company was clearing the land on which the mansion sat. IP paid to have the mansion shipped down the Intracoastal Waterway to Haig Point, where it is used today as a post office, tavern, convenience shop, reception and guest rooms. IP turned over Haig Point's land and amenities to its residents in 2001.
Special thanks to Wallace (Doc) Watson, a resident of Haig Point, for his assistance with this article.
If you would like to read more about Haig Point and dozens of other golf communities in the Southeast U.S., consider my new book, Glorious Back Nine: How to Find Your Dream Golf Home, available in paperback and a Kindle version at Amazon.com.