Prospective buyers love to see a golf community developer with deep pockets. A strong and steady backer, like Lord Baltimore Capital at Leland, NC's Brunswick Forest, not only provides a sense of financial security but the extra cash the community can spend to market itself. That is a big reason why Brunswick Forest sales kept chugging along through the recession.
        Ken Kirkman, a veteran of golf community development, knows that money talks when it comes to positioning a golf community in a crowded market. You might think it counterintuitive that he would entertain the purchase of his Carolina Colours community in New Bern, NC, just as the market is showing strong signs of a rebound. But whether you consider it selflessness or smart business –- we see it as a bit of both –- Kirkman recently announced the sale of Carolina Colours to Preston Development Company, a Cary, NC based company with decades of experience in golf community management and development.
        "Everything is still the same as always [at Carolina Colours]," Kirkman, who initiated the deal with Preston, told us.  "I am no longer majority owner, but still run everything.  We just needed some deep pockets to get rid of debt and get the pool complex built." Residents of Carolina Colours with questions about the deal don't have to work too hard to get them answered; Kirkman lives at Carolina Colours and regularly shows up at Friday night gatherings at the community's clubhouse.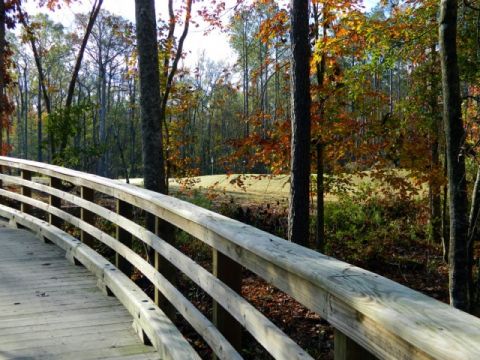 Sweeping wooden bridges on the Carolina Colours golf course are well integrated into wooded settings.
        The developer was not about to sell to just anyone the baby he had nurtured for almost a decade. He had worked with the Preston group at Landfall, the large and upscale coastal community just east of Wilmington, NC, and told us he has great respect for their approach and established portfolio of successful communities.
        "This deal is the best for everyone," he said.  "The market is definitely improving, but there are five factors that allow a community to take advantage.  It must be in a decent location; have a sense of community, with activities [in place]; be relatively secure (little debt); have no risk of amenities not being built; and, finally, have some marketing money to tell people about what you have.  (Note: These are precisely the qualities a golf home buyer should be looking at as well.)
        "We [Carolina Colours] had the first two attributes already," he added. "This transaction gives us the other three."
        Please contact me if you would like to learn more about Carolina Colours or want me to ask Ken Kirkman any questions about the community and its new management. Next week, I will visit Carolina Colours, play golf with Ken, and meet with residents at their regular Friday night gathering at the clubhouse.  In the meantime, check out some current golf homes for sale at Carolina Colours, listed at our companion web site, GolfHomesListed.
Comment
Be the first to comment