I
n its pre-foreclosure days, the Tryon, NC golf community called White Oak couldn't get itself noticed.  Despite a terrific, yet unfinished golf course and an impressive 980 hilly acres, White Oak's developers sold just 29 lots and completed just four houses.  Last year, the golf course began to go fallow, the Irish developers began desperately to look for investors to provide survival funding and, out of time, they finally walked away from a few million dollars in obligations late last year.  The golf community is currently in foreclosure proceedings, but the original Irish investors, now out of the picture, must be asking themselves, "Where was all this love when we were here?"
        Two locally owned firms are fighting each other for the property in a state-sponsored auction that amounts to a poker game with unlimited raises. In North Carolina, a "winning" bid for a property in foreclosure can be "upset" by other bids within 10 days.  The "upset bid" restarts the clock, and that bid can be lost to yet another higher bidder.  For a prized property, this bid and re-bid process can go on until all parties put down their paddles.
        A paddle has been going up every week or so in Tryon since
The competitive bidding for a formerly unloved golf community may signal that smart money elsewhere is also betting on the economy.
February 1 when Tryon Equestrian Properties was the high bidder at a little over $3.675 million.  But within the prescribed 10-day "upset bid" period, Overmountain Trace Holdings entered a bid of about $3.86 million (we are rounding off because the early multi-million dollar bids were actually made down to the penny).  Tryon Equestrian countered, again within 10 days, with a $4.5 million bid (no pennies here) but at the end of February, Overmountain topped that with a $4.725 million bid.  Tryon Equestrian or any other bidder has until March 8 to come up with a viable offer of at least $4,961,250 (and a required deposit equal to 5% of the bid).
        Because I recognized White Oak's potential to attract serious golfers and equestrians alike, and because one of our dedicated readers owns property there, I offered the developers that I would nose around for potential funders to help them get through their rough patch.  I spoke with industry sources with connections to investors in large properties, and they all said basically the same thing (I'm paraphrasing):  "There are many properties in trouble, and the money will be looking first at established communities like The Cliffs Communities and Reynolds Plantation.  White Oak is last in line."  But there is so much money on the sidelines looking for a home (literally and figuratively) that even a roughed out community with a golf course that requires additional investment is attractive to some investors.  Clearly, that is the case at White Oak.
         This is a signal that the bidding for bigger prizes like The Cliffs, where the bankruptcy court may be entertaining an "upset bid" type process, could intensify; recent statements by The Cliffs board imply they are expecting bids to exceed the "winning" offer by Steve and Penny Carlile.  Even more importantly, investor activity at both ends of the golf community market is a signal that the smart money thinks the economy is improving.  And there is nothing "upsetting" about that.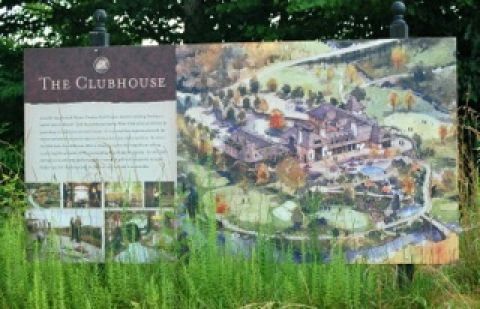 What might have been:  Before the housing market tanked, White Oak's developers had big plans.  Now the golf community is in foreclsoure proceedings, with two investors locked in fierce bidding which is approaching $5 million.
Comment
Be the first to comment