My son Tim's college golf career at Washington & Lee University is winding down to a precious few tournaments, and his mom and I have pledged to attend each one.  The farewell tour took us on Monday and Tuesday to Pine Needles Golf Club, the classic Donald Ross layout threaded through the thick stands of
pinus echinata
in Southern Pines, NC.  Conditions were challenging, to say the least, with winds gusting to 45 mph on Monday, and a temperature drop of 35 degrees on Tuesday, with winds even more unpredictable than on day one but not as brisk.  The Rossian greens were typically crowned, pushing many of the windy approach shots into collection areas (or worse) and forcing kids who would normally loft their chip shots to scuff a few eight iron shots or even consider putting through winter grass from 10 to 20 yards off the green.
        The Division III golfers did their best to ride the wind on their tee shots and especially their approaches to the slick greens.  The best score on Monday was a 73, outstanding given the conditions and the speed of the putting surfaces; but most scores were above 80, a few well above 80.  Interestingly, the best score under much milder conditions on Tuesday was a 72, although the field racked up far more rounds in the 70s than the day before.  Of course, the downwind holes played longer in the milder winds on Tuesday, but some of the long par 4s into the wind still played long enough.
        Tim shot a 76 on Monday and the above-mentioned 72 on Tuesday, and he earned medalist honors by a single shot over four other golfers.  It was fun to watch.  I will be revisiting the Southern Pines area in a few weeks and will provide a fuller report on the golf course and the surrounding community.  In the meantime, enjoy the accompanying photographs of a classic golf course you can play any time you want.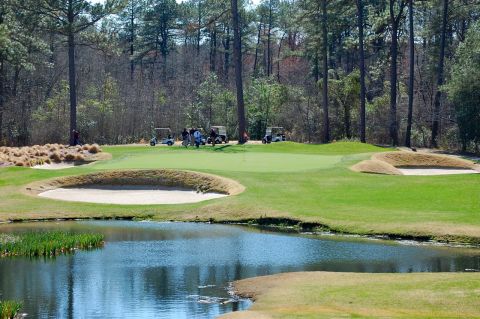 The par 5 1st hole at Pine Needles (top) is reachable in two, if you avoid the bunkers left and right and keep the ball on a green that tilts left to right.  The short par 3 3rd hole is one of the easiest on the Donald Ross layout -- if you hit your short iron precisely.
Comment
Be the first to comment