T
he community with the unique name Carolina Colours, just outside New Bern, NC, has announced the opening of a new neighborhood, Waterleaf, which comprises 13 home sites on 25-acre Carolina Lake.  Lot sizes run slightly under 2/3 of an acre, and full home and lot packages are priced beginning at $298,400.
        Carolina Colours, which I visited last spring, has been developed under the watchful eye of industry veteran Ken Kirkman.  Kirkman is a man of patience, and during our tour of the golf community, he gave me the impression that he is not overreacting to current real estate market conditions by cutting either corners or prices, although pricing in the community is quite realistic.  He knows that the 300-year old New Bern is an up and coming retirement area, and that the only real local competition for his golf community is Taberna, whose decade-old homes are smaller and more closely sited to each other than those at the more expansive Carolina Colours.
        Colours recently opened its 18-hole golf course, which was designed by Bill Love.  I intend to give the course a go on my way to or from the Myrtle Beach area in November.  In the meantime, if you would like current golf homes for sale in Carolina Colours, check out GolfHomesListed.com.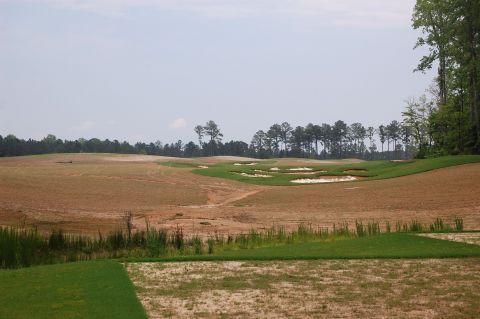 This was the scene in June on the Bill Love designed Carolina Colours golf course.  But grass grows quickly in warm climates, and the golf community was able to open all 18 holes for play just a few weeks ago.  For now, the course is open to the public.
Comment
Be the first to comment