Most golf communities that had the bad luck to open for business just before the housing market collapsed are working hard to find ever-creative ways to market themselves -– perhaps too hard.  Some are making extravagant claims about their amenities in order to distinguish themselves from other developments making equally extravagant claims. That sounds, as Yogi Berra might say, like deja vu all over again.
        Carolina Colours, a 2,000 acre community in New Bern, NC, has decided to employ a more straightforward, deceptively simple approach to its marketing and pricing.
        "Everyone is scared [about their financial situations]," says the much traveled and experienced Carolina Colours Developer Ken Kirkman about today's customers.  "Two or three years ago, our customers were looking for $400,000 homes.  Now they want them in the $300s."
        Kirkman and Carolina Colours seem happy to oblige, although sharp pricing has resulted in a few accommodations, such as pushing back the schedule to finish the community's pool, fitness center and tennis complex.  The much anticipated 18-hole golf course was also delayed but is set to open for members at the end of this month, and for the public a month later.  Some potential Carolina Colours prospects have been conditioned by the way many communities were built pre-housing crash -– amenities first, then sell the properties -- and a few have cut and run.  But most potential buyers, Kirkman says, appreciate the principle of fiscal responsibility, especially in these post-crash days.
        "All we can do is tell the truth about where we are and what our plans are," he says.  "Our community is a long way toward being finished," he says, adding that, "the golf course is virtually done."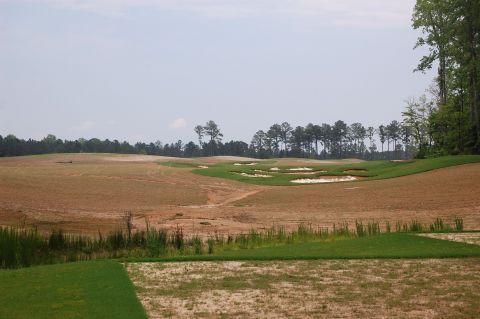 For those who consider choosing a set of tees that push their driving distances to the limit, Carolina Colours will offer plenty of cautionary notes.
        I can attest to that based on a recent cart ride around the golf course and community with Kirkman.  In early June, the golf course seemed to be approaching completion, with only some minor landscaping and turf growth remaining.  Barring any unforeseen weather event, the course should open on schedule in two weeks, and the members who get to play it first should be impressed.  The layout by former Society of American Architects President Bill Love will appeal across a wide range of playing styles.
        "It will be a good course for retirees," says Kirkman, which is usually code word for a fun but not overly challenging layout.  In this case, though, the six tee boxes that stretch from 5,800 to 7,000 yards will give players of all abilities the opportunity to ratchet up the challenge quotient if
Large teeing grounds mean that members will be able to play the course from a variety of distances.
they wish.  (I noted some especially mean-looking bunker clusters that could very well come into play off the tees if, say, any of those retirees are feeling their oats.)  Tees are large enough to accommodate many different length variations, and the large greens will put a premium on a good short game.  Designer Love was presented a 250-acre canvas on which to sculpt his layout, plenty enough to keep housing well beyond the tree lines.  Kirkman says that homes will occupy only one side of the fairways, and those will be set back far enough so as not to intrude on play and views.
        I snuck a pre-opening peak at the scorecard and two things stood out about the yardages from the middle "green" tees at 6,437 yards.  One par 3 hole, the 6th, measures a robust 211 yards, while the par 4 10th hole weighs in at a tempting 301 yards.  The longest par 5 from those tees is 550 yards and the shortest just under 500.
        The semi-private Carolina Colours Golf Club is offering for sale 400 golf club memberships (100 in the fold already) for a modest $10,000 equity payment each ($2,000 discount for property owners), 75% of which will be refundable upon resignation.  Dues are a bargain at just $120 monthly for a single and $160 for full family, but those looking for the full traditional country
Dues are a bargain at $160 for a couple, but the clubhouse will not offer dining.
club experience won't find it at Carolina Colours.  To keep expenses down, and because Kirkman has learned from experience how difficult it is for clubhouse food facilities to compete with local restaurants, the Carolina Colours clubhouse will not offer meal service to its members.  A fully functional kitchen, however, is available for catered events and meals attached to golf outings.  The clubhouse at Carolina Colours has already become popular with outside groups, and once the golf course opens, revenue generation should accelerate.
        Carolina Colours features a mix of town homes, condos and single-family homes in a variety of configurations and sizes on lots that range from "patio" size (less than ¼ acre) to full-acre lots.  The sweet spot is between ¼ and ½ acre, with prices starting in the $60s and topping out in the high $100s.  A 2,700 square foot, 4 BR, 3 ½ BA home, for example, with a view of the 7th fairway is priced under $390,000, one of the more expensive homes in the community.  The low to mid $300s seems to be the norm, but some patio-style homes are lower yet.
        According to Kirkman, Carolina Colours has found a comfortable niche in the market between lower priced communities, like the nearby Taberna, and more expensive competitors like St. James Plantation,
Carolina Colours' competition is St. James Plantation and the nearby Taberna which features lower price points and far fewer trees.
located a couple of hours south of New Bern.  Albemarle Plantation, another higher price point community that is an hour north, is set on the Albemarle Sound, a bit of a mixed blessing; it is in a beautiful setting, but remote.  Kirkman thinks his community's proximity to a commercial center that includes a large supermarket and retail shops, as well as a few excellent restaurants, makes Carolina Colours a viable alternative to Albemarle, despite that community's excellent Sound Links golf course.  At Taberna, on the other hand, a community of less expensive homes, only golf club members have access to the pool and other amenities.  Its golf course, which I have played and reviewed favorably [
see review by clicking here
], is also privately owned and not open to outside play (at least not officially).  The buzz on the local blogs is that Carolina Colours' mostly wooded home sites are more attractive than the "clear cut" Taberna.  I can't disagree after visiting both.
        Kirkman's own professional experience is unique among his golf community developer peers, and especially relevant to his efforts at Carolina Colours.  He has witnessed up close the entire arc of golf community development, from the euphoria of the 1980s and '90s to the crash of the mid-2000s, plus every market hiccup in between.  As a real estate attorney working in behalf of Weyerhauser Corp., the giant paper company that once was a major residential community developer, Kirkman learned the practical -– and financial -- realities of building communities from the ground up.  Weyerhauser had initially planned to develop Carolina Colours itself before it decided to stick closer to its true knitting (forestry and wood-related products).   Kirkman was also commissioned to help turn around the sales and marketing efforts for the real estate offices at the golf communities of Landfall in Wilmington, NC, and Bald Head Island. (He still retains overall responsibility for The Landfall real estate office.)
        Kirkman's analysis of the current market for planned communities has informed his market positioning of Carolina Colours, especially in the wake of the housing morass.
        "You have some 'dead' communities that got caught up in the euphoria of the market," he says.  "They did not know who their customers were."
        "Then you had communities like Brunswick Forest (Leland, NC, near Wilmington) that had their amenities in place and were located in a desirable area.  Wilmington is a great draw for them [Brunswick Forest]." [Click here for my review of the new Cape Fear National Golf Club at Brunswick Forest.]
        New Bern is something of a mini-version of Wilmington -– not as large and, some might say, not as sophisticated, but with plenty of retail services, a good medical center, and a convenient, if small, airport (Delta and USAir service).  And the two rivers that converge in the city, the Neuse and Trent, give it a maritime feel unlike most other near-coast communities.  Like many of his peer developers, Kirkman is certainly willing to talk the talk about his community, but he also can walk the talk.
        "I'm very much personally invested in this community," he says of Carolina Colours, "because I live here too."
If you are interested in learning more about Carolina Colours and would like an introduction to Ken Kirkman, who is a hands-on developer who enjoys talking with anyone about his community, please contact me.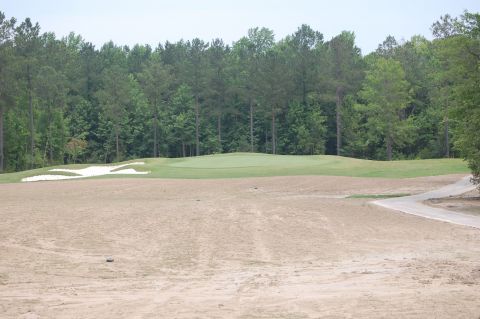 In June, the Carolina Colours golf course seemed ready except for the lack of fairway grasses which, in the Carolina summer heat, should not take long to grow.
Comment
Be the first to comment