Vacationers from the north heading for the Outer Banks of North Carolina pass near Aydlett, NC. On a clear day, they can see across the Currituck Sound vie miles to Corolla, home to dozens of wild horses, spectacular beaches and the golf resort community Currituck Club. Yet it will take them another 45 miles and as much as 1½ hours during the summer season to get to Corolla.
For almost two decades, state and local officials and environmentalists have debated the notion of a bridge across the Currituck Sound to make the trip easier. Now, it appears, construction could start within the year once a final environmental impact study is reported in the second quarter of 2010. A toll of $8 in high season, about what it costs in gas to drive down to Kitty Hawk from Aydlett and then back north to Corolla, will help pay for the $660 million structure, whose estimated completion date is sometime in 2013.
The Currituck Club's Rees Jones golf course is within view of both the Atlantic Ocean and the Currituck Sound. Photo courtesy of Currituck Club.
A bridge not too far
For owners in the attractive vacation community of Currituck Club, this could mean much more than convenience. With travel from Richmond, Washington, D.C. and other northern points cut by more than an hour, the bridge is likely to encourage much more visitation and propel an increase in Currituck owners' currently depressed property values. With the increase in values will come an increase in rental prices and the likelihood of more than the customary 15 to 18 weeks of rental income per year. No bet is a safe bet in real estate, but if the bridge gets built, a renaissance in sales could come to Currituck Club and other nearby properties.
Vacation communities in beach-oriented areas have suffered especially significant losses in market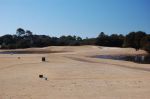 values during the recession, largely because they increased so rapidly in value during the run up in real estate values. Now, vacation homes are a luxury many strapped people, especially those who may have lost jobs, can no longer afford. During a drive through Currituck Club with on-site realtor Bob Godley, we stopped in front of a home that sold at foreclosure recently for $750,000. The home is large (see photo) and attractive and features dramatic views of the ocean less than a half-mile away. Its original price was $1.7 million. Earlier, I met Godley at the community's attractive four-bedroom model home, which is available for $699,000. Its price just three years ago was $1.2 million.
Currituck Club is the most northern golf community and golf course on the Outer Banks and lies just two miles from the end of state highway 12, which runs north along the Outer Banks from Kitty Hawk to a dead end at the beach in Corolla. From there, four-wheel drive cars can access the beach and drive 18 miles on sand to the Virginia state line, past scattered beach houses -– including one that sits in the ocean at high tide -- and acres of dunes land that plays host to wild horses relocated from Corolla (they were getting hit by cars). I've been on islands like Bald Head and Daufuskie that are served only by ferries, and I can't imagine evacuation under the threat of hurricane to be any easier from the northern end of the Outer Banks. For folks who live there, The Weather Channel is a potential life saver.
One golf course, two bodies of water
Currituck Club was built by Kitty Hawk Land Company, which had developed most of the beach resort properties in Southern Shores, about 10 miles south of Corolla. They saw an opportunity to purchase the last large prime piece of developable acreage on the Outer Banks (3,000 acres that had been used by shooting clubs), a long and slender strip, with the Currtiuck Sound on one side and Atlantic Ocean on the other, less than a half-mile off. It is about a four-mile drive from the front gate of Currituck Club to its north end.
Kitty Hawk Land hired Rees Jones to design the course, opened the golf club in 1996, and began selling home sites the next year. The four finishing holes, and two on the front nine, run along the Currituck
Sound, and from other holes the ocean is clearly visible. Needless to say, prevailing ocean winds play a factor in club selection and aiming. The back tees carry a rating of 74.0, slope of 136 and yardage of 6,885. The blue tees are a reasonable 71.6/128/6,404 yards. Although it was too cold for me to play on this trip, the par 3s appeared to be especially tricky, with water in play adjacent to the greens on three of the four. The course, which is managed by ClubCorp, is open for play year-round but is not over-seeded in the winter (the bentgrass greens stand in vivid contrast to the tan fairways). The club offers a range of membership options, including full-family golf for residents at an initiation fee of $6,000 and $272 in monthly dues. Club members receive reciprocal playing privileges at Nags Head Links, about 40 minutes south of Currituck Club. For an additional fee, members can join ClubCorp's Signature Gold program, which offers access to many of its other golf courses nationwide. Non-residents can join the Currituck Club for higher fees.
The Currituck Club community offers the full range of real estate options –- condominiums (just two buildings), patio homes (1/4-acre lots) and single-family homes. Prices begin in the low $300s and run into the low seven figures, with plenty of nice selections under $600,000. New homes, Bob Godley says, are selling at about half of what they brought five years ago. A selection of home sites remain, and with construction costs running under $140 a square foot, compared with $220 just a few years ago, building a new home could be a nice option for owners so inclined.
Rental incomes better than CD rates
The club's listing sheets helpfully include annual rental income below the listed price. For example, a 4 BR, 3 BA single-family home listed at $525,000 has an annual rental income range between $30,000 and $40,000. A 5 BR, 4+ BA home at $775,000 shows an annual rental income of $40,000 to $50,000. If those rental figures hold up in the coming years, the rates of return will be a lot better than you will get for a CD at your local bank. (Note: Local rental agencies charge owners a modest 20% fee to handle housekeeping and maintenance chores, as well as marketing the rentals. Agencies in other resorts charge as much as 40% for the same duties.)
Many of us shopping for a golf community home in the current environment worry about the financial health of individual development companies. In the case of the Kitty Hawk Land Company, the family that owns Currituck Club also owns a chain of 400 restaurants, many of them of the fast food variety that have not been hit hard in the recession. The golf course is leased to ClubCorp and the developer's lots are substantially sold. Within the year, Kitty Hawk will pass all the other amenities to the homeowners. Looking from the outside in, things seem to be in order at Currituck Club.
If you would like more information about Currituck Club or would like to arrange a visit, please contact me and we will get to work in your behalf. There is never a fee for our services.
This home at Currituck Club went for $750,000 at a foreclosure sale recently, less than half of what it sold for originally. It features views across the golf course to the Atlantic Ocean.