As Americans pare down their spending, golf clubs old and new are doing the same, deleting services that appeal to less than a majority of members in an attempt to staunch dues increases and membership decreases.  In yesterday's Wall Street Journal, golf columnist John Paul Newport recalls that the elegant clubhouse at the famous Shinnecock Hills on Long Island, NY, was something of a trailblazer when it was built in the 1890s, the first one "purpose built for golf."  Its message is less can be more.
        When I played at Shinnecock 100 years later, I was struck by how
In many clubs, compulsory dining minimums exacerbate a feeling of being locked-in that members resent (especially if the food is mediocre).
comfortable it was, austere really when compared with some of the gilded cages upscale developers like Bobby Ginn have produced.  The dining and beverage areas at Shinnecock felt "clubby," and the views of the golf course from the wraparound porch were all encompassing.  As I drank a beer on the porch after our round, my host nudged me and nodded at the walkway to the 10
th
hole, where singer Dina Merrill and comedian Bob Hope were striding toward the tee box.  After having seen a televised Hope hit golf balls at his tournament and practice his follow through on his comedy shows, it was a treat to see that languid swing in person.  One of the best views I have had from a golf clubhouse.
Death of the Gilded Age of Clubhouses
        With the current brutal recession, the bells may have tolled for the era of fancy clubhouses.  Certainly, golf community developers with any sense of early 21st Century economics will think twice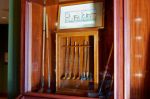 about loading on the bells and whistles -– and maintenance costs –- in the clubhouses of the future.  As Newport points out, fancy dining rooms demand fancy meals which, in turn, mean chef and server costs that many members are loathe to pay.  If you are a private club member, how many times have you rushed to eat at your clubhouse so as not to waste "the minimum" you are compelled to pay each month or quarter?  Most club restaurants can't compete with the array and efficiency of local competitors.  Compulsory dining minimums exacerbate the feeling of being locked in that many members resent (especially if the food is mediocre). That is no way to encourage membership renewals.
        Because of its owner's respect for Scottish golfing tradition, one golf community in North Carolina opened a clubhouse a few years ago that speaks perfectly to the re-emerging trend toward golf-focused clubhouses.  The Thistle Club, about a half hour north of Myrtle Beach in Sunset Beach, NC, is semi-private but it makes a strong nod toward a private club atmosphere.  The 15,600 square foot rustic clubhouse is sophisticated without being garish.  It divides private member lockers, bar and dining areas from the public access pub, whose heavy wood-hewn chairs and tables make it seem more a place for lunch than fancy dinners.  The large wooden bar, imported from Scotland, reinforces the notion of a British pub more than standard clubhouse dining room. 
        The rear porch of the club, favored by members and non-members alike, commands a sweeping view of the 27 links golf holes designed by Tim Cate.  Club officials recently renamed the three nines Stewart, McKay and Cameron for Scottish clans (they had been named North, West and South.)
Thanks for the Memorabilia
        Although The Thistle gratefully accepts non-member green fees, it adds some member friendly touches, including chunks of tee times reserved solely for members.  All tee times are spaced 12 minutes apart, making it unusual for one group to see another beyond the first tee.  And in the vaulted-ceiling entranceway to the clubhouse, club owner Rusty Mackey has installed a collection of golf memorabilia from the club's namesake Thistle Club in Leith, Scotland, circa 1815.  These and other of his golf collectibles are installed near an inviting sitting area and before a huge stone fireplace.  It is a great place to unwind after a round, preferably holding a glass containing one of the wide range of Scotches served at the antique bar.
Most of the Thistle's 143 homes will have views of either the golf course, water or marsh.  Some lucky owners will face all three.
        The member dining room at The Thistle will not be open routinely for dinner in the near future, according to Director of Golf Gene Weldon, although the club's roster of special events, like weddings and member functions, has been growing steadily.  Weldon says he would prefer not to incur ongoing costs that would have to be passed on to members through a monthly or quarterly food minimum.
        Club initiation fee is a reasonable $7,500 and just $325 per month in dues for a golfing couple ($225 for a single).  New Thistle residents can pay a $25,000 fully refundable deposit that attaches to their home and is returned in full when they resign from the club.
        The Thistle's real estate plan follows the less-is-more philosophy of the club, with just 145 home sites spread among the community's 409 acres.  Lots are in the ¼ acre to ¾ acre range and begin in the $150,000 area.  Most have views of the golf course and/or marsh; virtually none of the homes have views of other homes.  Homes begin in the upper $400s.
        The Thistle community will start construction in the spring on a resident's center that will include a pool, a free-form "lazy river" and fitness center.  But there is no mistaking that The Thistle's heart, and clubhouse, belong to golf.
Note:  A visit to The Thistle Club can be the centerpiece of a nice week of exploration in the area north of Myrtle Beach, SC.  Dozens of golf communities are within an hour up or down the coast, including
the nearby and reasonably priced Ocean Ridge Plantation, which is substantially developed with a full range of amenities, including six well-regarded golf courses;
the upscale Grande Dunes in Myrtle Beach (plenty of bargains at the moment); and the mid-point priced St. James Plantation in Southport, with its four golf courses and proximity to Wilmington.  I am happy to provide more information on any of these and to help you arrange a trip to visit them.  Contact me for a free, no obligation discussion.