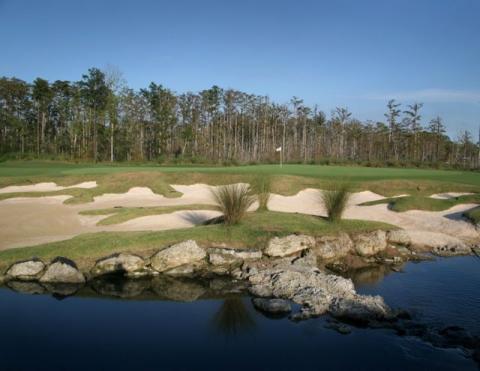 The 8th green at the new Cape Fear Golf Club in Leland, NC. (photo courtesy of Cape Fear National)
It takes guts to open a new course in the current environment. Give credit to Brunswick Forest, the golf community just off Highway 17 in Leland, NC, 10 minutes from downtown Wilmington, for guts. Its Cape Fear National course opens this weekend.
The Tim Cate design features large greens, lots of sandy waste areas and water on virtually every hole. From the tips, the course measures over 7,200 yards. Initial green fees at Cape Fear, which is managed by Kemper Sports, are reasonable at $75 for non-residents, cart included, and just $50 for residents. Brunswick Forest property owners can also purchase a season pass for $2,000 ($20 cart fee not included) or $3,500 for a couple. Residents also have the option to purchase an annual cart pass at $1,000 for a single and $1,750 per couple. The break-even point for a resident single who buys the season golf and cart passes at a total of $3,000 is 60 rounds, which seems like a pretty fair deal for a year-round course that is generating some considerable buzz in the golf rich area along the North Carolina coast.
Brunswick Forest, which comprises 10 separate neighborhoods, is an interesting community. Most of its amenities are in, and 580 "families" have purchased in the community. (In the world of planned community marketing, a property owner equals a "family.") The community is large, at 4,500 acres, but its developers, Lord Baltimore Properties, had the foresight to build a small shopping center -- with bank, doctors' offices, supermarket and other services -- from the beginning and at the community's entrance on busy Highway 17, so that other locals can help sustain the businesses in the short and long term. The proximity to Wilmington and its entertainment, health services, university and airport are another strong plus.
I visited the community during its very early stages. I was impressed at how orderly things seemed to be progressing, but I was a little put off by the proximity of homes one to the next in the early stages. However, home sites on the new golf course range from ½ to one full acre, enough to accommodate larger homes and provide enough breathing room between them.
The Brunswick Forest web site is offering a bargain priced "discovery package" at $179 for three days and two nights that includes a round of golf, a dinner certificate and accommodations at a Wilmington hotel. If you are interested, let me know and I will be pleased to make arrangements for you with Brunswick Forest.