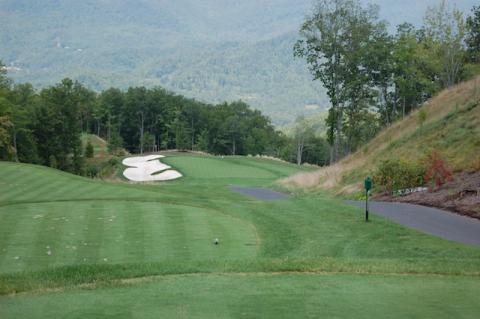 Balsam Mountain Preserve is backed by a finished Arnold Palmer golf course, an established developer, and a good first quarter of sales.

Draw a circle about a 45-minute drive around Asheville, NC, and you find some of the nation's most breathtaking home sites and golf course views, with prices that may also take your breath away. The current economy, however, is letting the air out of many ambitious projects once considered bullet proof. Even the customarily bullish high priest of high-end mountain development, Jim Anthony, according to a local newspaper account, appears concerned about the sales trends at his vaunted Cliffs Communities, and especially at High Carolina, where he has paid Tiger Woods a design fee some reports peg at $20 million.
"In January and February this year, we were really hit hard," Anthony told John Boyle of the Asheville Citizen-Times in an article published yesterday. "In March we've seen a little bit of a turn."
A little bit of a turn may not be enough for other communities, certainly not Grey Rock in the Lake Lure area. The community did not have a golf
Ginn started shedding properties, including Laurelmor, as quickly as you could say Gypsy Rose Lee.
course but it did feature home sites priced in the neighborhood of $400,000. Only one home had been built by the time the developer, Land Resource, closed up shop in 2008, leaving 400 purchasers with a lot of dirt and none of the promised amenities. Then, shortly after, Credit Suisse called in its $675 million loan to Ginn Resorts, forcing its eponymous developer to start shedding properties faster than you could say Gypsy Rose Lee. One of them, the ambitious 6,000-acre Laurelmor in Blowing Rock, was sold to the same folks who developed the solid Reynolds Plantation in Georgia, and for pennies on the dollar. Reynolds plans to start selling properties and restart work on Laurelmor's Tom Kite golf course later this year.
Other golf communities in the Carolina mountains have slowed their progress considerably. River Rock's Phil Mickelson course, his first mountain design, has been delayed to at least 2012, two years beyond its originally planned opening date. The community, as of the beginning of the year, had only two homes in construction, one that was going to be leased back to the developers. At Seven Falls Golf & River Club, near Hendersonville, developers insist the Arnold Palmer course will be finished in August, despite the filing of liens against Seven Falls by some of its contractors. The largest lien, for $2.5 million, was by the contractor engaged to build the golf course.
Not every high-end community in the mountains is operating on the edge of a cliff. Balsam Mountain Preserve, near
Look for a proven developer and completed amenities before you consider buying into a golf community in this environment.
Waynesville, had the good sense of timing to complete its dramatic Arnold Palmer golf course and most of its amenities before the economy hit the skids. Since its opening in 2001, Balsam Mountain has sold more than 2/3 of its 350 home sites. It helps also that the community's developers, Chaffin & Light, have a solid track record of successful projects, including Spring Island and Callawassie in the Low Country of South Carolina, two communities that impressed me during a visit a few weeks ago. According to Balsam Mountain's head of sales, who spoke with the Citizen-Times' John Boyle, the community had an excellent first quarter.
For those contemplating the purchase of any golf community home in the current climate, the deep pockets and track record of a developer has never been more important. There are plenty of bargains available at the moment, in the mountains and everywhere else, but avoid any communities with unproven developers and un-constructed amenities. And take everything a developer says with a grain of salt. After a splashy event that featured Tiger Woods last November, Cliffs developer Anthony announced that the High Carolina project had commitments for $40 million in property sales. Five months later, land transfer records, according to the Asheville Citizen-Times, indicate $25 million had been sold.

Prices for home sites and homes in the North Carolina mountains are at five year lows, but buyer beware. I have excellent real estate sources in North Carolina who understand the local markets, and I can help you home in on the community that best suits your lifestyle, golf game and pocketbook.
Contact me
if you would like more information.
Comment
Be the first to comment