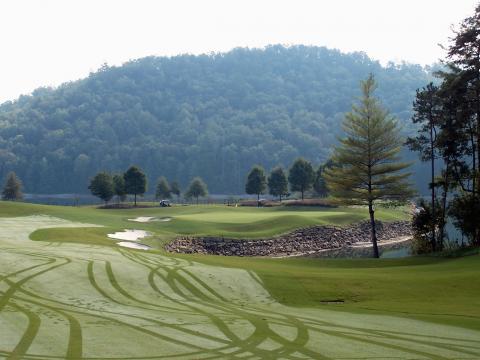 Tiger Woods' first American course design near Asheville will join eight other golf courses under The Cliffs Communities umbrella, including Tom Fazio's layout at Keowee Vineyard (above).
Tiger Woods officially broke ground this past weekend on his only U.S. golf course design, at the Cliffs at High Carolina, near Asheville, NC. After pushing shovels into the area around the location of the future 18th green, Tiger and Cliffs developer Jim Anthony were interviewed against the background of the Blue Ridge Mountains by CNBC reporter Jane Wells.
Mr. Anthony volunteered that sales at The Cliffs were off 20% so far this year. However, Tiger's presence at High Carolina helped sell 45 lots yesterday at an average $1 million each,
Jim Anthony, a wellness buff, will continue to talk the walk for Tiger's HIgh Carolina course.
keeping the Cliffs financial engine well-oiled. Presumably, all 45 committed to The Cliffs' $150,000 initiation fee and $650 per month dues. (Counting Tiger's course, membership confers full access to nine courses.) Neither man would comment on Tiger's design fees nor if his deal with the Cliffs includes a percentage of property sales at High Carolina. It is a safe bet that his architectural fee for The Cliffs course will be less than the reported $25 million the fledgling designer is receiving for his initial commission in Dubai.
When Tiger's assignment at High Carolina was first reported, the course was to be "walking only." Yesterday, the two men confirmed that High Carolina be "walkable," Tiger indicating that the maximum elevation change on the course will be 350 feet. That's the equivalent of a 30-story building, if I do the math correctly, leaving one to wonder just how many Cliffs members will take the two up on their offer to walk the course. You can be sure, though, that Mr. Anthony, who emphasizes "wellness" in his developments and has spent many millions on fitness centers, walking trails, and other encouragements to a healthier life, will continue to talk the walk.
Tiger spoke briefly about his personal satisfaction with the Obama victory and added how proud his late father Earl would have been.
"He would have cried," said Tiger.
The seven-minute interview with Tiger and Jim Anthony is at CNBC.com [
click here
]. There is also accompanying text from Ms. Wells as well as a separate video of her taking a tumble during her walk of the course with the designer. She isn't the only one who has trouble keeping up with Tiger, his bum knee and all.
Comment
Be the first to comment