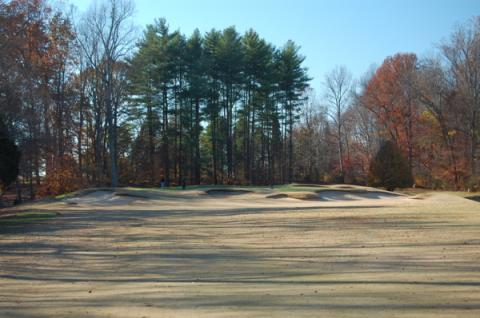 The approach to the 5th green at Tanglewood will set your heart aflutter for a few reasons.

Over the history of the PGA Championship, the Tanglewood Championship Course near Winston-Salem, NC, has been one of the toughest, tougher on the pros than such legendary tracks as Medinah, Winged Foot and Southern Hills. When Lee Trevino won the 1974 PGA at the public golf course, set on land granted to the county by the mega-wealthy Reynolds Tobacco family, he carded a four-under-par 276 and beat Jack Nicklaus by a stroke. Alas, that would be the one and only major tournament that the excellent Tanglewood Championship Course would host.
Arguably the toughest hole Trevino, Nicklaus and their competitors played was Tanglewood's par 5 5th, an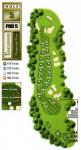 endlessly long, relentlessly bunkered and masterful Robert Trent Jones design. Played at 614 yards from the Championship tees and a similarly intimidating 575 yards from the "mid back" tees, #5 is rated the number-one handicap hole on the card.
From the mid back tees (6,600 yards overall), your tee shot must stay left of the huge bunkers that guard the right side about 200 yards from the teeing ground to about 260. Hit your ball in that direction and you can count on a tricky second shot back to the fairway (and a long third shot). Even if you find the narrow bit of fairway to the left of the bunkers, your ideal lay-up shot to inside 150 yards, probably with a long iron, will have to avoid another set of three bunkers just to the right of the fairway, as well as the trees down the left.
As you contemplate the approach shot from 125 yards or so, you won't know whether to shake your head in marvel or fear. About 70% of the green is protect by four bunkers, including an unusual small one directly in front that runs toward the green, not alongside it. If you find that little slit of a bunker, you are likely to have an awkward lie against one side or the other and, therefore, an awkward stance.
As reward for the golfer who makes the putting surface in three good shots, the green itself is of modest size and offers some pin positions that make birdie possible, if not likely.
Golf course raters sometimes are biased in favor of the longest holes, forgetting that some par 3s and many par 4s may indeed be the toughest. But at Tanglewood, the brutish #5 is worthy of its designation as the #1 handicap hole.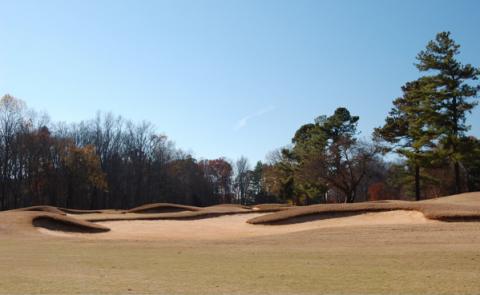 If you push your tee shot just a little right on Tanglewood's 5th, you could wind up in any of three huge bunkers (above), making a play back down the fairway to inside 150 yards to the green very difficult. The second set of fairway bunkers (below) come into play as well.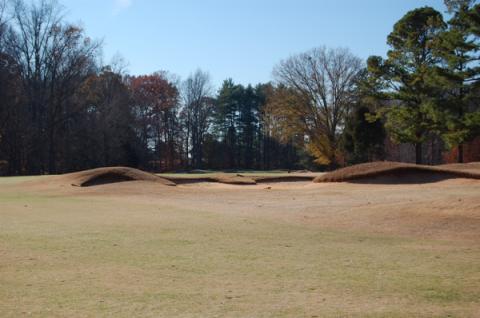 Comment
Be the first to comment