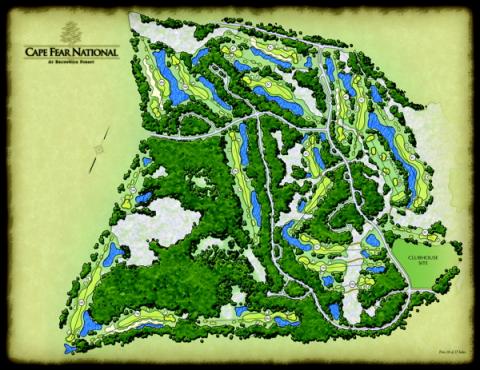 The Cape Fear Golf Club's 27 holes should be ready for play in 2009. Tim Cate is designing the course. (Graphic supplied by Brunswick Forest)
New developments promise a lot in their marketing brochures. The designer golf course, not quite yet built; the clubhouse and pool, coming soon; and, for many communities a bit remote from customary services like shopping and banking, the town center that will be opened eventually (presumably when enough folks buy homes to actually use that town center).
I mention this because I noted something unusual 10 days ago at Brunswick Forest, a year-old community in Leland, NC, just 10 minutes west of Wilmington. The sign for The Villages at Brunswick Forest, just inside the entrance to the community, actually listed its future tenants - a supermarket, multi-screen movie theater, bank, pharmacy and professional building with health care services. Other developers would do well to follow the Brunswick model; securing tenants and publicizing their names would give their potential residents confidence they will actually see the stores open one day.
The advantage at Brunswick Forest, and its ability to negotiate such deals with future tenants of the town center, is deep pockets. The money behind the community has been furnished by Lord Baltimore Properties, a real estate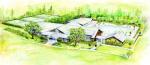 development firm that focuses mostly on commercial projects but is putting some of its $2 billion in assets behind Brunswick Forest. Unlike developers who rely largely on lot sales to finance the amenities, a kind of "pay as you go" approach, Lord Baltimore has the financial wherewithal to ensure Brunswick Forest's development can proceed at a measured, but aggressive, pace.
You see progress at the 4,500-acre Brunswick Forest not only in the sign at The Villages, but also in the 14 model homes that are open for viewing and built by the developers' preferred builders. Although some folks would prefer to do their own research to find the best builder, the 14 on the Brunswick Forest list are probably more than enough to make a good choice. One is even a seasoned veteran of building green homes. And, smartly, all have built models on site so that their future customers can see first hand their products. I walked through one model that was solidly built and nicely apportioned, although it looked directly into the backyard of a neighboring home. Hedges have already been planted between them and, with a few more months, high hedges will make good neighbors.
The other big in-process activity at Brunswick Forest is the golf course, Cape Fear National, a 27-hole Tim Cate design that should be ready for play in mid 2009. The club will be private and open only to residents of Brunswick Forest and their guests. I have never seen so many earth movers in one place; more than a dozen of them were lined up like Centurions when I visited one recent late afternoon, all at the ready to push around the few hundred acres of dirt to carve out
The first golf course lots may be available as soon as this fall.
Cate's latest design. As I wrote last week in my review of Ocean Ridge, 45 minutes south, Cate is the hot designer in these parts, much in demand for his use of indigenous elements like scrub forests, dunes and tall grasses combined with tons of additional sand that form expansive waste areas.
A view of the site map for the course (see above) indicates water will be in play on up to a dozen holes. Specific details about initiation fees and dues are not totally set for the club, but count on a $15,000 member fee, totally refundable, and monthly dues that will range from about $200 to $500 depending on the level of membership. Kemper Management will supervise golf course operations for Brunswick Forest. The developers expect to open a new phase in the fall that will feature the first lots adjacent to the golf course.
The community's amenities will cover most expected in such a large property, with one unusual addition for those with farming instincts. An 18,000 square foot wellness and fitness center is already open, with an adjacent half
A community garden will appeal to gentlemen and gentlelady farmers.
dozen tennis courts and indoor and outdoor pools. Boating and fishing will be centered at the community's River Club, where residents will be able to rent canoes, kayaks and fishing equipment.
Brunswick Forest is a good 15 minutes from the ocean, but the community will also maintain its own private two-acre beach club on Oak Island. Seventy-five miles of trails inside the community will be available to those who bike and hike, as well as a 250-acre nature preserve. And a community garden will literally provide personal growth for the green thumb crowd, a touch I haven't seen in other communities. This may come in handy especially if the price of food continues to escalate.
The emphasis on real estate at Brunswick is variety. Besides the aforementioned model homes, the community is divided into neighborhoods, each with their own characteristics. Some include town homes between 1,800 and 2,300 square feet, and others single-family homes which will range in price from $260,000 (for the pre-designed model homes) to over $1 million (for custom homes). The formula appears to be working: As of February, Brunswick Forest had sold 400 homes and lots at a total of $112 million in the last 15 months. Home sites begin at $150,000.
Another unusual, and smart, aspect to the community is the requirement to build a home within five years of the purchase of a lot. This, of course, is designed to keep out the purely investment-oriented crowd. In the roaring '90s and in the early part of the 2000s, communities attracted speculators but many of the lots they purchased are still unimproved and have tended to retard the overall growth of their developments. Because of the requirement to build, that will not happen at Brunswick Forest, whose target market is an eclectic mix of local young professionals and families, as well as retirees, who have short-term plans to relocate. Brunswick Forest will be almost exclusively a year-round community. More than 180 families are currently in residence after just 15 months, a sure sign that the strategy is working and the rest of the amenities, including the golf course, are likely to follow shortly.
Brunswick Forest, 1007 Evangeline Drive, Leland, NC 888-371-2434. Web: www.BrunswickForest.com. If interested in Brunswick Forest or any other property in the southern U.S., contact me and I will put you in touch with a real estate agent who can provide additional information and a tour of the community. There is no cost or obligation whatsoever for this service.

Comment
Be the first to comment