I made a rookie mistake a week ago, a blunder unbecoming a veteran of golf playing on the Carolinas coast. I assumed that, as a single, I would have no problem booking a tee time the day before I intended to play at one of the four courses at Ocean Ridge Plantation, the sprawling community about a half hour north of Myrtle Beach and near Sunset Beach, NC. The earliest tee time available was 2 p.m., way too late for my schedule.
You would think that on a property with four courses, a single could sneak out for a round in the morning. But Ocean Ridge's layouts, all named for jungle cats, have been getting great buzz in Carolinas golfing circles and, more to the point,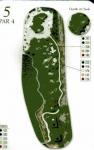 this was mid April, the single busiest golf week of the year near and along the Grand Strand.
I did get a chance for a tour of Ocean Ridge with a preferred local real estate agent (let me know if you want to contact him) and the acquisition of about five pounds of marketing material, including a yardage book for the most recent course in the community, Leopard's Chase. The course has received considerable publicity, including a top-10 designation for best new public course in Golf Digest. That is why Leopard's Chase is currently commanding up to $173 for green fees, two to three times more than the community's other three courses.
The par 72 Tim Cate design combines generous landing areas with forced carries and features the kind of sculpted scruffiness that provides a links land feel for those who dream of playing in Scotland. Of course, at four miles from the ocean, Leopard's Chase can only claim to be a good representation, faux links. But given $14 million to build the course, Cate, who is Ocean Ridge's "house designer" and was mentored by the respected Willard Byrd, had the tools he needed to approximate the feel of the Old Sod.
Cate's other tracks at Ocean Ridge are well regarded and heavily trafficked.
The 18 holes at Jaquar's Lair will be carved from two 18-hole layouts at the former Angel's Trace.
I've played Tigers Eye a few times in past years and thought it did a good job of combining challenging approach shots over large expanses of sand with the kind of open fairways almost mandatory in a course that appeals to daily fee resort players and members. Cate also designed the slightly less regarded Panther's Run; the venerable Mr. Byrd, who has designed scores of courses up and down the east coast, contributed Lion's Paw.
The big news in golf at Ocean Ridge, however, is the impending new 18-hole course called Jaguar's Lair, another Cate design. The developers of Ocean Ridge purchased the former Angel's Trace course and its 36 holes, giving Cate the generous task of compressing two courses down to one and, of course, leaving some nice space for houses adjacent to the new track. As is the case in any golf community, real estate sales pay for the golf course. The course is slated to open in 2009.
Although Ocean Ridge's golf courses are open to anyone, memberships are available but confusing in the way they are set up. For example, you can join the original three courses (not the fourth, Leopard's Chase) for a $15,000 initiation fee. Or, for $20,000, you can belong to all four, but you will need to be a property owner in certain neighborhoods within the community (the ones where the
Some member plans include green fees and cart.
developers still have a number of lots and homes for sale). In terms of dues, they seem reasonable enough, the most expensive being a "family" program for all four courses at $4,535 per year, or less than $400 per month. But that includes green fees for "one member and one qualifying family member." I am not sure that meets most definitions of "family" membership.
For those who intend to play a lot of golf, Ocean Ridge offers programs that include cart and green fees. The most expensive plan of all is $8,300 annually but, again, pays for just two members from a family. You can opt for special rates for additional "qualifying" family members if you want to pay additional annual charges (or you could just pay the daily fee when you need to). Everything is way more confusing than it needs to be and any but the six-round-a-week player might want to compare membership costs against the daily fees, which range from $45 to $195 per round, depending on time of year and course. It could save money and headaches.
Coming Tomorrow: The rest of the story on Ocean Ridge.


Comment
Be the first to comment